Back … for more
SMU volleyball returns to NCAA tournament against Texas A&M
Posted on 11/30/2016 by PonyFans.com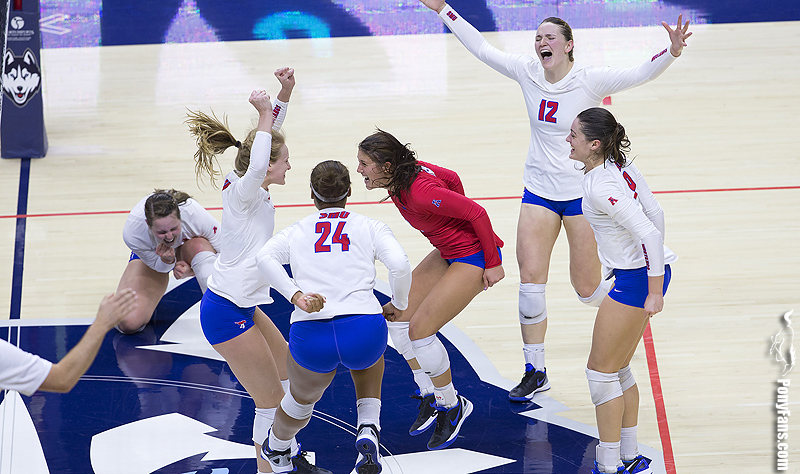 By winning the American Athletic Conference title at Connecticut for the second time in as many seasons, the SMU volleyball team earned a return trip to the NCAA tournament, in which they will face Texas A&M Friday in Austin (photo by SMU athletics).
Things sure are different this time around.A year ago at this time, the SMU volleyball team was venturing into uncharted waters when the Mustangs headed to Austin, Texas, where they took on then-No. 17 Purdue in the first round of the NCAA tournament. The Ponies lost, 3-1, to the Boilermakers, but for the first time in school history, they had reached the sport's biggest tournament.Apparently, they started a trend. The American Athletic Conference champions learned Sunday night that for the second time in as many years, they head south to Austin to take part in the NCAA tournament. This time around, the Ponies will face Texas A&M at 4 p.m. Friday at Gregory Gym at the University of Texas.That the Mustangs are headed back to the NCAA tournament could be viewed as something of a surprise. After all, after last season, the team bid farewell to a trio of standout graduating seniors in AAC Setter of the Year Avery Acker, and outside hitters Cailin Bula and Abby Bybel. Then, to start the 2016 season, SMU lost three of its first five matches. Granted, two of the three teams that knocked off the Ponies early on — Pepperdine and Arizona — are programs that range between solid and outstanding, but still, losing is something to which the Mustangs are not accustomed.Senior Morgan Heise, who was named the AAC's Libero of the Year for the third consecutive year Tuesday, admitted that the position in which the Mustangs find themselves was anything but a sure thing earlier in the season."A little bit," Heise said when asked if she was surprised to be headed back to the NCAA tournament, "because no one expected it, and (the AAC coaches) even put us third (in the preseason poll). So it was interesting, but I feel like it was good for us (to go through early-season growing pains), because we knew the feeling of going to the NCAA — the people who returned from last year — and then having the freshmen come in and work really yard to win their position, it really helped a lot, and I think it made us stronger, because we knew what we missed out on, and what we had to do."Lisa Seifert, the only coach in the program's history and a maniacal competitor, admitted that the questions raised by the graduations of Acker, Bybel and Bula left her with a little uncertainty as the season began. The biggest reasons for her team's return to the postseason, she said, were the leadership of the team's three seniors — Heise and middle blockers Kristen Stehling and Janelle Giordano — and the emergence of key freshmen, including setter Kendall Patterson, who answered the daunting challenge of replacing Acker as the team's quarterback by being earning second-team All-AAC honors and being named the conference's Setter of the Year.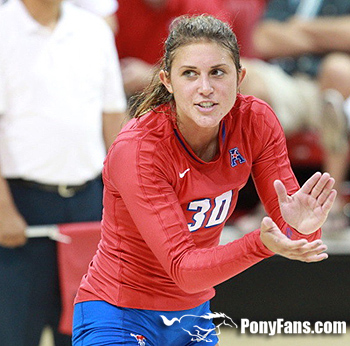 Morgan Heise was named American Athletic Conference Libero of the Year for the third consecutive season (photo by SMU athletics).
"If you had told me in August, during two-a-days, 'Lisa, after Thanksgiving, we're going to be back in the Miller Events Center, and we're going to be having this conversation again,' I would have been surprised," Seifert said. "Because I knew how strong the core group was, but I had not yet worked with Kendall. I knew about her core, about her as an athlete. When people talked about Kendall, they talked about her volleyball IQ, her competitiveness. She won a state championship in high school, so I knew that she had those qualities, but I didn't know how quickly she would be able to develop in our system. Once I started working with her, and saw her work ethic … I knew that she was going to be good because she understood the culture, and what it takes to be a champion. That, primarily, is passion and work ethic. When we recruited her, she said 'oh yes, I'm that' — that type of thing — but you don't really know until you're on the floor with someone, and you're working and you're working through things."Seifert said that the emergence of newcomers like Patterson and libero Montana Watts, as well as the genuine affection the players and coaches feel for each other, got the Mustangs back on track after they stumbled at the start of the season."Kendall Patterson … there really aren't words, other than 'talented,' 'intelligent,' 'remarkable' … for what she has done as a freshman," Seifert said. "When you look across the board … at sports, college sports … tell me about a freshman quarterback who has been able to do something like this, a freshman point guard who can take a team and win another conference championship, knowing the shoes that needed to be filled. I honestly don't know if you can do that. But I've got a name for you, and it's Kendall Patterson. She's done it, and she has done it with confidence, and she has done it with character, she has done it with leadership, and her teammates believe in her, and they have surrounded her in a way that … those are the things that have been amazing, just to watch the team come together, and the chemistry of this team. Without the love that the staff has for them, and the love that they have for each other, I don't know if we could have gotten this done."I'm not going to lie and say I wasn't concerned (about the early-season losses). I've said before that I hate losing more than I love to win. But at the same time, it wasn't like we were getting our socks blown off and there wasn't anything good going on. So I was trying to focus on the good elements of our game and build on those, and really get to work, and make it very clear what the work was, and what we had to accomplish. They're very aware of the statistical requirements of every aspect of what we do. They know what the weekly goals are, they know how we played, and where we fell short, and that on Monday, those are the areas we're going to hit, and they need to be committed to making that better … and they are. You look at the NFL, the NBA, and the teams that win are the ones that do more than is required. That's how champions are made, and that's what these players do all summer long. They always have, they always will — it's part of the culture here.""It's also so weird," Giordano said. "We talk about it all the time, but everything feels so together with this group. We trust each other so much. I wouldn't say we didn't trust each other last year, but just to know that we actually had to really work for it this year and come together as a team made it that much sweeter."Nobody likes to lose, of course, but Giordano, who along with junior outside hitter Katie Hegarty earned first-team all-conference honors, said that in a way, the bumps in the early part of the Ponies' journey actually helped them in the long run, because areas that needed improvement were thrust into everyone's mind."It's good to realize early what went wrong, how to fix it and how to get better," Giordano said. "So losing in the preseason helped us, because we figured out what we needed to do differently to be better by now."Stehling, who earned second-team All-AAC honors this season, pointed out that despite the blemishes on their record, the quality of opponents on the Mustangs' non-conference schedule had them battle-tested to run the gauntlet of opponents in a rapidly improving conference."We played very respectable teams in the preseason," she said. "We played a lot of top-25 teams, which some of the teams in our conference did not do. So maybe they come out 10-0, 12-0, which maybe makes you think they're better. But when you look at who we played, compared to who they played, I think that's where a huge portion of our growing came from because the competition we played made us better, and it got us to this point.'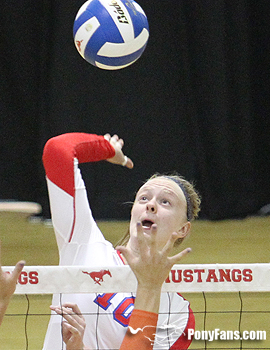 First-team All-AAC middle blocker Jannelle Giordano was one of five Mustangs to win all-conference honors in 2016 (photo by SMU athletics).
Last season, the Mustangs were so intent upon finally getting through and earning an invitation to the postseason that the argument could be made that they had nothing left when they faced the favored Boilermakers."I think so, just because the entire mentality was just wanting to get there," Stehling said. "Getting there was our goal, and I think we took more time to prepare, rather than, once we got there, figuring out how do we beat this team. But really, we were just too excited to just actually be there. I think now we have won conference, we've experienced it all, and now it's go time. Now we're really focusing on the opponent, rather than just us getting into the tournament."I think, in the position we were in last year, looking back, I think we could have beat Purdue. So I think that's a confidence booster, too. We can do really good things when we're in system, when this team is together and having fun, we're kind of unstoppable. So I think that gives us confidence, too — we know what we can do."But Purdue is not the foe this time around. The Mustangs head to Austin with a 25-7 overall record, including a sterling 18-2 mark against AAC teams. The Aggies have gone 21-8 this season, including a 15-3 record against Southeastern Conference teams. Seifert said that while Texas A&M might have competed in a stronger conference, she thinks her team matches up well against the Aggies."I like that matchup," Seifert said. "Quite honestly, at this point, it doesn't matter. I'm excited to be in the tournament. I'm excited for our kids and their families, that it's going to be easy for people to get to Austin to see their daughters play — that's exciting. (A&M's) Laurie (Corbelli) is an amazing coach, they have a very good program. They're good, and we're going to have to play well. It's going to be a tough, hard-fought match. "We wanted to win (in 2015) — there was no doubt about it. But I think … Purdue is in the Big 10, A&M is in the SEC — both power conferences. I don't think the players knew much about Purdue, other than the fact that they were in the Big 10. A lot of those (A&M) kids are from Texas, so some of them have played in the same clubs, and I think that's part of the excitement, to be able to play against kids that you played against in club."Heise, in particular, was thrilled to see SMU get a crack at the Aggies. A native of Hempstead, Texas — almost 44 miles southeast of College Station, Heise shot up out of her seat when the pairing was announced, and made no effort to hide the fact that she's looking forward to A&M."This has been a dream of mine since my freshman year," Heise said. "I'm from around that area, so I have always wanted to play them. I have always been a big A&M fan, because my brother went there, but I've always wanted to play them. The only thing that doesn't make me happy is that we're not playing at their gym, but that's OK, as long as we're playing them."Seifert said the Mustangs' "bread and butter" always will be defense, but was quick to point out that for her team to have a chance of advancing — the winner of Friday's match will face the winner of the University of Texas and UT-Rio Grande Valley — the Ponies will have to find a balance, playing sure defense while pounding balls to the floor on offense. To Stehling, the keys include the simple things on which the Mustangs focus in every match, and also simply remembering to enjoy the entire experience."I think every game — we talk about this every time out — in every single game, it comes down to serving and passing," Stehling said. "But also, I think just staying together as a team, and that's something we just kind of got a lot better at toward the end of the season, and every time we come into our little huddle, we would always make sure that no matter what happened, no matter what the coaches are doing, the refs are doing, the other team is doing … we keep this group together, because that's what makes us successful. "When we're having fun and trusting each other on the court, there's a complete correlation to how we play. So going into this game, serving and passing for the technical volleyball skills, and then just staying together as a group and making this fun, because this is fun. Once you get to this point of the season, it's fun. It should be, because you've earned the right to be there."

Previous Story
Next Story

| | |
| --- | --- |
| | Mustangs finish season at 5-7 |

| | |
| --- | --- |
| | Ponies host Delaware State Sunday afternoon |