Guard-ed optimism
Jerry Saena returning to SMU for fifth season
Posted on 02/26/2017 by PonyFans.com

One of the annual rituals teams go through every year is the turnover in personnel. Players graduate or transfer or simply decide not to continue playing for some other reason. But then the sadness of seeing players move on is balanced by the excitement of new additions, as new recruits are signed and young players on the roster evolve into mature players ready to take on significant roles. Fans comb through descriptions of the players, poring over the players' size and on-field accomplishments and imagining how they'll contribute once they arrive on campus.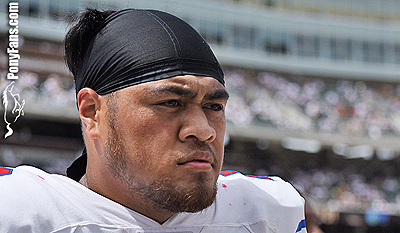 Guard Jerry Saena will pursue a graduate degree when he returns in 2017 for his final season at SMU (photo by Patrick Kleineberg).
One criteria that many coaches deem as accurate as any when considering a player's potential is the list of other schools that also offered scholarships. It's not an exact indicator, of course, but if coaches at multiple schools see fit to offer a player a scholarship, chances are there's legitimate reason for optimism.SMU, like every team in the country, announced its class of 2017 freshmen in early February, and one of the areas of priority was on the offensive line, where the Mustangs welcomed three recruits believed by many to have exceptional potential: Alan Ali, Hayden Howerton and Matthew Huhn. But the offensive line, which was thin in 2016 as the coaches tried to protect the redshirt status of last year's freshmen, got thinner over the offseason. Chauncey Briggs, Daniel McCarty and Travis Fister are graduating, and Keaton Bates and Marcus McNeil reportedly won't be back.But one player who will be back is Jerry Saena. The Mustangs' starting right guard in 2016, Saena walked with the graduating seniors before the Ponies' final home game against Navy. After waiting his turn to crack the lineup at SMU, Saena was a fixture in the lineup last year, even starting a pair of games at right tackle.But after the season, Saena, who will earn his degree in Applied Physiology and Sports Management in May, was prepared to move on. With a year of eligibility remaining, he found a list of schools ready to offer him the chance to finish his college playing career elsewhere. Mississippi State, South Carolina, Oregon State and Utah State were among the schools that offered a 2017 to the 6-foot-4, 315-pound Saena.But in early February, Saena got a call from SMU offensive line coach Dustin Fry. With three outgoing seniors and two underclassmen not returning, Fry had a spot on his offensive line — a spot that ideally would be filled by a fifth-year senior who had a strong 2016 season, knew the Mustangs' offense and blocking schemes and enjoyed the all-important familiarity and chemistry that was needed on any offensive line.Saena had a decision to make. He and a group of friends went on an outing to a gun range just outside of Dallas. Saena said the trip, which was coordinated by one of his closest friends on the team, center Evan Brown, amounted to something of a recruiting trip."Evan just reached out, and Chad (Pursley) did, too," he said. "It wasn't like a recruiting trip for freshmen, where they tell you about going to school at SMU. I know all that. We just talked about the team, and finishing what we started.""We didn't really recruit him," Brown said. "He knows we wanted him to be here, and I think he wanted to be here all along, too."Throughout the process, I kept in mind that you can't take it for granted when SEC schools and Pac-12 schools want you," Saena said. "That's not something everyone can say."But (SMU) is my team. I love playing with these guys, the school, the weather. This is where I want to be, so I told the coaches I'm coming back."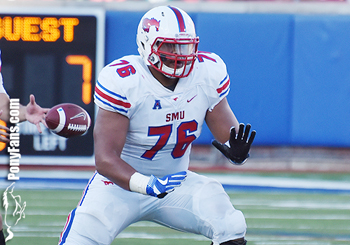 Saena fielded scholarship offers to schools like South Carolina, Oregon State and Mississippi State before choosing to return to SMU (photo by Patrick Kleineberg).
So Saena will remain at SMU next year, and will be one of the elder statesmen on a line that also includes Brown, who will be a senior in 2017, at center and welcomes back left tackle Chad Pursley, who will be a junior in the fall after sitting out the 2016 season because of a knee injury. Saena will be a senior athletically; academically, he will pursue a Master's of Liberal Arts degree."I'm good friends with Jerry," Brown said, "and I'm happy to have him back. I love the guy, and he makes us better."He has gotten so much better, even in just the last year. One thing about him that I like so much is how he just put his head down and went to work. He even worked all through winter break last year, and it carried through the offeseason. He won our weight room award, and he deserved it. Then this year, even when he thought he was going somewhere else, he was in there every day, working hard every day. That maturity shows up on and off the field."The return of Saena and Pursley means a dual boost for the Mustangs' offensive line, which also welcomes back Braylon Hyder and Nick Natour. Saena could play tackle, if necessary, or either guard position. Regardless of where he lines up, Brown said he is thrilled."He definitely makes my job easier," Brown said. "He knows what to do, and he's a good player. He has been in the system and he knows the offense. I know that when I make a call, he can relay it to the tackle and make the blocks we need.Saena's maturity extends beyond the weight room. He has increased his offseason work with his focus on specific goals for his final season at SMU."I'm putting more emphasis on the minor details — I think we all (offensive linemen) are," Saena said. "When I go back and watch film, there were a lot of good things, but there are a lot of details that can be better. I want to play with better pad level, and be more consistent, because I'm going to do whatever I can to help us get to a bowl game and play for the conference championship."

Previous Story
Next Story

| | |
| --- | --- |
| | Froling ties school record with 15th double-double of the year |

| | |
| --- | --- |
| | Guard hits six 3FGs, scores 20 in rout of Cougars |