Looking forward
With knee repaired, QB Matt Davis sees opportunity at SMU Pro Day
Posted on 04/02/2017 by PonyFans.com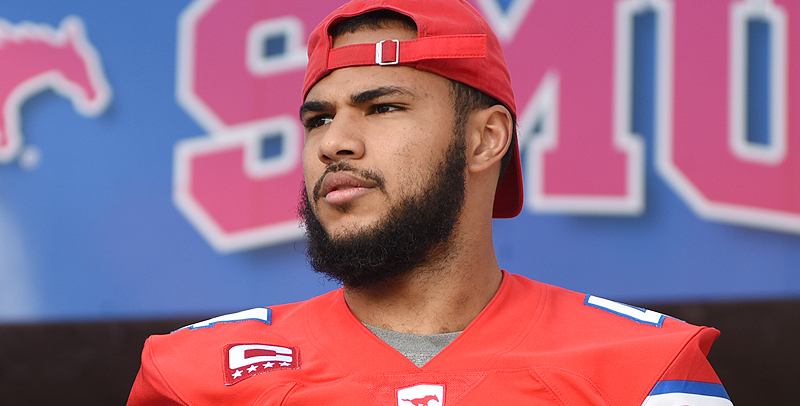 .
Graduating members of the SMU football team will gather Tuesday for the school's annual Pro Day, offering NFL scouts one last glimpse of their athletic ability in hopes of getting a chance to extend their playing careers. Among those auditioning for potential future employers will be one Mustang who barely played in 2016: quarterback Matt Davis. A dynamic, sometimes electric dual threat who was expected to steer the SMU offense through the second season of the Chad Morris era, Davis' senior season ended almost before it got started when he suffered a torn anterior cruciate ligament in his left knee while running in the season opener at North Texas.Against UNT, Davis rushed 14 times for 91 yards (6.5 yards per carry) and threw for 155 yards and a pair of touchdowns on just eight completions — a microcosm of his career as a signal caller who can impact an offense with both his arm and his legs. In his first two seasons at SMU — Davis started as a sophomore in 2014 after transferring to the Hilltop from Tyler Junior College — he threw for 3,318 yards and 19 passing touchdowns and rushed for 1,374 yards and 14 scores.There was talk that Davis might pursue a medical redshirt in order to return in 2017 for what would be a sixth season (his three years at SMU and one season at Tyler JC were preceded by a single season as a redshirt at Texas A&M). When he first got hurt last season, that's what Davis said he wanted. But the uncertainty surrounding the pace of the appeal process to the NCAA altered his perspective. Davis hired Scott Casterline as his agent, officially ending his pursuit of a final season of college eligibility and began training for SMU's Pro Day."Initially, I did (want to appeal for an extra season)," Davis said. "I anticipated coming back, regaining my position, playing with the team, leading them out there again. But the NCAA — their process is so slow, so drawn-out. It got discouraging to even try to get the year back. Why it takes so long, I don't know, but it seemed like it could go on forever. So after praying about it, I feel comfortable and confident about it. It's time to try and turn pro."The first question many teams have asked Davis and Casterline is about the health of his knee. Davis was "cleared to go 100 percent" about a month ago, and has been training rigorously for Pro Day (along with teammates Darrion Millines and Chauncey Briggs) at the Michael Johnson Performance athletic training facility in McKinney, Texas. His weight is up to about 220 pounds, thanks to training that is far different than that which players endure while training for upcoming seasons."It's totally different — you're not getting ready for a game," Davis said. "You're training to do drills. You're trying to get faster, quicker, stronger, so you're working on things like 40 starts and shuttles."Davis, who has workouts scheduled with the Dallas Cowboys and Houston Texans, said he and Casterline have gotten some feedback, most of which has been positive."The interest level has been extremely high," he said. "It looks like a lot of teams really like me — I'm pretty sure my agent has talked to just about every team. Of course they ask about the knee — they have to. But my knee isn't limiting me at all. The only soreness I feel is the normal soreness of a workout."Whether Davis gets a chance as a drafted player or as an undrafted free agent remains to be seen, of course. But his optimism is buoyed by the fact that his knee has not limited his workouts, and by the fact that while NFL teams traditionally look for bigger quarterbacks, there are professional passers who don't necessarily meet the eyeball test for what a prototypical player at the position should look like but have enjoyed considerable success in recent years.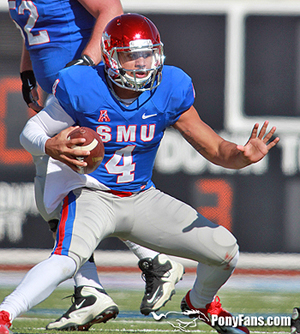 In addition to his ability as a passer, Matt Davis also is an effective runner — which he hopes to show scouts this week at SMU Pro Day (photo by SMU athletics).
"I don't worry about my height," the 6-foot Davis said. "I look at guys like (6-0) Tyrod Taylor, who's not a huge guy, (5-11) Russell Wilson, who's not a huge guy, (6-foot) Drew Brees, who's not a huge guy. They have shown you don't have to be huge to be successful. "I really don't care (about the focus some NFL teams place on a quarterback's height) because I can't do anything about that. I can't work out to make myself 6-foot-5 — I can't control that. What I can work on is my footwork, my mechanics, my arm strength, and those are good. In an ideal world, you want a beast at every position, and if you find a beast who can play at every position, that's good for you. But there are guys who have height that I don't have, but don't have the leadership or perseverance or intelligence that I might possess."Pro Day at any school is big for just about every player hoping for a professional career, and Davis certainly falls into that category. He has numbers in mind for how fast he wants to run his 40-yard dash and assorted shuttles, and how high and far he wants to jump, but is keeping those standards to himself. He knows he has athletic ability and football talent, and he also knows there are those who will question whether a player of his physical stature and coming off his knee injury can play at the next level. He knows that … his future is unknown. He doesn't consider his injury and ask "why me?" Armed with the sociology degree he earned in December, Davis sounds optimistic and grateful, regardless of what his future holds."I'm excited," he said. "Even more than that, I'm at peace and I'm blessed, because not everybody gets the opportunity to do this."I can take it even deeper than that: from a personal standpoint, I'm thankful. After that (North Texas) game, I couldn't even walk. I was in the hospital. I had my mom help me get up. A month after that, I was walking, but couldn't jog. A month after that, I could jog but couldn't run. Now I'm running, now I'm cutting, now I'm jumping. So I'm just thankful. I didn't really start throwing the ball until January."Davis said his parents and his faith helped recover, and that his ability to heal — twice — is a just reward after the work he put in."I'm not surprised," he said when asked if he was surprised to make it all the way back from a season-ending injury to NFL hopeful. "God has been so good to me. I recovered extremely fast in high school (after suffering the same injury in his other knee). I tore my ACL, and I was running in the state track meet eight months later, I was dunking in five-and-a-half months. When I got hurt, God extremely good to me, as far as how fast I healed. I had teammates who didn't believe I was walking as quickly as I did, like '
did you even get hurt?
' You want to be prideful, you want to feel superhuman."I'd be lying if I said there weren't dark times, times when you get frustrated, especially around the two-and-a-half-month mark, when you're doing the same thing over again and can't go further. That's when it gets discouraging, but I'm not surprised that I got cleared as fast as I was, because I know how God works when you're in his plans. Most people don't get the opportunity I have. I'm grateful, and I'm excited."

Previous Story
Next Story

| | |
| --- | --- |
| | Coach discusses Quinn, why he expected to play so many young players |

| | |
| --- | --- |
| | Spring-ending game will be preceded by Alumni Game at 11:30 a.m. |