Position preview: Running backs
New RBs coach has to spread carries among crowded backfield that includes Jones, West, Freeman
Posted on 08/07/2017 by PonyFans.com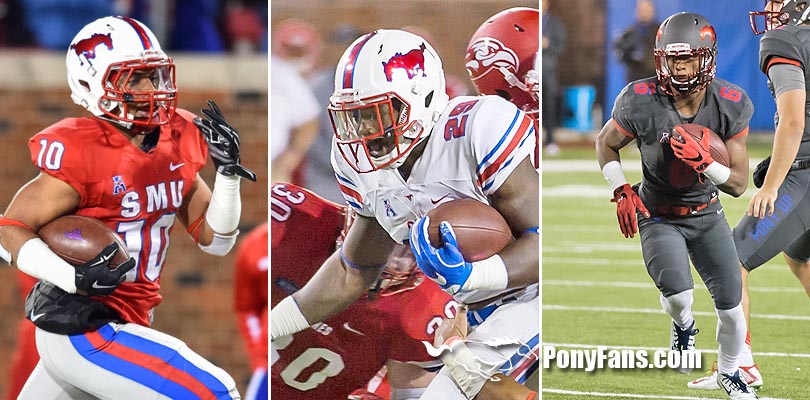 (photo by Max Franklin and Pat Kleineberg).
It would be understandable to consider the SMU offense and assume that the ball will be in the air almost constantly in 2017. After all, quarterback Ben Hicks is in the best shape since he arrived at SMU and is being pushed in practice by a pair of talented transfers who want to get on the field, Courtland Sutton headlines a group of wide receivers head coach Chad Morris has said is "as good as any in the country" and the offensive line should be improved with the return of tackle Chad Pursley and guard Jerry Saena, the move of Nick Natour to guard and the development of several young linemen who, at the very least, will provide quality depth.But the Mustangs actually ran the ball more times — 478 — than they had passing attempts: 456. Head coach Chad Morris and his staff stuck to the plan to establish a running game even when starter Xavier Jones suffered a pair of injuries in 2016 that limited him to just two games.Now, even with the aerial weapons at their disposal, the offensive coaches have a stable of talented runners to employ, and insist that one of their biggest challenges will be not whether to run the ball in 2017, but how to spread carries around."It's a challenge for us, as coaches, but it's a good problem to have," offensive coordinator Joe Craddock said. "I'd much rather have that problem than be trying to move just one guy around and get him the ball all the time, but it's a good problem to have, and I know our quarterbacks enjoy it as well."So they're all going to stay happy. They're all about the team. They truly are — I'm not just blowing smoke right there. Those guys, in both rooms — even from the tight end group — they understand it's about the picture. Everybody just wants to win."When the Mustangs run well, the chance of victory goes up … or maybe it's more a case of when they get ahead, they are able to impose their will and pile up yards on the ground while wearing down opposing defenses. Actually, both are true: in SMU's losses last year, the offense averaged 120.9 yards per game on the ground; in the Ponies' victories, that average ballooned by more than 100 yards per game, to 222.6.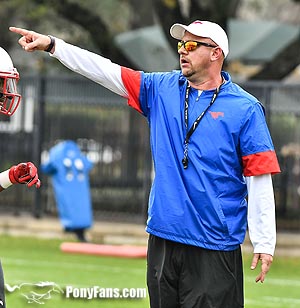 Jeff Traylor is gearing up for his first season as the new SMU running backs coach (photo by PonyFans.com).
Jones burst out of the gates as a true freshman two years ago, playing in all 12 SMU games and starting six, rushing 152 times for 634 yards (4.2 yards per carry) and an SMU freshman-record 10 touchdowns, giving every indication he could be the team's top running threat for several seasons. But hamstring and shoulder injuries limited Jones to just two games a year ago, ultimately ending in a medical redshirt. With Jones shelved, the Mustangs turned to then-sophonore Braeden West and true freshman Ke'Mon Freeman, who proved to be a more-than-capable tandem. A member of the 2017 Doak Walker Award (given annually to the nation's best running back) and the Paul Hornung Award (to recognize versatile, high-level performers), West was run 202 times for 1,036 yards (5.1 yards per carry), the 14th-highest single-season rushing total in SMU history, and six rushing touchdowns, while Freeman — just a year after playing quarterback in high school — ran 154 times for 654 yards (4.2 yards per carry) and four rushing touchdowns.Now Jones is back, and the Mustangs have added freshman Kayce Medlock, as well as walk-ons Merek Pierce and Kane Norman … not to mention new running backs coach/assistant head coach Jeff Traylor."He adds a wealth of knowledge," Craddock said. "Coach Traylor has been a great coach for a long time, (and) has done a heck of a job, I think, of building relationships with the guys, more than anything — that was kind of his goal. He knew those guys were really close to Coach (Claude) Mathis, and he took it and did it the right way. "He brings a lot of knowledge — he has been there, done that in a lot of different places. He's one of the older heads in the meeting room, as far as our offensive staff — he calls us 'kids, me and Coach Fry and Coach Stepp — but we have a good time. He's a great guy. He took a step back and learned our offense and how we do things, and he's going to do a great job."SMU's top trio of runners does not cover all options. The Mustangs discovered a pair of versatile walk-ons during the spring in Kane Norman and Merek Pierce, and welcomed explosive freshman Kayce Medlock to the stable. Some coaches believe in that when numbers allow, all freshmen should have the benefit of a redshirt season. Traylor, on the other hand, is one of those who believes the best players should play, regardless of age and academic class, and therefore said that Medlock will be given a chance to crack the rotation."No doubt," he said when asked if Medlock would be given a chance to at least compete for playing time as a true freshman. "I mean, they're running backs, which means they're the best players on the team. I mean, when you're a high school football coach, you're going to put the best player at running back or quarterback — it's where you're going to put him. "If nothing else, they can run down on kickoffs and tackle. They can block on (kickoff return), they can cover on punts, they can jam on punt return. There's a lot of places for a running back to help, and as he learns the offense, he can get out there. So I think there's a real chance for Kayce to get out there and play."Who ends up as the starter likely is unimportant, and probably will not be the same player throughout the 2017 season. After all, the Morris-coached offense is centered around the idea of playing fast, the effects of which include an increased number of snaps. If done effectively, Traylor said, the Mustangs will focus less on which running back gets the first snap and more on which runner is fresh enough to run most effectively."The great thing is that with Coach Morris: it's 'Pony Up Tempo,'" Traylor said. "We're playing a bunch of snaps — we're trying to get 85 to 95 to 100 snaps in a ballgame. So if you get 100, and you've got four (running backs), that's 25 for each back. So if you're going to run the ball, which he does, about 55, 50 percent of the time, that's 12 carries for everybody, and that's a good load. If you go for 12 carries, and you're catching a couple of passes, that's 14, 15 touches in a ballgame, and if you go with four fresh backs, that's tough on a defense — they're not playing four linebackers, they're not playing four defensive ends. They might go two deep, (but) they're not going four deep. "If I'm rolling a fresh back in there … 'fatigue makes cowards of us all.' That's been around for a long time, and we want to keep a fresh back out there."

Previous Story
Next Story

| | |
| --- | --- |
| | Coach reiterates Ben Hicks leads in battle to start at quarterback |

| | |
| --- | --- |
| | Courtland Sutton on numerous preseason watch lists, all-AAC teams |