Q&A with DMN writer Adam Grosbard: pre-Houston
How does 4-1 start alter expectations?
Posted on 10/03/2017 by PonyFans.com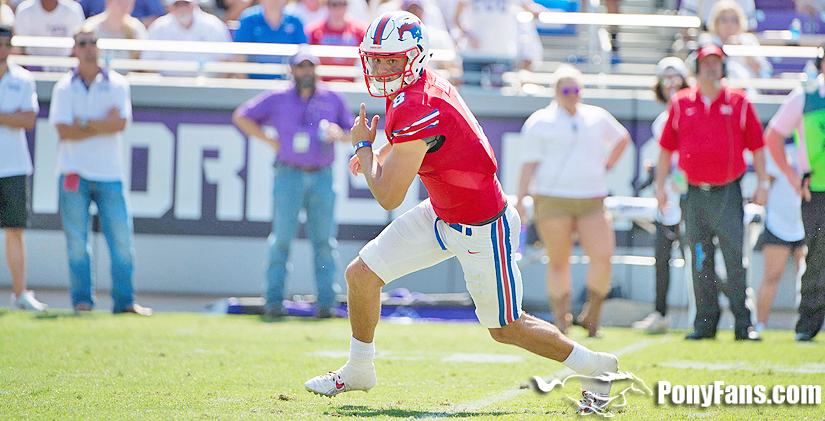 Adam Grosbard says that the SMU performances against TCU and Arkansas State have done more to alter his expectations for the 2017 Mustangs than the 4-1 record (photo by Patrick Kleineberg).
PonyFans.com is proud to announce a new partnership with the
Dallas Morning News
. Throughout the season, we — the webmasters and readers of PonyFans.com — will pose questions weekly to Adam Grosbard, the SMU beat writer for the
DMN
, and he will do the same to us, and then we will publish the results in each outlet.All PonyFans are invited to submit questions to be asked to Adam, either on the message board or through a private message on this site to Webmaster or PonyPride. We will select a few each week and submit them to Adam, so be sure to check back each week to see if yours is selected.Make sure to follow Adam on Twitter @AdamGrosbard!___________________________________________________________________________________________________________________________
PonyFans.com
:
Dimarya Mixon, Tyeson Neals, Pono Davis and Will Hopkins all have made significant contributions in the early going after transferring to SMU this year. Do you see their success inspiring the Mustangs to look for more JUCOs and transfers going forward?
Adam Grosbard
: I think we will see SMU look more at JuCos and grad transfers this offseason. I'm not sure it will be a product of the four guys you mention, though each have found their own ways to be productive this season. I think it will more have to do with the fact that SMU is only taking 20 high school commits because of the five blueshirts from the previous recruiting class. It's harder to find guys who can contribute right away with a smaller high school class, so SMU will need to find other ways to add talent to the roster. I'd expect SMU to look for some secondary help, especially if someone like Jordan Wyatt leaves early for the NFL. Offensive line help is never a bad idea, either, though there are so many young guys with big expectations on the roster at that position that SMU may prefer to look for in-house solutions there.
PonyFans.com
:
The Mustangs are 4-1. Does that record, or anything that you have seen in the first five games, change your expectations for what this team will accomplish this season?
Grosbard
: The record doesn't surprise me. I had SMU pegged as 4-1 at this point in the season when making predictions in August. But the TCU and Arkansas State games show this team could be capable of a lot more. SMU played TCU tougher than just about anybody and easily handled an Arkansas State team that's been to six straight bowl games. Neither of those are easy accomplishments. I had SMU losing to Houston a month ago but the more I look at that game the more I think SMU can win it. If the Mustangs do, then we could be looking at an eight-win team, which would far exceed my preseason expectations.
PonyFans.com
:
Do you think the coaches want to get more receiving production from the tight ends? Or are they content to rely on the receivers and running backs, and use the tight ends exclusively as blockers?
Grosbard
: I don't think it's been an issue for the coaching staff this season. They've seemed pleased with the run blocking from the group, led by Raymond Epps, and have not been putting any pressure publicly on the group like they have with other players. And considering the team is third in scoring in the FBS, it's not like SMU has needed a tight end in the pass game through four weeks.I can't help but think, though, that a tight end who is a genuine receiving threat would add a whole different dimension to this offense. Just imagine a pass catcher lining up in the H with all the other weapons SMU has at receiver and running back. As tough as the offense is to defend now, if every receiver on the field can catch you're that much harder to stop.
PonyFans.com
:
The Ponies travel this week to Houston. What has meant a bigger adjustment for the Cougars: the loss of former coach Tom Herman or the loss of former quarterback Greg Ward?
Grosbard
: I have to say Herman. Major Applewhite was the offensive coordinator last year so the offense isn't too different regardless of the quarterback. But Herman brought a certain swagger and attitude to Houston that we haven't seen in the same way since he left. I feel like Herman would have gotten the Cougars up for that Texas Tech game and it would have been a different result than the loss. That being said, there certainly been a drop-off at quarterback play without Ward. Kyle Allen has been very accurate in general but a one-to-one touchdown-to-interception ratio is a bad look.

Previous Story
Next Story

| | |
| --- | --- |
| | Thorpe, Harrington score in dominant win |

| | |
| --- | --- |
| | Ponies face Cougars in AAC road opener at 6 PM Saturday |