Pony NATE-tion: Is SMU catching Navy at ideal time for upset?
Posted on 11/09/2017 by PonyFans.com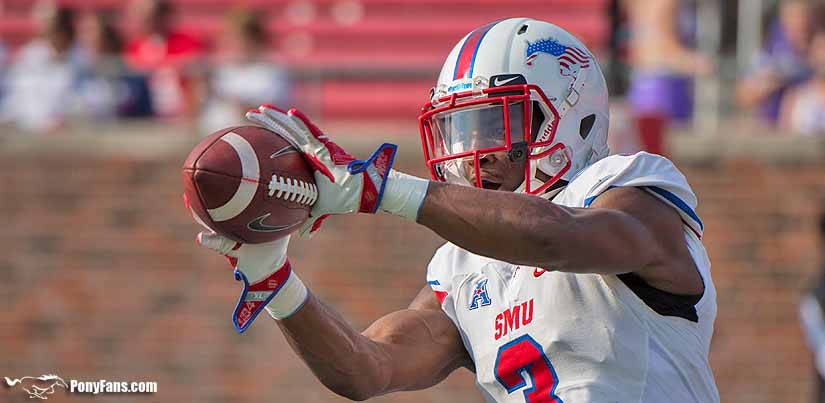 Nate says that if receiver James Proché can continue his recent surge, the Mustangs have a chance to go to Annapolis and upset Navy (photo by Patrick Kleineberg).
PonyFans.com is proud to have 17-year-old Nate as a guest columnist. In this installment, Nate breaks down the Mustangs' trip to Annapolis, Md., where they will play Navy Saturday afternoon.
Feel free to post comments and constructive criticism, ask him questions, and/or give suggestions for upcoming columns! (He can be followed on Twitter at @Pony_NATE_tion.)___________________________________________________________________________________________________________________________SMU is coming off a heartbreaking 31-24 loss against No. 15 UCF, a loss that only can be highlighted by one thing: missed opportunities. As the Mustangs drove down the field on multiple occasions down the stretch, their three best receivers all committed uncharacteristic and fatal drops. First, Courtland Sutton dropped a wide-open comeback pattern near the sideline. Next, on fourth down, Trey Quinn ran a quick hitch route, had all the room in the world to run after the catch, and flat-out dropped it. On SMU's last-chance drive, Ben Hicks had James Proché running open on an inside post. It was not an easy play by any means, but a very makeable play, certainly for a player of Proché's ability. One of the more egregious mistakes that haunted SMU throughout the game was Ke'Mon Freeman's fumble going into the end zone in the first half. Hicks continued to impress, throwing for 283 yards and a touchdown. Surprisingly, the ground game was very effective, especially Xavier Jones, who averaged more than four yards per carry on his way to 84 yards and a touchdown. The really pleasant surprise was the arrival of Proché, who has had a bit of a down year compared to his production last year, as the explosive young receiver had 173 yards. Despite the crucial mistakes, the Mustangs mounted 489 total yards (including a surprising 206 rushing, given UCF's stout front seven) against one of the top defenses in the conference. Defensively, UCF's 615 total yards is extremely misleading. The Knights' yardage numbers were ballooned by several big plays. The SMU defense played the classic "bend, but don't break" defense. UCF had no trouble moving the ball up and down the field, but the Mustangs were opportune, getting a monstrous pick-six by Jordan Wyatt, and forcing two other turnovers. SMU forced UCF into a lot of mistakes with good pressure from the front seven. Possibly the biggest stop for SMU came after UCF made a long "chunk play" to get deep into the red zone, and the Mustangs held at the goal line, forcing a field goal to keep it a one-possession game. The defense was certainly not the problem Saturday. If the offense had converted on the big missed chances, this is a totally different feeling going into Annapolis.The Mustangs could not have picked a better time to be coming across the Navy Midshipmen, as the Mids come limping in at 5-3, following a 5-0 start. Nothing has seemed to go right for Navy as of late. Though the first two losses came against quality opponents (Memphis and UCF), Navy easily could have beaten both. But the Mids' loss to Temple was inexplicable. Temple has struggled for most of the year and took it to Navy. The 34-26 final score is misleading, as Navy scored a couple of touchdowns in garbage time. Most notably, quarterback Zach Abey came out of that game injured, but that game was on Thursday, so Abey has had a lot of extra time to heal.Navy is running its classic triple-option run attack, an offense that is extremely hard to prepare for, especially for scout team players running an unorthodox offense. There is no difference in the Midshipmen's offense than years' past. Navy pounds the rock, averaging 5.6 yards per carry, with a run-pass ratio of more than 3:1. Teams have had a lot of success running the ball against the Ponies, and this could be a problem for the porous front seven of SMU. Navy occasionally will run a play-action and catch the back end sleeping, so the secondary must be on high alert at all times.Defensively, the Mids are vulnerable, specifically in the secondary. Teams have been throwing all over Navy at a 63 percent completion rate, while the Midshipmen's defense has picked off opposing quarterbacks just four times. That might be due to a shortage in sacks and pressures. Navy is giving up 30 points per game and teams have been effective running the ball, averaging 4.6 yards per carry.If the Mustangs can take advantage of a shaky Navy secondary and jump out to an early lead, that will force the Mids to abandon their triple-option gameplan and will force them to get out of their element and start slinging the ball around. This game will have a lot decided early on, as a substantial deficit could be fatal to the Ponies, given their inability to stop the run. Eating up clock and pounding the run is Navy's bread and butter, and forcing the Mids out of that is key. SMU will need big games out of Sutton, Quinn and the emerging Proché. The elite receiving corps of SMU will take advantage of some mismatches and spark SMU early with some big plays. I like SMU to go to Annapolis as an underdog and steal a big AAC win. Nate's take: SMU 34, Navy 31

Previous Story
Next Story

| | |
| --- | --- |
| | Mustangs, Midshipmen face off at 2:30 (CT) Saturday in Annapolis |

| | |
| --- | --- |
| | Mustangs face UCF at 1 p.m. in tournament championship game |