Pony NATE-tion: Mustangs can expect shootout in DXL Frisco Bowl
Mustangs going for eighth win of season
Posted on 12/18/2017 by PonyFans.com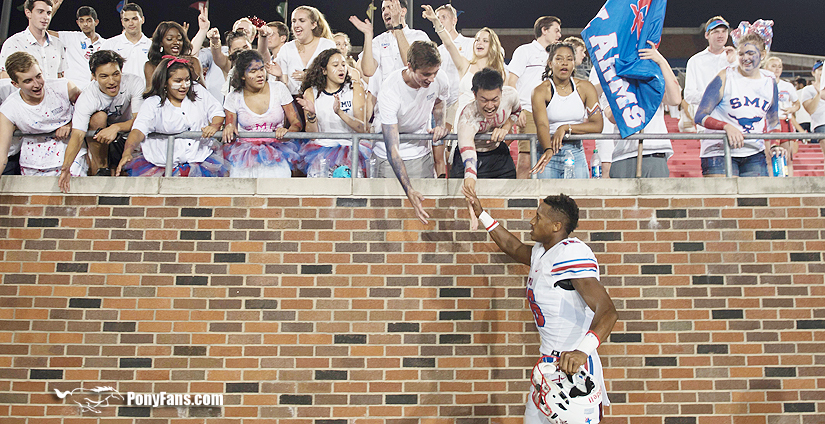 The DXL Frisco Bowl against Louisiana Tech means the Mustangs have a chance to pick up an eighth win in the 2017 season ... and also will be the last chance to watch receiver Courtland Sutton in an SMU uniform (photo by Patrick Kleineberg).
PonyFans.com is proud to have 17-year-old Nate as a guest columnist. In this installment, Nate breaks down the DXL Frisco Bowl, in which SMU will face Louisiana Tech at 7 p.m., Dec. 20 at Toyota Stadium in Frisco, Texas.
Feel free to post comments and constructive criticism, ask him questions, and/or give suggestions for upcoming columns! (He can be followed on Twitter at @Pony_NATE_tion.)___________________________________________________________________________________________________________________________The program had finally risen from the ashes and the rebuild finally had culminated in a bowl berth, the first since 2012. But the man that brought the program back to relevance will not be coaching in this first bowl game of the new era. Chad Morris has moved on to the Southeastern Conference, as he was hired away from SMU to Arkansas. But what put the Ponies in more disarray is Morris took just about the entire offensive coaching staff with him. Morris took with him Joe Craddock, Dustin Fry, and Justin Stepp, as well as recruiting director Mark Smith. After initially being named the interim coach, Jeff Traylor also bolted for Arkansas. Finally, Sonny Dykes was named the head coach, and shockingly, will immediately coach the team in Wednesday's Frisco Bowl game. So to say there is some coaching turmoil on the Hilltop is a huge understatement. Overcoming this coaching carousel will go a long way to securing the program's first bowl win in five years. Dykes will give a lot of the offensive responsibility to the players, and graduate assistant G.J. Kinne will call the plays. This could go one of two ways for the Ponies: there could be lots of confusion and questionable play calls, or there is a near-seamless transition, because after all, the players are the ones out on the field. Morris took none of his defensive staff. There should be little to no issue as far as schemes and gameplans are concerned.But through all these issues, a date with Louisiana Tech and coach Skip Holtz awaits the Mustangs. Playing in the inaugural Frisco Bowl, SMU should have a decided home-field advantage, given the fact that the Ponies are playing in the Metroplex. But LaTech has been to four straight bowl games and has won its last three, so the Bulldogs are no strangers to postseason play. The Bulldogs are 6-6, going 4-4 in Conference USA play. Leading an offense that regressed in scoring from 2016 to 2017 is quarterback J'Mar Smith, who has thrown for 2,758 yards and 13 touchdowns through the air, while accounting for five more on the ground. The Bulldogs base their offensive attack on the ground, with two legitimate options out of the backfield in Boston Scott (937 yards and eight touchdowns) and Jarred Craft (516 yards and three touchdowns). This is going to be problematic for Van Malone and the defensive staff, as the Ponies have had lots of trouble trying to stop the run all season long. Smith has options, featuring Teddy Veal, the leading receiver who has 832 yards and five touchdowns. Veal is complemented by deep threat Rhashid Bonnette, who is averaging 18 yards per catch.LaTech has been solid on defense, surrendering just 26 points per game. Opponents have had a tough time throwing the ball on the Bulldogs without turning it over, as LaTech has picked off its opponent 16 times. But LaTech also is susceptible in the run game, as teams have had a lot of success running the ball all over the Bulldogs. This is an area the Ponies can expose. Xavier Jones has come on as the leader of the SMU backfield as the season has worn on, and he has shown legitimate ability to tote the rock as the lead back. The flashes he showed during his freshman year have proven to not be flukes. Jones has scampered for 1,019 yards, and has been complemented by Ke'Mon Freeman (11 touchdowns) and Braeden West (512 yards).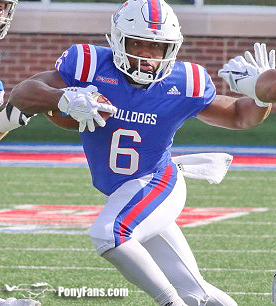 The Louisiana Tech offense is led by running back Boston Scott, who has rushed 163 times this season for 937 yards and eight touchdowns this season (photo by LaTechsports.com).
Although teams have had trouble through the air against LaTech, expect a monster game from Courtland Sutton, who will be playing his final game for SMU. Sutton and Trey Quinn have been a lethal combo that no one has been able to stop all season long, and there is nothing to suggest LaTech will slow those two down, at least without ignoring James Proché, who has really come on as the season continued. Enjoy watching this wide receiver group one last time Mustang fans, because it is without a doubt the best and most talented group of wide receivers this school has ever had. Sutton surely will be trying to put on a show for the Mustang fans in his final game before he moves on to be a first-round pick in the 2018 NFL Draft. Which brings me to this: thank you to Courtland Sutton. He easily could have bolted for the NFL last year. But he loved this team so much he wanted to stick around for one more ride. He could have sat out this bowl game, as many draft prospects do nowadays, but he won't. Sutton has been one of the fiercest competitors this school has ever seen, and in my opinion, is the most talented football player in SMU history. Thank you Courtland, and I wish you a long and successful NFL career.Back to the Frisco Bowl: the Mustang offense will be humming and will give LaTech a lot of problems. The Bulldogs won't be able to stop SMU and the Ponies will light up the scoreboard like they have done all year long. But there is concern about the SMU defense, which will tangle with a tough ground attack that is complemented by an explosive passing game. Limiting big plays and getting turnovers will be key for the defense, while running the ball and controlling the game flow will be key for the offense. Louisiana Tech will be able to run the ball consistently, but won't be able to keep up with the high-flying SMU offense. I like SMU to cap off a great season with a Frisco Bowl victory and an 8-5 record. Nate's Take: SMU 42, LaTech 34

Previous Story
Next Story

| | |
| --- | --- |
| | Mustangs face Louisiana Tech Wednesday in Frisco Bowl |

| | |
| --- | --- |
| | Senior guards both crack 20-point scoring plateau |