PonyFans.com Q&A with Justin Lawler
All-AAC defensive end discusses Pro Day, pre-draft waiting game
Posted on 04/01/2018 by PonyFans.com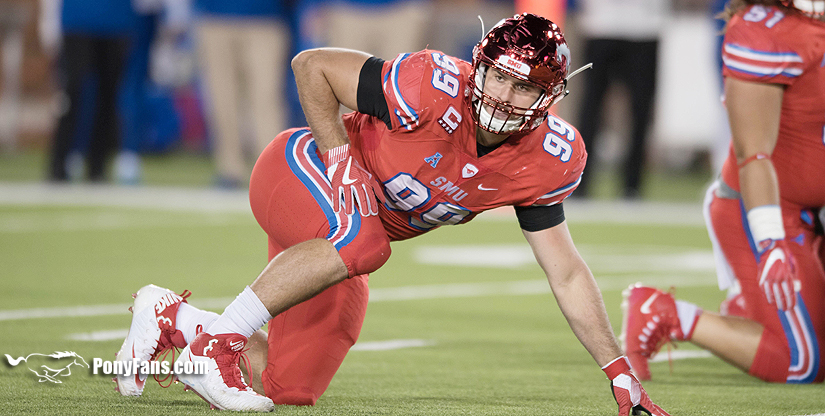 Whether he ends up getting drafted or signing as a free agent, SMU defensive end Justin Lawler is looking forward to learning what his football future holds (photo by Patrick Kleineberg).
A lot of college football players across the country have April 26-28 circled on their calendars (OK, highlighted in their phones). Those days represent the first view of the future for players chosen in the NFL Draft; several others will sign as undrafted free agents in the days immediately following the draft.SMU defensive end Justin Lawler is one of those players wondering where his future will lead him. A little-known two-way player out of Pottsboro, Texas (about an hour north of Dallas), Lawler forced his way into the lineup and become arguably the Mustangs' best defensive player. He had a team-high 9.5 sacks in his senior season, giving him 20.5 in his career, tying former SMU linebacker Ja'Gared Davis for the second-highest total in program history (three shy of the SMU record set by former defensive end Luke Johnson).Since the end of the 2017 season, Lawler is among those who have been training for an unknown future. He played in the East-West Shrine Game in St. Petersburg, Fla., where he had a pair of tackles, a tackle-for-loss and a sack. At SMU's Pro Day March 28, Lawler measured in at 6-4 and 267 pounds, and now awaits his fate. Lawler, who already has his B.A. with a Sports Management major and a minor in Sports Performance and Leadership, visited with PonyFans.com to discuss how training to impress scouts on Pro Day differs from training for playing a season, what the waiting process has been like and how it is affecting him … and his family.
PonyFans.com
:
What has it been like for you, between the end of the season and Pro Day, not knowing where your future will be?
Justin Lawler
: It varies from day to day. In early Januray, I played in the East-West game in the Tampa Bay Rays' stadium in St. Petersburg, and since then, I've been training in Fort Worth at APEC (Accelerate Performance Enhancement Center). Obviously I've been working out a lot, but that's fun. A lot of people told me I'd be stressed out by this process, that it would be overwhelming, but it's not. I love to train, I love to get up early and go do what I have to do, and that's what I have been doing. It's been fun.
PonyFans.com
:
Some players say they grew up just enjoying the game, having fun, playing with friends, etc., while others say they have spent their entire lives dreaming about playing professionally. How much did you think about the opportunity that's now in front of you while growing up?
Lawler
: As a little kid, that's everybody's dream who plays football — we all dream of playing in the NFL. But as I got older, I didn't know if was possible. I kept working hard, and working hard kept opening doors, and now it's finally across the street, so to speak. It's not really surreal, because I have looked forward to it for so long. But going to the NFL is not my end destination — I want to play 8, 10, 12 years.
PonyFans.com
:
When you were a senior at Pottsboro High School and you had committed to SMU, you talked about how glad you were to have the chance to play in college. At what point did the possibility of going to the next level — playing professionally — go from a dream to a legitimate possibility?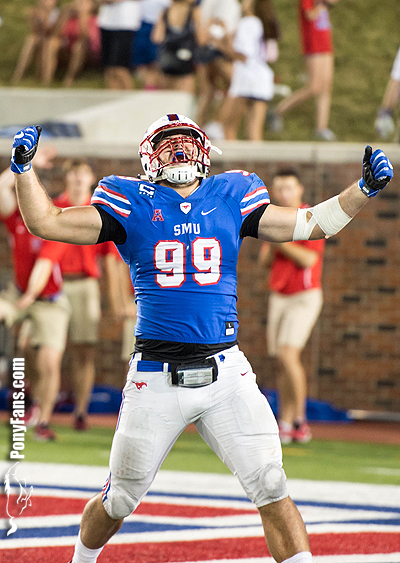 Lawler finished his SMU career for second in program history with 20.5 quarterback sacks (photo by Patrick Kleineberg).
Lawler
: Just recently, honestly. Going into my senior year, people said "don't think about NFL." I did think about it, but it was a rare thought. I'm really big on staying in present — that's my mindset. I never thought about it when I had a bad game — I didn't think about how the pro scouts must think I'm a terrible player. I just thought about how I had to get better. So when I was meeting with agents after the season was over, they mentioned to me what scouts were telling them, where I could go, where I might get drafted. Then I was invited to East-West Game, and I started to think that I really have a shot to do this. It really was only recently that I started to think seriously about it.
PonyFans.com
:
Was there someone — your parents, a coach, a teammate — who sat you down and convinced you of the reality of this? Or did you reach the idea on your own?
Lawler
: No one set me down. At the East-West Game, you don't have any time to yourself, not a single minute. You're either in front of someone or sleeping. So I went to the game, had a couple of a tackles and a sack and a tackle-for-loss. The hotel where I stayed was across from the beach, so I ordered a pizza and took it down to the beach, and I thought about the how I'd just competed against some of the best offensive linemen I've ever seen, I went against some of the best tight ends I've ever seen, I sacked one of the best quarterbacks (Ohio State's J.T. Barrett) I've ever seen, and performed well. So it's not out of reach — it's very doable. That game was a real boost to my confidence. Then I saw social media going off, talking about "SMU's Justin Lawler." People were talking about me. That was a good moment.Everybody who interviews me asks what it's like to be a sleeper, but I don't care if people think I'm a sleeper. I competed against some of the best players out there, and I had a good game.
PonyFans.com
:
How do you think you did on Pro Day? What kind of feedback did you get from NFL scouts/coaches?
Lawler
: I was pleased with some of it. They timed me at 5.02, I think, in the 40. I had gotten to 4.92 with my trainer, so that's what I told people I could run. But overall, I think I did pretty well. I can't change anything at this point, and overall, I'm satisfied with what I did in the drills. At the end of the dayI talked to some scouts for 15-20 minutes, and they talking about their organizations, how I was on their draft board and they have a draft grade. I had one guy tell me I'm not huge tester, but he thinks I'm a flat-out football player.
PonyFans.com
:
Growing up in Pottsboro, is it safe to assume you grew up a Dallas Cowboys fan? Would it be hard to switch that if picked by another team, including a rival?
Lawler
: A lot of scouts ask me that, too. There's no hiding that. I grew up here, so I grew up rooting for them.
PonyFans.com
:
You played in the Shrine Game. Were you surprised to get that invitation?
Lawler
: I wasn't really surprised, but I didn't expect it, either. I didn't know that I was good enough to be sought after — I was kind of oblivious, I guess. I don't read the stuff out there about me, and I could care less what other people say. I was just focused on winning games at SMU.
PonyFans.com
:
How would you compare the process of wondering what NFL team might want you to the process you went through coming out of high school, when you were trying to figure out which colleges would want you?
Lawler
: I'm getting more interest now than I did when I was in high school. I got a couple of visits here and there, really just a couple of teams, and then Memphis came along and threw me an offer. So I'm getting a lot more interest now than I did then. A lot of people sell me on place that they're at, so maybe have me as an undrafted free agent, because they're recruiting me like some did when I was in high school. You never know what's going to happen.I think I have more of a sense of what's going on this time around. Especially for me, coming out of Pottsboro, which is rarely recruited. I'm a lot more aware, I have more knowledge about what people want to see, what they're looking for.
PonyFans.com
:
You're married, and you're a father. Does that impact the way you're approaching this whole process, and if so, how?
Lawler
: That has impacted me a lot, of course. I feel a responsibility to be at home on weekends, rather than out. I wake up Saturday morning, rather than sleeping in. My responsibility increased, just I'm a family man. It's better for me to be home. I'd rather be at home with my family.Between East-West Game and Pro Day, I met with about 22 teams, and every one of them asked the same questions on the first half interview: what do your parents do? Are you married? My agent says use it as positive thing, show that it has grounded me. I think it helps, too, because they can see I'm more responsible, since I have a family to feed.My daughter is four years old. She understands that I play football, and she loves football. Every time she comes to Dallas, she wants to go to the football field and play. She understands that much, but she has no idea what I'm going through with all this. But this is the business side of it. She doesn't need to understand that part. We have told her we might move, that we'll be father away from the rest of our family. We have tried to help her understand that's a possibility.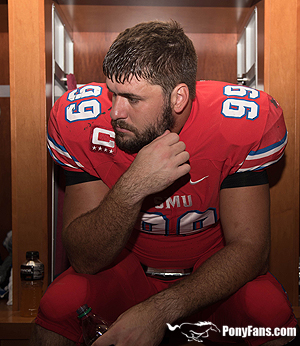 Lawler hopes that teams will recognize that the responsibility of being a husband and father helps keep him grounded and increases his maturity and professionalism (photo by Patrick Kleineberg).
PonyFans.com
:
There are reports out there — some credible, some not so credible — that tag you with the dreaded "'tweener" label, and others that talk about your production and simply say that you can play, that you're a legitimate prospect. What's your reaction to the "'tweener" label? Is there any validity to that?
Lawler
: I kind of take it as a compliment, you know? Most of the knocks on me, I think, are from people who say I'm not very good athlete. But to say I'm a 'tweener, that means you realize I could do multiple things, and I can. No matter what, I'm going to do what they ask me to do, I'm capable of doing that. If they want me to stand up (as a linebacker), put my hand down (as a defensive end), I'll do whatever they want. At the East-West Game, I stood up and did it. During the workouts there, I dropped into coverage some and caught some passes, too. I played tight end and receiver in high school, so I had to show them that I can catch, if they want me to play standing up. At end of the day, football is football, and those positions are really the same spot. It's just not necessarily the same position, so minus first two steps, standing up is the same as having a hand in ground. I
PonyFans.com
:
Do you agree with the theory that you have to go to a team that plays a 4-3 defense? Or do you see a way in which you could survive or even thrive in a 3-4?
Lawler
: I don't agree that I have to a team playing a 4-3. I have heard that from some scouts, but I could play in 3-4, too. I could do either, and on Pro Day, I caught some balls, too. I think I could play a number of positions, depending on the defense.
PonyFans.com
:
How will you spend draft weekend? Will you watch with family or teammates?
Lawler
: I'll be in my living room, with my sister, my brother, my mom and dad, and I hope my grandparents will be there. I expect to be drafted, but if I'm not, I'm prepared to find the right team and make the most of that chance. As far as the draft, though, I think I'm going to order some buffalo wings, pig out and have a good time with it.
PonyFans.com
:
There are those who believe that prospects who are projected to go in later rounds are better off not getting drafted at all, so that you can step back and choose the ideal situation as a free agent. How do you balance that against the competitiveness that makes you want to get drafted, no matter where you get taken?
Lawler
: I definitely want to say I got drafted. Coach (Chad) Morris told me before he left … he told me he thought I was a (round) 6 or 7 guy to an undrafted free agent, so I know there's no guarantee. But the way I look at it, a team isn't going to invest in position they don't need. Not going to draft you if they don't need you. It would be a wasted pick.
PonyFans.com
:
How are your parents and your wife handling all of this?
Lawler
: My parents are enjoying this, but my wife is a big ball of stress. My dad looks at everything (on-line), and my mom calls me twice a day. They're just excited … and so am I.
PonyFans.com
:
All of the training, the interviewing, the waiting … is this part of the process fun? Or are you eager to just get some clarity about the next step in your football career?
Lawler
: It is fun. I'm not training for football — I have been training for sprints, for more track-type work than football. I have done more track work for this than I have in my life. I'm ready to get back to football.But it is fun — I like this stuff. I'm a work addict. I force my self to relax a little every now and then, but it's fun. I'm just excited to see where I end up.

Previous Story
Next Story

| | |
| --- | --- |
| | DL coach on why he followed Kevin Kane from NIU, what he expects from DL |

| | |
| --- | --- |
| | Dykes on Saturday's format, who's getting work at WR; Neals on new DL coaches |