Pony NATE-tion: Can offensive line improve enough against TCU?
Mustangs, Frogs kick off at 7 p.m. Friday
Posted on 09/05/2018 by PonyFans.com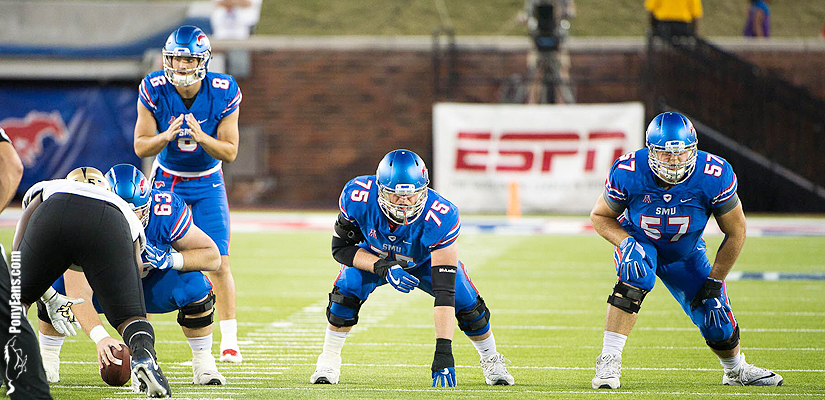 For Ben Hicks and the SMU offense to be more productive this week, the offensive line needs to be better in both run blocking and pass protection (photo by Patrick Kleineberg).
PonyFans.com is proud to have 17-year-old Nate as a guest columnist. This week, he looks at the start of the 2018 season, including his preseason awards and a breakdown of Friday's home opener against TCU.
Feel free to post comments and constructive criticism, ask him questions, and/or give suggestions for upcoming columns! (He can be followed on Twitter at @Pony_NATE_tion.)___________________________________________________________________________________________________________________________To say Saturday night's kickoff at Apogee Stadium was a disappointment would be an understatement. As Sonny Dykes said after the game, "Everything that could go wrong did go wrong."A North Texas drive that was supposed to be a third-down stop resulting in a fourth-and-25, which instead devolved into Trevor Denbow being ejected for targeting and an eventual UNT touchdown really put the Ponies behind the eight ball. "I'm not big into excuses," Dykes said. "But he's a good football player and he's one of our better defensive players and at a pretty important position." The impact was certainly felt, as the workload for safety Patrick Nelson and linebackers Delano Robinson and Richard Moore significantly increased. Top that off with a Ben Hicks pick-six and the Mustangs were down, 14-0, before you could blink. Hicks committed a cardinal sin, a mistake a freshman Hicks made two seasons ago. He threw an out route not only far too late, but with an overhang corner playing off the line of scrimmage. It was one of those throws which Hicks immediately regretted, probably wondering, "My goodness, why did I throw that?" SMU never had a chance to catch the returner, and the avalanche ensued. The offense simply never got going. By halftime, the Mean Green had 17 first downs to the Mustangs' one. Hicks never had much time to throw, the receivers never got much separation and the run game had to be quickly abandoned. The Mustangs did get going late, but it was far too late. The offense looked unprepared and outmatched, and offensive coordinator Rhett Lashlee and Dykes have a lot to work on before Friday with a top-20 TCU team coming in.Defensively, the Mustangs showed lots of flashes, and could potentially be a solid unit. Playmakers like Moore, Kyran Mitchell, Jordan Wyatt and Rodney Clemons all played very well. Another standout was Turner Coxe, as the redshirt freshman showed flashes, finishing with 1.5 sacks, always seeming to be getting pressure on the edge and being around the ball carrier. There was a lot to like on this side of the ball. The defensive line and linebackers are deeper and more talented than I've seen in some time. The linebackers could be the best unit on this team with Denbow, Moore, Nelson, Robinson and Mitchell all being significant contributors, combining for 37 tackles (a number that could have been higher had Denbow not gotten ejected). What killed the defense was that the offense could not sustain a drive. Dykes said after the game that the defense had to play more than 100 plays (which is absurd), and the quality of tackling dwindled because of this.The defense was also inopportune. A huge play in the game came when Mason Fine fired a duck over the middle, a sure pick-six for Rodney Clemons, who just dropped it. The score was still manageable at 14-0, and making that interception could have been a huge momentum shifter. SMU has to capitalize on those opportunities.The Ponies also struggled in third down defense. UNT converted nine of 17 third downs, an extremely high clip that defensive coordinator Kevin Kane must work on bringing down. The Mean Green constantly attacked the flats and the seams down the middle.SMU can't even think about dwelling on the disaster from Saturday, because the No. 16 TCU Horned Frogs are coming to Dallas for the annual Battle for the Iron Skillet. The Frogs return nine starters from the squad that won 11 games last year, but many of the familiar playmakers are still there, and many more impressive playmakers were added. TCU easily disposed of Southern in its home opener, 55-7. Was it an FCS opponent? Sure. But the Frogs looked very good, and it seems they have a budding star at quarterback in Shawn Robinson, a very highly touted recruit from local football powerhouse DeSoto. Robinson finished his first career start with 227 all-purpose yards and five touchdowns. Robinson is very mobile, so the SMU front lines will have to work to contain him in the pocket. The young signal-caller also has very nice weapons surrounding him. Leading rusher Darius Anderson returns alongside Sewo Olonilua as the main tandem at running back. Anderson led TCU with 768 yards and eight touchdowns last season, but Olonilua showed lots of potential down the stretch of 2017, as he found the end zone seven times as well.On the outside, you might remember him as the guy who caught the Hail Mary last year over five SMU defenders, but Jalen Reagor is TCU's best receiver following a season in which he led the Frogs in receiving as a true freshman with 576 yards and eight touchdowns. Big things are expected of the young wideout. The only other notable outside weapon is KaVontae Turpin, who plays a Tavon Austin-like role, doing a bit of everything. He's a playmaker who only needs the ball in his hands, no matter how. He returns kicks (he ran four kicks back last year), is a threatening receiver who is also incorporated into the ground game as well.Up front is where the Mustangs could have some success. TCU only returned one starter on its offensive line, and its inexperience could be an area Kane's defense attacks. Experience is paramount on the offensive line, as is chemistry, and the Frogs don't have either. Look for Kane to dial up blitzes, and if not blitzes, then the front four should be able to get some push.Gary Patterson is always known for his defense, and the TCU defense should be stout as always. Ben Banogu is a senior defensive end who will give SMU problems. Coming off an 8.5-sack season, Banogu is a force on the outside and is a stud in Patterson's defense. TCU also returns star linebacker Ty Summers, another stud who is one of the most experienced and talented linebackers in the country. Overall, TCU returns six starters from a defense that led the Big 12 in virtually every statistical category in 2017, and will present problems for the Mustangs, especially up front.There are a couple keys for the Ponies to pull the shocking upset as a three-touchdown underdog.1. The offensive line has to play much better. Hicks was under fire much of the UNT game, and the TCU front seven is one of the best in the country. There will be a lot of problems, but Friday will be about minimizing the problems. SMU's o-line against TCU's d-line might be the biggest mismatch of the night.2. The SMU defense has to limit big plays, get off the field on third down, and capitalize on mistakes the sophomore quarterback Robinson might make. It's his first road start, and the Mustangs need to work to confuse him by changing coverages and not being vanilla. Kane will have a solid game plan.3. Keep the crowd in it. The Iron Skillet Game is always the best crowd of the season for the Mustangs. If they can score early and keep it within striking distance, then SMU will have a puncher's chance. The crowd and the momentum it carries will be big.4. Don't underestimate the fact that TCU plays Ohio State next week. Patterson always harps on the SMU game as the most dangerous game for them, but this is absolutely a trap game for the Frogs, who easily could be looking ahead to their primetime matchup with the Buckeyes next week. Overall, the Mustangs are far outmatched, especially up front. This game will follow the typical SMU-vs.-TCU formula of the Ponies making plays early, fired up for the rivalry game, but TCU's overwhelming talent will take over and the Frogs will run away with the game in the second half. As much as I'd love for the Ponies to take their hated rivals down, it just isn't in the cards this year. I've got TCU in a blowout.Nate's Take: TCU 41 SMU 14

Previous Story
Next Story

| | |
| --- | --- |
| | Sophomore defender scores game-winner as Ponies improve to 2-1 |

| | |
| --- | --- |
| | Ponies, Wolverines kick off at 2:30 (CT) Saturday |