Pony NATE-tion: Mustangs venture into unknown against Houston Baptist
But who starts at quarterback?
Posted on 09/27/2018 by PonyFans.com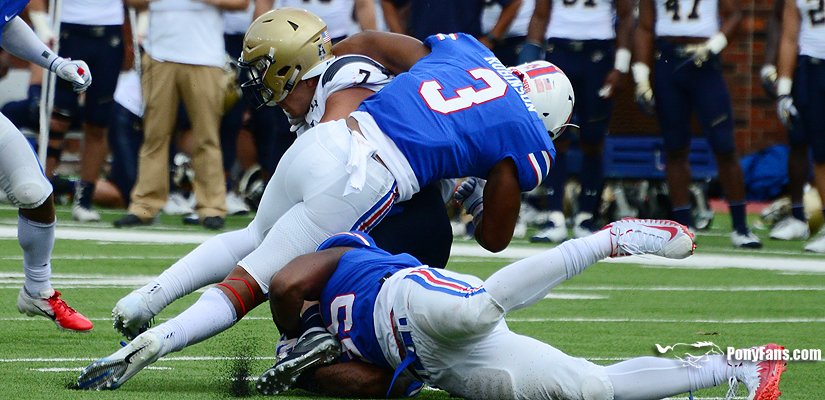 Nate says with players like Delano Robinson (3) and Delontae Scott leading the way, the SMU defense is faster and more physical than in years past (photo by John Kleineberg).
PonyFans.com is proud to have 18-year-old Nate as a guest columnist. This week, Nate reviews the Mustangs' overtime victory over Navy and looks ahead to Saturday's home game against Houston Baptist.
Feel free to post comments and constructive criticism, ask him questions, and/or give suggestions for upcoming columns! (He can be followed on Twitter at @Pony_NATE_tion.)___________________________________________________________________________________________________________________________SMU is going to be coming off one of its most memorable wins in quite some time, a 31-30 win over Navy, the first Mustang win over the Midshipmen since 2002. So many factors played into this game being wildly entertaining. On top of that, I was wildly impressed with SMU. The Michigan game left us wondering who would start at quarterback. The answer was Will Brown, who played pretty well for the most part. Early on, he looked composed, but his constant struggle was when things tightened down in the red zone. Red zone efficiency is key to offensive success, and SMU struggled at times in the red zone. He nearly hit Reggie Roberson on a really pretty corner route, showing impressive skill on touch passes. Brown's first touchdown to Roberson came when Brown stood tall in the pocket with his 6-4 frame, handled a delayed blitz well, and found Roberson, who ran a hitch route and then turned around, cut to the left and beat two defenders to the pylon. It was one of the prettier plays that Brown produced, for sure. Brown's other awesome highlight came late in the game when SMU needed an important third-down conversion. Brown stood in the pocket, took a big hit, but delivered a great throw to Judah Bell, who made a great contested catch on another hitch route for a big first down.There was some good, but certainly some bad as well. Brown seemed to struggle with deep balls, not in a way that he wasn't good at them, but there wasn't enough trust built up (and understandably so) to take some shots downfield. SMU's offense began to show that it has some weapons, and Brown could do a better job utilizing them with deeper throws, and that will come with gained trust from the play callers. After all, he only averaged 5.2 yards per attempt. Brown played well and made some tough plays, but he also seemed to miss some easy ones that he should complete 100 percent of the time. He also struggled in the ground game, as I would have liked to see his athleticism used a little more on read-option plays. Possibly his biggest gaffe came at the end of the first half when he tried to make too much happen and fumbled deep into Navy territory. He needs to learn to protect the ball much better in these situations. Brown finished the afternoon 21-for-29 with 150 yards and two touchdowns.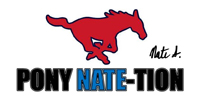 (photo by John Kleineberg).
The defense continued to play well, and one thing stuck out to me as I watched this game up close: this defense is much more physical than it has been in recent memory. The linebackers are extremely impressive. They may become a concern with ankle injuries to Patrick Nelson and Richard Moore. They are both key pieces to the defensive puzzle and SMU needs them to be right. Jordon Williams did a phenomenal job filling in for the injured linebackers, finishing with 15 tackles.A lot of guys stepped up in a big way and made plays on defense. Delontae Scott had a great game, making plays all over the field, getting pressure with five tackles, two of which were for loss. Kyran Mitchell also had a key forced fumble deep in Navy territory that set up the SMU offense beautifully. There were certainly some busted coverages, Rodney Clemons got beat deep for a touchdown when he took a bad angle, but SMU was bailed out by a chop block call that negated the touchdown. When Jordan Wyatt went down for a little bit, Navy took advantage and found a blown coverage for a long touchdown pass.Another name to laud for his performance Saturday is Roberson, who finally broke out with a touchdown reception, along with a monstrous kickoff return for a touchdown. He made plays and showed game-breaking speed.I felt the coaches did a great job preparing the team and firing the Mustangs up. They seemed well prepared and had a solid gameplan. One questionable decision was when SMU coach Sonny Dykes elected to go for a fourth-and-5, rather than take a 28-yard field goal. This proved to be a key decision later as the "field goal that wasn't" became three of several points left on the board by SMU and was why this game went to overtime when it shouldn't have.But more controversy came when Dykes decided to put in a cold quarterback, Ben Hicks for overtime. The logic was that Hicks is much more experienced and Navy wasn't used to him, since Brown had played the whole game. Hicks ended up winning the game for SMU, throwing an awesome fade route to James Proché, who had another impact performance, finishing with nine catches for 64 yards and a touchdown. Hicks won the game for SMU on a gimmick play which sent left tackle Chad Pursley in motion to the right slot. Hicks rolled out to the right, stopped, threw back to the left to a well-covered Hunter Thedford. Hicks again delivered a perfect ball with the game on the line.This left Dykes with a tough decision as far as who to play going forward. My best guess is he will just ride the hot hand, and the hot hand at the moment is Hicks. This is obviously to be determined, but it certainly is an intriguing storyline.Now sitting at 1-3, SMU has to deal with the tough task of facing a relatively unknown opponent. If any of you who are reading this claims to be able to name a single fact about Houston Baptist football, you're lying. Obviously, the team will be prepared and will have film and the like. But there is still the common mistake of falling into the trap of taking an FCS opponent too lightly. It happened to the Mustangs a couple seasons ago, when they fell to James Madison.The Huskies come into Ford Stadium with a 1-2 record, fresh off of back-to-back losses to McNeese and Abilene Christian, both losses coming handily — HBU lost to McNeese, 51-34, and to ACU, 38-13. This is certainly not a top-tier FCS team like James Madison was.HBU has a rather balanced offensive attack, putting up 32 points per game on 441 yards per game. The Huskies can run the ball well, running at nearly five yards per carry. Dreshawn Minniweather is the main guy who will tote the ball, averaging nearly eight yards per carry, with three touchdowns on the season. At quarterback is Bailey Zappe, who has been rock-solid thus far, with a 61.3 completion percentage and seven touchdowns thus far. Outside weapons are diverse. There isn't a true number one receiver, but each plays a different role. Nick Sexton is the leading receiver with 12 catches thus far, but he doesn't do much else. The biggest threat is likely David Racine, who is averaging an absurd 30 yards per catch along with three touchdowns.Defensively, Houston Baptist doesn't scare me much. There aren't any big-time playmakers that SMU needs to game plan for. The defense doesn't get particularly gashed, but it hasn't fared well, surrendering 32 points per game on 428 yards per game. There are definitely points to be had for SMU, given that McNeese put up 51 on the Huskies. The Huskies have struggled with much worse opponents. This is an extremely winnable game for SMU, with a blowout in store. The Ponies need to take care of business and end non-conference play on a high note to build some confidence with this young team. This will be a game in which the Mustangs assert themselves early and never look back. The Ponies will move to 2-3 on the season.Nate's take: SMU 48 HBU 20

Previous Story
Next Story

| | |
| --- | --- |
| | Ponies run over Connecticut, 4-1 |

| | |
| --- | --- |
| | Ponies head to Orlando to face UCF next Saturday |