Q&A with Sonny Dykes
SMU coach reviews win over HBU, looks ahead to UCF
Posted on 10/03/2018 by PonyFans.com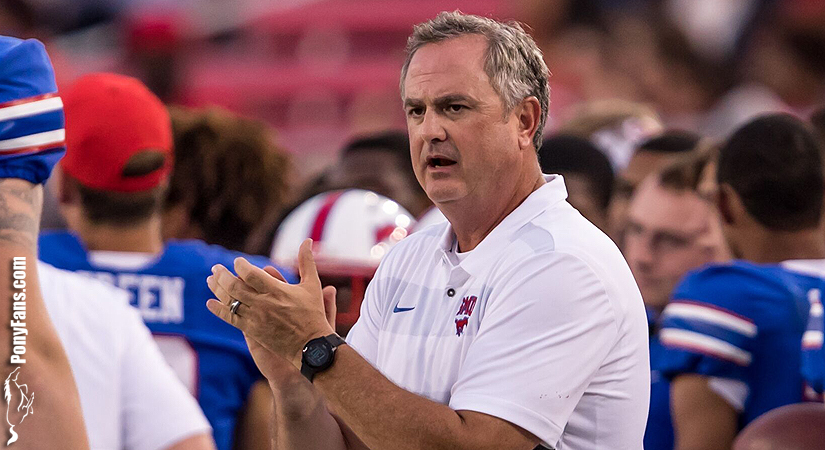 SMU head coach Sonny Dykes said he has played more newcomers in his first season at SMU, and that they are pushing the returning veterans to practice harder in order to retain their starting roles (photo by Max Franklin).
SMU football head coach Sonny Dykes met the media Tuesday to review the Mustangs' victory over Houston Baptist and to look ahead to Saturday's game at UCF.
___________________________________________________________________________________________________________________________Q: As you mentioned, you've played a lot of freshmen — both true and redshirt freshmen. It seems to me that takes a lot of guts, rather than going for the quick fix. Are you doing this because you feel this is the best way to build a foundation for the long run?A: Well, you know, the funny thing about it is … to me, the interesting thing about head coaching, when you take over someplace … I believe, you know, all these players are my players. You know what I mean? I think, sometimes, head coaches talk about "I've got to get my players in here, I've got to do this …" You know, all of these are my players. All the guys that have been here are my guys. I might not have recruited them, but they're my guys. So that's not happening. You know what I mean? Sometimes that happens. We're trying to figure out the best answers for our program, both in the long term and in the short term. We want to win, (and) the more you can win, the easier it is to recruit, and the better … the easier the transition is — all those things. It just makes your life easier when you can win some games, and we have good enough players to do that.So the young guys that are playing are playing because we think they can help us. You know, they're good enough to play, we think they can help us win. You know, we didn't have a ton of depth. That was probably the one thing that we needed, was more bodies in positions. Because if you come in and play … The good thing is, I think that was a good recruiting class. If you sit down and look at it, I think Will Brown … you go right down the positions, there are good players and they're making meaningful contributions to the program. So the big they're doing, they're pushing the older guys. That's what you want: you want to have competition and have, every single day, if you're a starter, you've got to come out to practice and you say "I've got to earn my job today, I've got to hold on to my job today. I've got some young guy, or some new guy that's breathing down my neck right now." So we just believe right now (that) competition breeds success, (and) we're glad that those guys are competing hard.Q: Piggybacking off of that, since you are coming in here fresh this year … I imagine you had some sort of timeline how you saw this year going, kind of a (list of) checkmarks you want to hit. How would you evaluate those at this point?A: Well, I think … you know, it's funny — you can't really do it in terms of wins and losses. I mean, you can do it in terms of, you know, "are we practicing hard? Are we working hard? Are they doing what we ask them to do off the field? Is there a level of work ethic and commitment that's going to allow us to be successful?" All those are the things that you want to see. You know, I'm a big believer in — you hear coaches talk about it all the time, and it's true — going through the process. You know, where you don't worry about the end result. You worry about preparing every day and working really hard and getting really good at what you do and taking a lot of pride in your work ethic and … becoming a good teammate, and all those things, and then what happens is, you know, slowly but surely you improve, and then your position group improves, and the offense or defense improves, or special teams, and then the team improves. So it is a process. I think that … I've been pleased, especially the last couple of weeks — you know, the progress that we've made. I was happy, with the way we prepared for week one, and the way we played. I didn't think we played hard, and got out-physicaled and out-toughed, outplayed and out-coached and all that. When they don't play hard, that's coaching — that's on us — and so the good thing is, you know, I think the last couple of weeks we have played with the right mindset, we've played physical, we've played tough. I think we've tried to do the right things that are going to give you a chance to be successful. I think we've handled adversity better — that was a big thing that we needed to learn how to do: try to learn how to handle adversity, and compete really hard when things got tough. Again, we didn't do that at all week one, we did it a little bit more week two, we started to see signs of it week three against Michigan, saw more signs of it week four against Navy … so that's the kind of progress we want to make as a program. You don't know how it's going to go. Sometimes it takes a year for that to happen, sometimes it takes 18 months, sometimes it happens really quickly — it just kind of depends what you walk in to, and how quickly they (the players) jump on board and come along with you. But from that perspective, we're further along than we have been, other places I've been.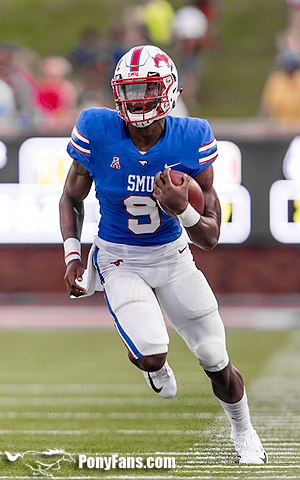 Dykes said he has been impressed by quarterback Will Brown, who has yet to indicate anything asked of him has been too much for him to handle, even as a true freshman (photo by Max Franklin).
Q: I know you probably don't have the number off the top of your head, but is it fair to say this is the most freshmen, in your coaching career, you have used?A: Yeah, I think so, for sure. I think new players, for sure — when you say freshmen, redshirt freshmen and grad transfers … new players, yeah … without a doubt, just because we have had so many newcomers that are first-time players at SMU. So I think it's been … it's a big number, and it's exciting, it really is. It's exciting to see the young guys start to play with some confidence, and start to learn what it takes to become a good college football player, and they're starting to develop the work ethic and toughness. You know the great thing about it is that we get tested again on Saturday. We'll walk into a really tough environment Saturday and play against a top-15 team, and we'd better be mentally tough. We'd better be able to handle it when things don't go our way, because they're not always going to. So we get to get tested again this week, and see what progress we've made.Q: With a guy like Will Brown, a true freshman, going into an environment that's pretty hostile against a top-15 team … any concerns about that going in?A: You know, not really. I think you get a feel for guys. We're around him five hours a day, you know, so you start thinking about it … and really, that's when school starts, and it's really … 15 hours a day during two-a-days. So you're around these kids a lot, and you get a feel for what they can and can't handle — at least you think you do, but until you get into that type of situation, you really never know how someone's going to handle themselves. I had a lot of confidence in Will, that it wasn't too big for him. Part of the thing is always watching him and how he handles it when you're talking to him and saying, "hey, look, we might put you in the game," or watching his demeanor on the sidelines — you know, just getting a feel for, mentally, where he is at that particular time. But I felt like he showed me, showed us all enough, to where we had a lot of confidence in him, and I don't think he's a kid that … I don't think gets rattled. He seems to pay attention to what he needs to worry about and not worry about what he can't control.Q: Do you see a lot of similarities between a guy like (UCF quarterback McKenzie Milton) and (UNT quarterback) Mason Fine?A: I hope so. It's still early in the (scouting) process. I think that, you know, McKenzie Milton's a really special player, and so is Mason Fine, for that matter. Those two guys are guys that have a lot of experience — they're both in their third year as starters. That's the big thing about it: Will's going into his third game, those guys are in their third year. So you hope it has an outcome like that. That's the hope — that he continues to develop, and develops that kind of leadership and ability to execute, and toughness that those guys provide. Because, really, it's pretty clear that those guys … they run the team. It's their team, they've got control of it, and the effort and the toughness that they show certainly reflects that.Q: I know you have four days, but do you anticipate getting any guys back — you mentioned you were on defense. Do you anticipate getting any of those guys back?A: Yeah, yeah, I think we will. I think we'll get some guys back. I don't know the specifics on who yet, but I think we're going to be close to full health — healthier than we have been.Q: How important will it be to be at full health at running back?A: Very much so. We're hoping we can get there. It's been a process — we haven't been there yet. We're going into half the season, (and) we need to get them back. Xavier (Jones) looked better than he has looked, Ke'Mon (Freeman) was out there practicing today … both of them were non-contact, but we'll see. I would love to see what "X" can do when we get him back healthy, and you know he hasn't quite been able to get over the hump yet. We have played him in some games. He has been less than 100 percent — we didn't want to leave him in there too long, because we felt like it might injure him more, so hopefully, it will be a better (inaudible) this week than it was last time.

Previous Story
Next Story

| | |
| --- | --- |
| | Ponies head to Orlando to face UCF next Saturday |

| | |
| --- | --- |
| | Proché leads Ponies with 100 receiving yards, 2 receiving TDs |