Pony NATE-tion: Ground game likely to decide matchup with Tulane
Mustangs, Green Wave enter game with identical records
Posted on 10/17/2018 by PonyFans.com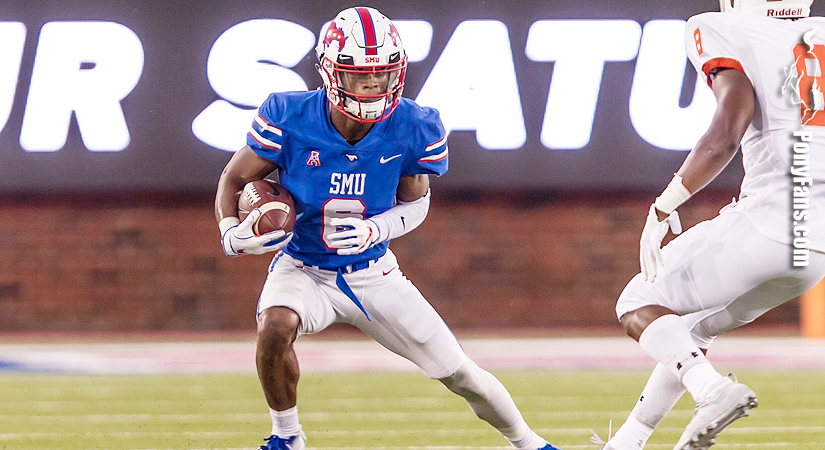 Nate says that Braeden West and the SMU running backs should be able to find running room against a Tulane defense that gives up an average of 175.5 rushing yards per game (photo by Max Franklin).
PonyFans.com is proud to have 18-year-old Nate as a guest columnist. This week, Nate reviews the Mustangs' overtime victory over Navy and looks ahead to Saturday's game at Tulane.
Feel free to post comments and constructive criticism, ask him questions, and/or give suggestions for upcoming columns! (He can be followed on Twitter at @Pony_NATE_tion.)___________________________________________________________________________________________________________________________The Mustangs head on the road to Tulane following the bye week for each team, a matchup of 2-4 teams that come in at 1-1 in conference games. This game carries a fair amount of weight if you think big picture, as the winner moves to 2-1 in conference play and takes sole possession of second place in the West Division of the American Athletic Conference, which would be at most one game out of first place behind Houston … or a tie if Houston loses at home to No. 21 South Florida.Coming off a 48-20 loss at the hands of UCF, the Mustangs will be looking to rebound, and coming off a one-week hiatus should be beneficial for the Ponies. Injuries were beginning to pile up for SMU, so this week was a great opportunity to rest up, get healthy and prepare for a key conference game down in the Bayou. There was an interesting turn of events this week, as the weather in Dallas has been quite miserable of late. With the indoor practice facility under construction, the elements were affecting the Ponies' practice schedule, until The Star in Frisco was opened Tuesday to the Ponies to practice. As of now, the weather isn't expected to be a factor, but there is a small chance of some precipitation Saturday. Either way, I expect the Mustangs to be fully prepared for this pivotal matchup.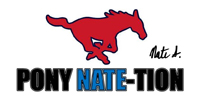 (photo by Max Franklin).
The Tulane Green Waves come into this game with a record of 2-4, and the theme has been consistency for Tulane. It is always in the game, save for a 49-6 drubbing at the hands of Ohio State. The 37-21 loss to Cincinnati also wasn't terribly close, but Tulane was in the game.This is not a team that does anything particularly well. Offensively, Tulane's foundation is in the running game. Averaging 191 yards per game on the ground, and with a passing offense ranked No. 107 in the nation, Tulane's bread and butter is the run. The Green Wave has struggled to put points on the board thus far, with the 100th ranked scoring offense. The offense is led by quarterback Jonathan Banks, the 6-2 senior who has struggled mightily of late. He has completed only 49.6 percent of his passes, but he also has been able to take care of the ball, which at the very least gives the offense a chance. Banks' weapons on the outside are on the extreme side of few. There are two receivers who have caught more than four passes, and one (Darnell Mooney) has 30 catches while the other (Terren Encalade) has 21. To say there is a disparity is an understatement. Mooney and Encalade have been the only threats on the outside, accounting for 920 of the 1117 passing yards Tulane has accumulated and they have been on the receiving end of all eight Tulane passing touchdowns. I don't see much of a threat here with SMU's improving secondary. Tulane's ground game is where SMU could have issues. Darius Bradwell is Tulane's workhorse, with 469 yards on the ground on six yards per carry. He is complemented often by Corey Dauphine who has 411 yards and is more of a big play back with 9.6 yards per carry.SMU has faced big-time offenses this year that have presented much more explosiveness. I think that SMU's improving defense will be able to keep the Green Wave in check. Teams also have had a lot of success rushing the passer against Tulane, as the Green Wave has surrendered 23 sacks through six games. From a defensive perspective, the Green Wave again doesn't provide a terrifying Steel Curtain-like front, but also does not present a defense that resembles Swiss cheese.Giving up 30 points per game isn't good, but by college standards, that lands you in the middle of the pack. Tulane's defense has struggled to stop the run, surrendering 175 yards per game on the ground. This is an area where SMU should be able to have a moderate amount of success.Leading the defense is linebacker Zachery Harris, who has team-leading 46 tackles this season. Tulane hasn't presented much of a pass rush, but the sack leader is Patrick Johnson, a 6-3 defensive end with three sacks thus far. Tulane has a respectable pass defense, but it has been susceptible at times, allowing 272 yards per game through the air. Overall, this is a defense that can definitely be had, especially on the ground. Look for the SMU running backs, namely Braeden West, to have a big game.James Proché is another player who has been putting up huge numbers for SMU in recent weeks, and he is starting to assert himself as a solid No. 1 wide receiver. Whether it has been Ben Hicks or Will Brown calling the shots, Proché has been becoming much more consistent.The Green Wave loves to run the ball, so sustaining drives will be key this week for the Ponies. There isn't anything special that SMU has to do this week to go steal a win on the road as an underdog. If Hicks and Brown continue to improve and take care of the ball while sustaining drives, that will make the up-and-coming defense that much better. Stopping the run will be huge for SMU defensive coordinator Kevin Kane and this defensive unit, so slowing down Tulane's running game will go a long way toward victory.I think this is a good matchup for SMU. This is another opportunity for SMU to steal a conference win just like the Navy game. SMU has quietly been improving at a steady trajectory this season, and I believe the improvement will rise to a win this week. The offense will control the ball and control the clock, and a big game from West is coming. The defense, as it has gotten healthier, will make a solid statement and hold down Bradwell. This will be a surprisingly solid performance by the Mustangs, as I've got SMU heading down to NOLA and grabbing its second conference win of the season.Nate's take: SMU 34, Tulane 28

Previous Story
Next Story

| | |
| --- | --- |
| | Coach, receiver review week off, update injuries |

| | |
| --- | --- |
| | Mustangs rally past Tulane, 27-23 |