Pony NATE-tion: SMU hosts Cincinnati team looking to get back to winning ways
Mustangs, 6-1 Bearcats kick off at 2:30 p.m. Saturday
Posted on 10/25/2018 by PonyFans.com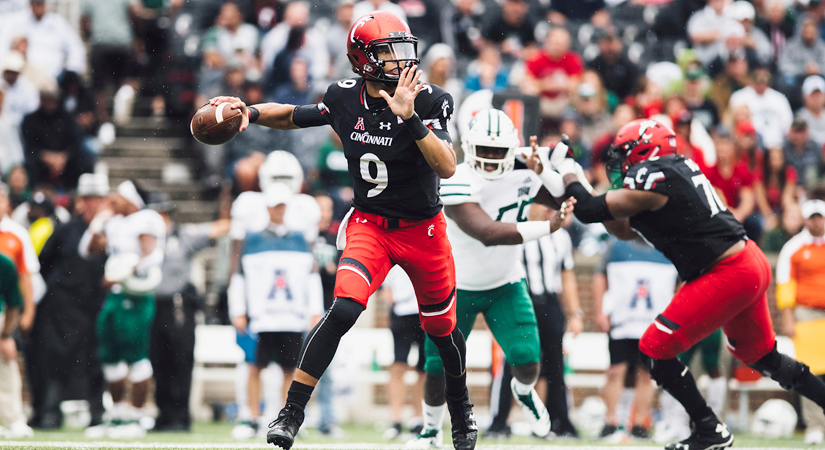 Nate says that Cincinnati quarterback Desmond Ridder is an athletic quarterback with size and smarts, and represents formidable challenge for the SMU defense (photo by gobearcats.com).
PonyFans.com is proud to have 18-year-old Nate as a guest columnist. This week, Nate reviews the Mustangs' road victory at Tulane and looks ahead to Saturday's game against 6-1 Cincinnati.
Feel free to post comments and constructive criticism, ask him questions, and/or give suggestions for upcoming columns! (He can be followed on Twitter at @Pony_NATE_tion.)___________________________________________________________________________________________________________________________SMU has gained all kinds of momentum following a 27-23 comeback victory over Tulane Saturday night. Moving to 2-1 in conference play, SMU is now just one game out of first place in the American Athletic Conference's West division, trailing only the Houston Cougars. Ben Hicks struggled a bit early, even throwing a pick-six that put SMU in a 16-7 hole. The offense was nothing short of abysmal early on, constantly shooting itself in the foot, including a bad snap that resulted in a safety that was nearly the difference in the game. The Mustangs kept on playing, and SMU ultimately was given way too many opportunities to win this game. Tulane will certainly be kicking itself about how this game transpired.Offensively, Hicks had the one ugly miscue, but aside from that, he was pretty solid. The completion percentage was back down, as he was just 21-for-40, but he made some big plays in high leverage spots. Xavier Jones scored on a swing route out of the backfield on fourth-and-short in the first half, showing the burst that the Ponies have missed from the injury-plagued runner. Braeden West struggled to get much going on the ground until he burst free for a 29 yard touchdown scamper late in the second half on which he showed impressive vision and quickness. The other Mustangs who have begun to consistently show out are receivers James Proché and Reggie Roberson. Roberson had another big game, with 99 yards and a touchdown that got the Ponies back in the game when things were looking bleak, and Proché had 93 yards and the game-winning score. The offense fell apart on two golden opportunities down the stretch, but on SMU's third try, and when it mattered most, Hicks found Proché on a deep cross route, and Proché just simply made a play, turning on the afterburners and taking off for a 67-yard score with a little over a minute to play. There was so much to love about this play, and it started up front. Tulane brought a blitz and it was perfectly snuffed out by the pass protection, and Hicks had great pocket presence and found his man in the clutch.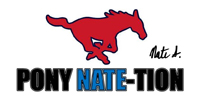 (photo by gobearcats.com).
The run game was appallingly bad, as it mustered 36 yards on 32 carries. It's not often a team wins a game with this stat, but SMU found a way. Offensive coordinator Rhett Lashlee insisted on running the ball, despite its lack of success. There was still lots of inconsistency, but the Mustangs still finished when it mattered.The defense made plays all day, as well, with an outstanding performance, especially up front. Cornerback Christian Davis had a key interception, but again, with the game on the line, defensive end Delontae Scott and linebacker Richard Moore had huge sacks of Tulane quarterback Jonathan Banks late in the fourth quarter that resulted in fumbles recovered by SMU. The front seven controlled this game for SMU, as the men in the trenches accumulated 11 tackles for loss topped with five sacks. The defense put together an overall solid performance and came up huge when SMU needed it the most.The Mustangs showed a lot of maturity toward the end of this game, making plays when it needed to. It seemed whenever Tulane gave SMU an opportunity, SMU took advantage of it, especially on defense. Down the stretch of the game, the Mustangs defense answered the bell, and this was one of the more phenomenal performances by an SMU defense in recent memory.Now fully entrenched in the thick of the AAC race, SMU has a chance to make a statement Saturday. A recently ranked and undefeated Cincinnati will come to Dallas following an overtime loss to Temple in Philadelphia in which the dream of perfection was thwarted.The Bearcats represent another tall order for SMU, coming in with a 6-1 record. The American Athletic Conference is as strong as it has ever been, and the depth of the conference is showing, given the toughness of SMU's schedule thus far along with what remains. Cincinnati is one of the more well-rounded teams in the country, with an elite defense and an offense that is buoyed by a dominant run game. The defense will come into this game surrendering just 15.1 points per game, placing it 8th nationally among scoring defenses. Leading tackler Perry Young, a junior linebacker, has 38 tackles thus far and has been a force for the Bearcats. This defense is full of playmakers, as the Bearcats have been capable of taking the ball away at a reasonably high level, led by sophomore safety James Wiggins, forcing 10 turnovers through seven games, including three interceptions at Temple last week. But the defense's bread and butter has been suffocating opposing offenses. Holding opponents to 277 yards per game, the Bearcats are tough to move the ball on. Cincinnati is as stout as can be against the pass and the run, offering quite a bit of resistance. Up front, the most notable playmaker is Cortez Broughton, a 290-pound defensive tackle who has been playing at an All-America level. Broughton has been terrorizing the middle of defenses with 13 tackles for loss, an astounding number for a defensive tackle. Broughton also has five sacks on the season, so SMU will need its interior offensive line to step up and slow down Broughton, following a week in which SMU struggled mightily to run the ball, it will be tough sledding in the trenches for SMU again this week.Offensively, Cincinnati runs the ball at a high level. Redshirt freshman Desmond Ridder has led the offense as a dual-threat quarterback. While the Bearcats offense doesn't offer much of a high-level threat through the air, with the 101st ranked passing offense, it more than makes up for it with a top-notch ground game, averaging 247 rushing yards per game. Other backs have been solid contributors, but their horse has been Michael Warren II and it isn't even close. He has been dominant, with a jaw-dropping 12 rushing touchdowns through only seven games. The Bearcats feed him consistently, as Warren averages more than 23 touches per game. The Bearcats aren't a terribly vertical team with deep threats on the outside, but there are several contributors at receiver with no one really sticking out as the No. 1 target. The team's leading receiver, Josiah Deguara, only has 321 yards on the season. The key to slowing down this offense will be slowing down the ground game. Ridder, who is efficient when called upon, takes care of the ball in the air and doesn't make too many mistakes. He has thrown only three interceptions thus far. He completes 60 percent of his passes, but he doesn't like to stretch the field much. Temple put a lot of heat on Ridder last week, and Ridder struggled with the pressure despite his mobility. The SMU defensive line is going to have to step up in a huge way this week, as pressure on Ridder would hinder Cincinnati's offense greatly.SMU will have to play another great game on both sides of the ball to come away with what would be a massively important win in the AAC divisional race. It's way too early to talk conference championship scenarios, and there is a lot of football to play, but SMU is in the thick of it following a surprising 2-1 conference start. A win here would do all sorts of good for a team that is starting to play with confidence and might be the most improved team out there from week one to now.Defeating Cincinnati will be a tough task for SMU, and the Bearcats are a very sound football team. But don't be totally deceived by their 6-1 record. This isn't Alabama coming to town, because the list of teams Cincinnati has beaten does not include any juggernauts, to say the least. The only common opponent is Tulane, and Cincinnati handled Tulane far more easily than SMU did. The point is, don't be intimidated. This is a beatable team, and here are SMU's keys to victory:1. Take care of the ball. Against a team that runs the ball like Cincinnati does, controlling time of possession and keeping the SMU defense fresh is monumentally important. The run can wear down a defensive front, and while SMU's front seven has played rather well lately, the Ponies are going to have to sustain drives on offense in order to keep the defense fresh.2. The defensive front has to play at a high level. Warren has been running wild, and this is an opportunity for SMU's front seven to prove itself. Cincinnati has an elite running game, so the linebackers and defensive line have to bring it. Where the Bearcats have struggled is pass protection, so SMU defensive coordinator Kevin Kane is going to have to figure out how to put heat on Warren, and if the front four can't get there, Kane will have to get creative with blitzes and other schemes.3. This game will be won in the trenches. The SMU offensive line has to be much better than it was last week in New Orleans. Tulane stuffed SMU's run game and that made SMU's offense very one-dimensional. Cincinnati is very stout in the run game and has a deep and talented defensive front that SMU will have to overcome.Overall, this is a tough matchup for SMU. The Ponies have struggled to run the ball of late, and Cincinnati's run defense poses quite the task for the SMU offensive line. This will be a close game, but SMU will struggle to stop the run and Cincinnati will wear the Ponies down as the game goes on and will control the clock. This will be a tight game, but Cincinnati will overwhelm SMU up front on both sides of the ball as the game wears on. I've got Cincinnati in a competitive one. The Ponies will show a lot of growth and continued improvement, but it won't be enough.Nate's take: Cincy 34, SMU 21

Previous Story
Next Story

| | |
| --- | --- |
| | Mustangs, Bearcats face off at 2:30 PM Saturday |

| | |
| --- | --- |
| | Pones fall in overtime, 26-20 |