PonyFans.com VIDEO: Sonny Dykes on Mustangs' preparation for Connecticut
Mustangs hope to even season record Saturday against Huskies
Posted on 11/06/2018 by PonyFans.com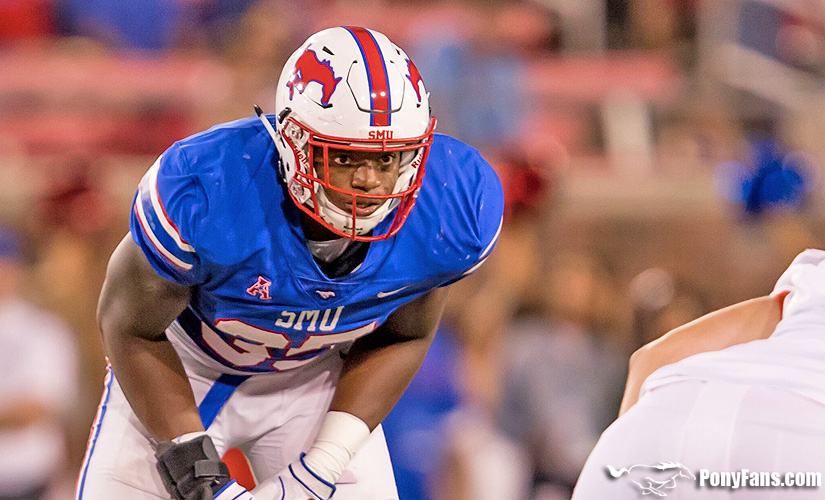 Nate says that defensive end Delontae Scott and the rest of the SMU defensive front will have a huge challenge trying to contain Houston quarterback DEriq King (photo by Max Franklin).
PonyFans.com is proud to have 18-year-old Nate as a guest columnist. This week, Nate reviews the Mustangs' big win over Cincinnati and previews Saturday's game against Connecticut.
Feel free to post comments and constructive criticism, ask him questions, and/or give suggestions for upcoming columns! (He can be followed on Twitter at @Pony_NATE_tion.)___________________________________________________________________________________________________________________________SMU is coming off its biggest win of the season without a doubt, a 45-31 win over then-No. 17 Houston. There was so much to love about this game, as in all three phases, SMU played extremely well."This is really the first time we've left a ballgame all year where we said we've played well on defense, played well on offense and played well on special teams," SMU coach Sonny Dykes said, "and so I think the bar's been set for our guys, from a performance standpoint and I feel like we know what we're capable of and I'm excited to see how they respond from here." Offensively, this might have been Ben Hicks's signature game as quarterback of the Mustangs. I'd be hard-pressed to find a Saturday when he performed better than he did last week. He finished 28-for-43 with 318 yards and four touchdowns. He made smart decisions, knowing when the right time to take a shot downfield was. Most importantly, he took care of the ball, making zero costly errors. I felt that, especially early on, offensive coordinator Rhett Lashlee was incredibly creative and unpredictable. It was evident Houston was struggling to find an answer for the screen game that Lashlee dialed up. But the interesting part is that it wasn't terribly exotic. For example, on tight end Ryan Becker's early touchdown, it was a simple pop route that he ran from out of the backfield, getting through the trash, and Hicks had a nice and easy throw to drop into the bucket to a wide-open Becker. Possibly the most shocking decision of the evening was the call to go for it on fourth and short toward the end of the first half with a 10-point lead. SMU had the ball deep into its own territory (roughly the 34 yard-line), and Dykes elected to go for it. I personally didn't see the risk-reward that Dykes did, given that time was dwindling in the half, but it paid off in a big way as Ke'mon Freeman broke a huge run that sparked an eventual touchdown at the end of the half. The difference in a 24-14 lead and a 31-14 lead at half had to be demoralizing for UH.Beyond Hicks's performance and the coaching performance, the duo of Reggie Roberson and James Proché shined again, as the receivers combined for 18 catches for 224 yards and two touchdowns. Proché has been fairly productive all season long, but Roberson has begun to absolutely shine in the past three games, with 23 catches for 380 yards and four touchdowns. The young transfer from West Virginia has turned out to be a huge part of this developing offense. The other shocking part of Saturday was the SMU rushing attack. Freeman was a horse, with 20 carries for 107 yards and two touchdowns. He fought for tough yards between the tackles all night and ran as hard as he has run all season long. The offensive line helped produce 4.9 yards per carry, an impressive mark considering the abysmal recent performances up front. Ed Oliver's absence had something to do with this, but make no mistake, the SMU o-line came to play. The 196 rushing yards for SMU against UH were 54 more than the last three games combined.The Houston game was defensive coordinator Kevin Kane's finest work. In fact, Kane was announced as a nominee for the Broyles Award, given to the nation's top assistant coach. This is well-deserved, as Kane has brought this SMU defense up 40 spots in the national defensive rankings. SMU is the only team to hold UH under 40 points thus far, and held UH to a season-low 365 total yards, upwards of 200 yards below the Cougars' average. The gameplan was solid: "keep the big plays in front of you," and in order to do that, the front seven was going to have to play well. The front seven had an incredible game, with Richard Moore leading the way with 11 tackles (two for a loss) and a sack. The linebacker trio of Moore, Kyran Mitchell and Patrick Nelson have grown to form what is probably the best unit on the team, as they combined to rack up 25 tackles, five of those for loss and three sacks. Mitchell played especially well, as he was flying around the field with three tackles for loss and two sacks. This linebacker group has meshed extremely well as the season has progressed. The other standout was the sophomore safety Elijah McQueen, who had a bit of a coming-out party. He had eight tackles and was making plays as well, with some especially physical hits.The defense held the electric UH QB D'Eriq King to only 175 yards through the air and 54 on the ground. This was possibly the most shocking result for me, as I envisioned the Houston group of skill players being far too much for SMU, and I expected King to run wild, as he usually does. But the SMU defense put out one of its finer performances in a long time.Building on this success is what will be key for the Mustangs. This was only the second win over a ranked opponent in the last seven years for the program and, ironically enough, the other win also came over Houston two years ago. Now, SMU has fully thrown itself back into the American Athletic Conference championship conversation, only trailing Houston by a game and also possessing the ever-important tiebreaker over the Cougars with the win Saturday. The scenario is simple: UH has to lose one more of its final games (including bouts with Temple and Memphis) than SMU does, in which case the tiebreaker comes into play.But the Mustangs can't look too far ahead, as this game against Connecticut is what is in front of them.To say the Huskies have struggled this season is an understatement. They are likely the worst team in the conference, yet to win a conference game with a 1-8 overall record, the lone win coming over Rhode Island. The discouraging part for the Huskies, who are riding a six-game losing streak, is that none of the losses have been close, save for a 22-17 loss to UMass. Coming off a 49-19 loss to Tulsa, UConn has showed almost no sign of life.The formula for disaster has been simple for the Huskies: give up a ton of points and don't score much at all. You might laugh at the simplicity of that, but that's what has been going on. A combination of the 123rd ranked scoring offense and the 130th ranked scoring defense will almost certainly make for one of the worst teams in the nation. Offensively, the Huskies are in fact decent at running the ball, with 201 rushing yards per game (ranking 40th in the nation). This stat shocked me given that UConn has been down by so much in so many games, it's hard to imagine a team sticking with the run while down by such large deficits. Quarterback David Pindell is the senior signal-caller for this sub-par air attack, and he has been a big part of the struggles, throwing for only 166 yards per game with an 11-8 touchdown-interception ratio. The offense has found success on the ground, and some credit is due to Pindell, who is also the team's leading rusher at 934 yards and eight touchdowns. His six yards per carry are also the most on the team. The other option out of the backfield is Kevin Mensah, the diminutive (5-9) sophomore running back, who is a smaller and shifty back, a similar type of back as Braeden West. Mensah has 676 yards on the season with five touchdowns. These two are the only real threats, as UConn has several decent wide receivers, but none with any notable numbers. The leading receiver is Kyle Buss, with 394 yards and two touchdowns this season. If SMU can slow down the run even a little bit, there should be no issues with handling one of the worst offenses in the country. The front seven has been playing so well for the Ponies that the UConn rushing attack should pose little threat. UConn also has struggled to protect Pindell up front, so look for the SMU pass rushers to get going a bit. The mistake-prone Pindell could also have trouble with a SMU secondary that has been trending upward, especially with the performance it showed against the dangerous Houston passing attack.UConn's defense is actually worse than the offense. The Huskies are surrendering nearly 50 points per game and 626 yards per game. They've struggled to stop the pass at a moderate rate, but where teams have gashed UConn is on the ground. Teams are averaging an astounding 333 rushing yards per game, that coming on 7.6 yards per attempt. This screams "field day" for Freeman, West and Xavier Jones out of the SMU backfield. There is almost no excuse for SMU to not follow up the solid performance against a decent defensive front of Houston with an even better rushing attack this week. The Huskies' leading tackler is defensive back Tyler Coyle with 80 tackles (20 ahead of second place), and if a defensive back is your leading tackler by a large margin, that typically means trouble for your defense. The only true pass rush threat is linebacker Darrian Beavers, a sophomore who is leading the team in sacks with four. The SMU o-line has protected Hicks well of late, so this shouldn't be a huge issue. The defense doesn't turn you over much (only four interceptions this season), doesn't get after the passer much at all and can't stop the run to save its life. This should be a game which SMU hangs no less than 40.This game should be a simple one if SMU handles its business. If SMU doesn't look ahead and handles the success of a big time win against a ranked opponent well, this will go as planned. Dykes has to ensure that SMU stays away from cockiness and handles this game the same way it handled the Houston game: with intensity and focus. All SMU needs to do is come out and execute, and this game will go as expected. The Ponies will continue their upward trend and ride the momentum of the Houston win to a blowout of UConn. Nate's take: SMU 49 UConn 17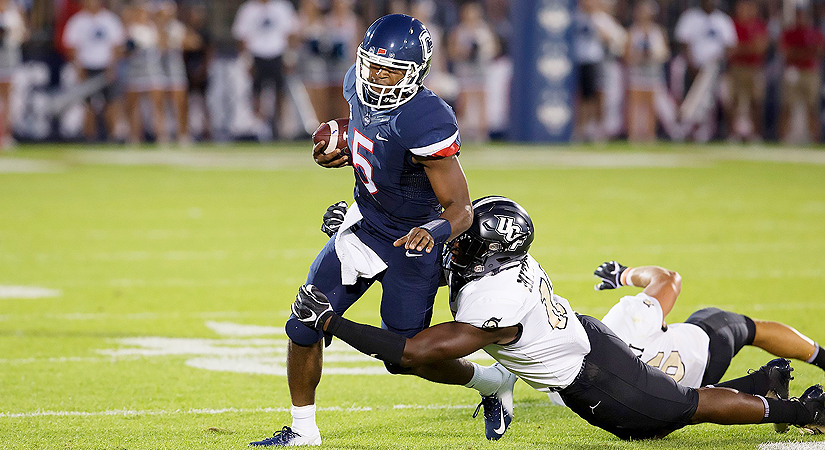 Nate says it will be critical for the Mustangs to contain Connecticut quarterback David Pindell, who leads the Huskies in both passing and rushing (photo by uconnhuskies.com).

Previous Story
Next Story

| | |
| --- | --- |
| | Running game comes to life for 196 yards |

| | |
| --- | --- |
| | Ponies take on serious role in fundrasing |