Pony NATE-tion: Can SMU defense rebound against high-powered Memphis offense?
Mustangs host Tigers on Senior Night
Posted on 11/14/2018 by PonyFans.com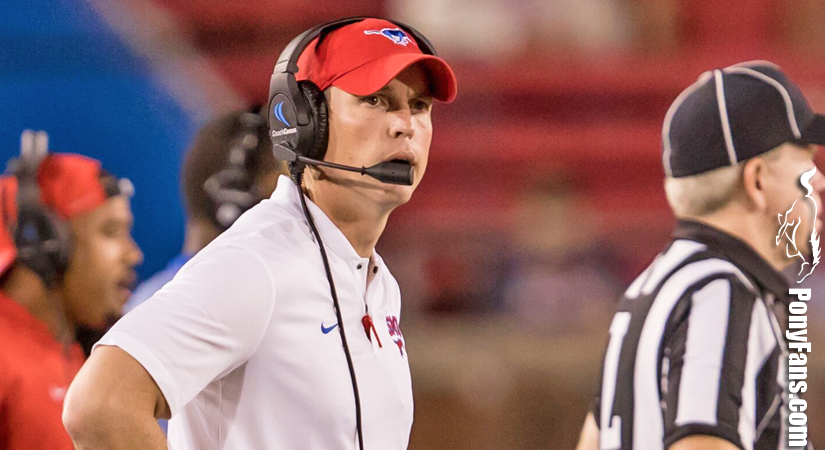 Nate says he has faith SMU defensive coordinator Kevin Kane will draw up a scheme to contain star Memphis wide receiver Damonte Coxie ... but will it be enough? (photo by Max Franklin).
PonyFans.com is proud to have 18-year-old Nate as a guest columnist. This week, Nate reviews the Mustangs' narrow win over Connecticut and previews Senior Night against Memphis.
Feel free to post comments and constructive criticism, ask him questions, and/or give suggestions for upcoming columns! (He can be followed on Twitter at @Pony_NATE_tion.)___________________________________________________________________________________________________________________________SMU brought itself back up to .500 with a 62-50 win over Connecticut last week, a game in which some concerns certainly arose for the Ponies, but a win is a win, especially in a cold November game on the road. A key development that arose Saturday night was the Temple Owls taking down Houston, 59-49, which brought Houston's conference record to 4-2, thus vaulting SMU into first place in the American Athletic West division. Now the scenario is simple: SMU wins out, and the Ponies will take on the winner of the East division (right now, all signs point toward UCF, but it is still up in the air) for the AAC Championship Game. As I left Apogee Stadium at the University of North Texas back in September, I would've given SMU a snowball's chance in hell to even be thinking about a potential conference championship, but the improvements this team has made since the first week of the season are immense, and the Ponies have won five of their last seven games.The Mustangs continued their hot streak in an interesting fashion, as the SMU offense ravaged an incredibly poor UConn defense for 594 yards and 62 points. SMU completely gashed the Huskies on the ground with 315 rushing yards on over eight yards per rush. Xavier Jones and Ke'Mon Freeman each had huge days, Jones with 133 yards and two touchdowns and Freeman with 116 yards and three touchdowns. Braeden West didn't produce anything substantial yards-wise, but he did have a rushing touchdown, meaning the Mustangs' trio of running backs combined for six (!) touchdown runs.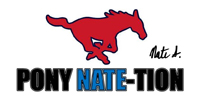 (photo by Max Franklin).
Freeman has been playing extremely well of late, but it was especially nice to see the injury-plagued Jones finally break out for a huge game. He had such a huge freshman season, and injuries have hampered him severely recently. After a few miserable rushing performances, the offensive line has helped produce back-to-back incredible rushing outputs for the Ponies, a combined 505 rushing yards the past two games. Ben Hicks was solid again, and he was again able to take care of the ball and be efficient, completing 65 percent of his throws for 279 yards and a touchdown. The play calling was even tricked up with wide receiver Tyler Page, a former high school quarterback, tossing a touchdown pass on a double reverse fake. Overall, it was an incredible output from the offense, although it was expected to a certain degree given UConn's atrocious defense. What troubled me about Saturday was SMU's inability to stop UConn, an offense that had been terrible all season. It produced only 17 points against UMass, yet SMU couldn't seem to stop the Huskies' attack. Defensive lineman Demerick Gary's ejection for a bogus targeting call didn't help matters up front for the Ponies and they were repeatedly attacked on the ground. The Huskies racked up 583 total yards and 50 points, with a whopping 368 coming on the ground. SMU had no answer for UConn's ground attack, especially in the second half. Despite trailing, 31-10, at halftime, the Huskies erupted for 40 second-half points. UConn quarterback David Pindell torched SMU for 399 total yards and six touchdowns, despite his lack of production throughout the season. Running back Kevin Mensah also was a force, with 184 yards on 28 carries and a touchdown on the ground as well. While the defense was able to muster stops when it needed them at the end of the game, this was an extremely poor performance for the Mustang defense, and a lot has to change if the Ponies want any hope of defeating Memphis Friday.Memphis, which is averaging 44.6 points per game, has been wildly inconsistent throughout the season with some eyebrow-raising results, such as only losing to No. 11 UCF by one point, yet turning around and getting blasted by Tulane. In the last two games the Tigers have taken care of business against bad Tulsa and East Carolina teams, but its still hard to judge which Memphis team we will see.After surrendering video game-like numbers to a horrible UConn offense, SMU has to flip the switch with a very talented Memphis team coming to town Friday night for Senior Night. A lot has to change, or a high-flying offense like Memphis might do some unsightly things to the scoreboard. The Tigers are averaging 44.6 points per game, which would rank them sixth nationally in scoring offense. The offense is extremely balanced, but is especially good at running the ball, with the fifth-ranked rushing offense in the nation averaging 270 yards per game. The Memphis is led by junior quarterback Brady White, who has had a very solid year. He doesn't light up the stat sheet, but he does something that is key to the attack: he doesn't turn the ball over very much. He has thrown just three picks on the year compared to his 22 touchdown tosses and 64 percent completion percentage. White has many receiving options at his disposal, but head and shoulders above the other options, and White's favorite target, is Damonte Coxie, the team leader with 58 catches and 949 yards with seven touchdowns — 30 catches and 631 yards ahead of anyone else. SMU will have to do a good job on keeping the explosive wideout in front of it, especially with Jordan Wyatt, the leader of the secondary being so banged up. SMU defensive coordinator Kevin Kane had a great gameplan for this against Houston, and will design a scheme to keep Coxie bottled up as much as possible. Whether it be safety help over the top or zone coverage with a heavy emphasis on Coxie, Kane will have a scheme for this. What worries me is the timing of this matchup. Following a week in which a putrid UConn offense ran through the SMU defensive front easily, the Mustangs now have to face Darrell Henderson, one of the most explosive backs in the conference. The 5-9 junior has 1,446 rushing yards and an incredible 17 touchdowns. He is averaging over nine yards per carry, which, to say the least, will generate some success. Behind him is the bruiser, a 6-3 220-pound load named Patrick Taylor, Jr. When defenses are gassed toward the end of the game, a back like Taylor can really take the life out of a defense. Taylor Jr. has 654 yards and 10 touchdowns this year. I certainly have my doubts about SMU's capability to slow down Memphis's offense, given last week's performance, but the defense shocked us all with its great performance against Houston. This is the matchup to monitor.Memphis has the tendency to get involved in shootouts. The defense isn't terrible, but it can certainly be had. The Tigers have struggled to stop the run, surrendering 170 yards per game on the ground, and right around 400 total yards per game. These aren't terrible numbers, but SMU and offensive coordinator Rhett Lashlee should have plenty of success against a defense giving up 30 points per game. Senior linbebacker Curtis Akins leads the defense in tackles, but there isn't a dominant threat on this defense. One thing the Tigers do well is rush the passer with Bryce Huff collecting six sacks so far, while being complemented by Joseph Dorceus and Jonathan Wilson, who have combined for eight sacks. It isn't a devastating pass rush, but SMU will certainly have to work to protect Hicks. I expect SMU to be able to run the ball consistently since its ground game has been humming lately. Hicks is going to have to take care of the ball and keep it away from this dangerous Memphis offense. If SMU has great success running the ball, that would go a long way towards an imperative win. I think this game will turn into a shootout and the score will be wildly entertaining. It will certainly be fun to see SMU football involved in a high-stakes matchup late into November for the first time in a while. Unfortunately, Memphis poses too big a threat to SMU offensively and I think the Ponies are going to have too much trouble slowing down the Memphis offense. Kane's defense is going to be asked to make key stops at the end of this game, and I don't have the faith it can following last week's performance. Memphis wins in a shootout, but it will be tight and incredibly competitive.Nate's take: Memphis 41 SMU 38

Previous Story
Next Story

| | |
| --- | --- |
| | Freshman guard leads Ponies with 19 points |

| | |
| --- | --- |
| | Froling double-double not enough; SMU edged by Bama, 62-61 |