Pony NATE-tion: Mustangs must revive running game, stop Tulsa rushing attack
An SMU victory at Tulsa means bowl eligibility
Posted on 11/22/2018 by PonyFans.com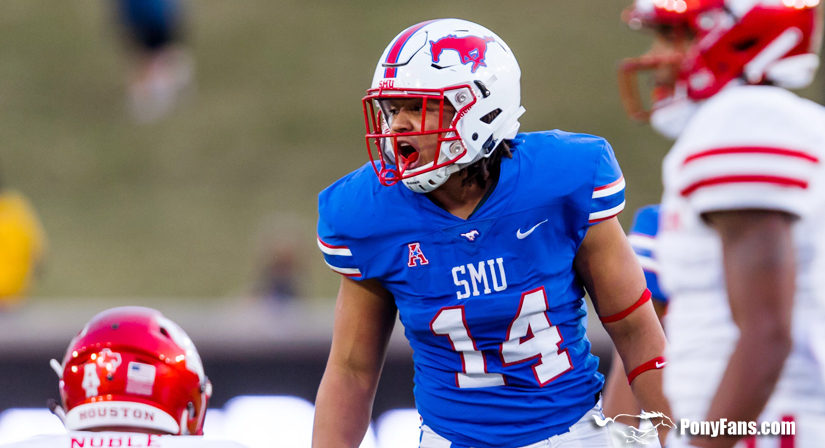 Nate says that if linebacker Richard Moore and the SMU front seven can stop the Tulsa ground attack, the Mustangs will earn a bowl berth (photo by Max Franklin).
PonyFans.com is proud to have 18-year-old Nate as a guest columnist. This week, Nate reviews the loss to Memphis, previews Saturday's game at Tulsa and addresses the team's chance of landing a bowl berth.
Feel free to post comments and constructive criticism, ask him questions, and/or give suggestions for upcoming columns! (He can be followed on Twitter at @Pony_NATE_tion.)___________________________________________________________________________________________________________________________SMU fell to 5-6 and all but out of the American Athletic Conference championship hunt with a 28-18 loss to Memphis in an extremely frustrating and winnable game for the Ponies. The theme of the night was simply missed opportunities. The Mustangs had lots of chances throughout the game, especially on offense. The defense made play after play throughout the game, but it seemed that the offensive side of the ball wasn't up to the task. Head coach Sonny Dykes and offensive coordinator Rhett Lashlee seemed to throw the kitchen sink at Memphis with multiple trick plays, but it just wasn't enough.Quarterback Ben Hicks led the offense with a 29-for-55 performance for 344 yards, two touchdowns and a pick. It was again an inefficient performance for Hicks, who had a 52 percent completion rate, and his interception was either a miscommunication with Reggie Roberson, or just a predictable play call that the Memphis defensive back saw coming, allowing him to jump the comeback route, a route that SMU had run repeatedly. There were other missed throws by Hicks, especially when he missed a wide-open Roberson who had one-on-one coverage on the outside and beat his man on a vertical route, yet Hicks overthrew him by a large margin.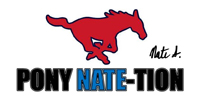 (photo by Max Franklin).
However, I'm not pinning the blame on Hicks at all. He was under heavy pressure all night, as the offensive line struggled to protect, and there was no running game to speak of, with the SMU running backs averaging a tick over two yards per carry. This running game was dominant for the two-game stretch of Houston and UConn, but Memphis shut the Ponies down up front and the Tigers dominated the line of scrimmage. Constantly being faced with third-and-long situations due to its inability to run the ball in early down situations, SMU struggled mightily on third down and couldn't sustain a drive. The Mustangs went 5-for-17 on third down, an anemic 29 percent conversion rate. Untimely turnovers killed the Mustangs all night, too, as they moved the ball reasonably well on multiple drives, but coming away with zero points from three different trips inside the Memphis 30 are opportunities that can not be passed up. A Hicks interception, a turnover on downs and the Ryan Becker fumble were all killer turnovers and big momentum shifts.On the positive end, the duo of James Proché and Roberson was huge yet again, as they combined for 250 yards, with Proché accounting for two touchdowns, one of which was a phenomenal contested grab. My preseason pick for breakout player of the year has been incredible, as he becomes more acquainted with the offense, averaging 109 yards per game over his last six outings with five touchdowns.But the defense pitched one of its better performances of the season, holding an explosive Memphis offense to just 28 points, 16 below its season average. It was a bit of a "bend but don't break" effort, surrendering 434 yards. SMU played reasonably well against the pass, holding Memphis quarterback Brady White to 226 passing yards. The issues arose when Memphis began to impose the run game, as the Tigers ran the ball 43 times for 208 yards. Darrell Henderson has been the Tigers' lead back all year, but Patrick Taylor took over, receiving 20 carries for 112 yards and even found the end zone twice. SMU just couldn't make enough plays on defense, especially with regard to quarterback pressure, racking up a grand total of zero sacks and just two hurries. The defense also struggled mightily on third down, as Memphis converted 10 of 17 third downs, sustaining some back-breaking drives down the stretch. SMU's performance, especially on the back end, was incredible given how banged up the Mustangs were. The list of injuries was long, but the defense held strong most of the night. Linebacker Richard Moore was awesome, with 12 tackles on the night, but the effort wasn't enough. Had the offense given a more consistent effort, I seriously think SMU wins this game going away. But SMU left way too many points on the board, and it cost the Ponies a shot at a conference championship.But a shot at bowl eligibility still remains, and all that stands in SMU's way is a 2-9 Tulsa team that has only won one conference game, against a UConn team that is much worse than Memphis. Tulsa is riding a skid in which it has lost nine of its last 10 games, but it seems to be within striking distance in most losses, save for a couple. Most notably, a one-point loss to USF highlights that Tulsa is capable of fighting and staying in a game.Tulsa has a pretty poor offense that only scores 26 points per game, ranking 112th in the nation. The Golden Hurricane have little to no threat through the air at a meager 168 passing yards per game. However, the Golden Hurricane can run the ball at a high level, racking up 206 rushing yards per game. Seth Boomer took over as the starting quarterback after four games in which the original starter Luke Skipper struggled mightily. Boomer hasn't been great either, with a rough 47.4 percent completion rate and just 161 passing yards per game to go with only eight touchdowns. Boomer's redeeming quality is that he doesn't turn the ball over much and would rather throw it away than take a risky chance. There aren't any big threats on the outside; the top targets are the duo of Keylon Stokes (35 catches, 435 yards, two touchdowns) and Justin Hobbs (34-420-3).Tulsa's ability to move the ball revolves around the running game. Shamari Brooks is the leading rusher at 878 yards and six touchdowns, and his backup, Corey Taylor II, is another great threat who averages 4.9 yards per carry and has 10 touchdowns on the season, with most of the goal line touches going to him and his stalky 5-10 220-pound frame. SMU's defensive front is going to have to come ready to stop the run. The Mustangs have struggled with this many times throughout the season, especially the last two weeks against UConn and Memphis. If SMU slows down the run and forces some third-and-long situations, forcing Boomer to make plays and win the game, Tulsa should struggle to score many points. It should also be noted that Tulsa has given up 37 sacks this season — for perspective, SMU has allowed 26 — and has struggled to protect its passer much at all.Tulsa's defense gives up 30 points per game — actually not a bad number to give up in this high scoring day and age. But where Tulsa is susceptible is on the ground. The Golden Hurricane is giving up almost 250 rushing yards per game at 5.2 yards per carry. The back end of the defense is stingy, only giving up 161 passing yards per game, but that stat may be skewed a bit due to teams being ahead of Tulsa a lot and running the ball to eat clock up. Overall, this defense is not bad at all, about in line statistically with a defense like the one at Memphis. The defense is led by linebacker Cooper Edmiston who has a team-high 103 tackles (seven for loss) and three interceptions. This defense isn't terribly opportune, as it doesn't feature a pass rusher with more than two sacks, nor does it generate many takeaways. If SMU is able to run the ball, that should open up the passing game for Hicks. The key for SMU on offense again will fall on the shoulders of the offensive front and its ability to open up running lanes. We saw what a lack of a running game did to Hicks in the Memphis game, and we have also seen its benefits in the Houston and UConn games. A big game is needed from the SMU rushing attack of Xavier Jones, Ke'mon Freeman and Braeden West if the Ponies desire a 13th game.Overall, this is a game SMU should win, and win by a comfortable margin. However, things can tighten up in important games like this, and Tulsa would love to spoil the Ponies' season and end it one game early, especially since it is Tulsa's Senior Day. I do think SMU will rise to the challenge and win this game handily. The defense will get after the passer and put Boomer in the turf quite a bit. The Tulsa rushing attack will be suppressed enough and the defense will win the day. SMU will be led by its rushing attack and will run the ball well throughout the game. SMU is just better than Tulsa and the scoreboard will show that. The Ponies are going bowling for the second straight year.Nate's take: SMU 38 Tulsa 27

Previous Story
Next Story

| | |
| --- | --- |
| | Froling double-double not enough; SMU edged by Bama, 62-61 |

| | |
| --- | --- |
| | Mustangs finish 5-7 |