Pony NATE-tion: team awards and season outlook
Who must step up for Ponies to succeed in 2019?
Posted on 08/28/2019 by PonyFans.com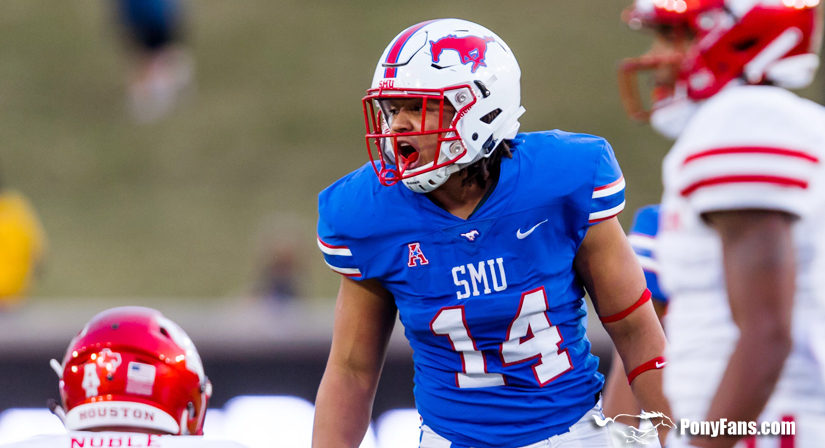 Nate ays the leading SMU tackler from last year should be the Defensive MVP in 2019 (photo by Max Franklin).
After a long, arduous offseason, football is finally back, and we can all celebrate. After an overall encouraging 2018 season ended with a bad taste in the mouths of SMU players, coaches and fans, the Mustangs have a clean slate and is geared up for 2019. In 2018, SMU finished 5-7, losing its 12th game to an anemic Tulsa team, a game in which the effort was so poor that Head coach Sonny Dykes felt it necessary to publicly rip his team. "I told our players after the game we got exactly what we deserved," Dykes said after the game. "We deserved to get our ass kicked."But despite the sour ending to 2018, there's an aura of optimism around the Hilltop coming into 2019. There have been some very notable changes, most notably at the quarterback position. Former Texas Longhorn signal caller Shane Buechele decided his next home would be at SMU. With the always-polarizing Ben Hicks transferring to Arkansas to join Chad Morris, Buechele is slated to be the starter at SMU, where he has two years of eligibility. This was one of the biggest gets and a big victory for Dykes, who has made a living in the transfer market since arriving at SMU. The transfer market is the best way to fill in the gaps on a young team as Dykes continues to bring in some of the top recruiting classes in the American Athletic Conference. While there has been a substantial injection of talent into the program through transfers, one loss to keep an eye on is Mikial Onu, who bolted for Colorado. He had been a solid starter in an already young and thin secondary. In my opinion, the biggest question for this team lies in the secondary. Jordan Wyatt graduated, Elijah McQueen retired due to injury and Onu transferred. It will be key for SMU to get good news on the immediate eligibility of talented transfers Chevin Calloway (Arkansas) and Cam'ron Jones (Nebraska). With all that being said:Offensive MVP: James ProchéYes, I'm aware that the quarterback is the most important player, but the best and most talented player on this offense is James Proché. The star wideout is coming off a breakout season in his first year as the No. 1 target, a season in which he caught 93 balls for 1,199 yards and 12 touchdowns, while also returning kicks. He was electric last year with 555 yards after the catch, and sure-handed as well, catching 65 percent of his targets. He capped off his big year by earning All-AAC honors. Coming into 2019, the 5-11 wideout was voted to be a captain by his teammates and is one of the best players both in the conference and in the country, as he and fellow SMU wideout Reggie Roberson Jr., were named to the watch list for the Biletnikoff Award, which is given annually to the nation's premier college receiver. Proché has finally matured as a football player to the point that his raw athleticism and burst have blended nicely with the refineries of playing wide receiver: route running, footwork, reading defenses, etc. Getting in sync with Buechele will be key, as well. Barring injury, I'd expect nothing less than another phenomenal year from the wideout, and I also expect him to join the lineage of Mustang wide receivers to get drafted into the NFL next year.Defensive MVP: Richard Moore Also elected captain by his teammates, Moore led the Mustangs in tackling in a vastly improved defense last season with 92 tackles, 13.5 of which were for a loss. The senior linebacker also tallied five sacks and a forced fumble. With much credit due to defensive coordinator Kevin Kane (a rising star in the profession), Moore was the leader of a unit that improved 34 spots in the national defensive S&P+ rankings. This will be one of the deepest front sevens SMU has had in some time, and it will be headlined by the rambunctious and fiery linebacker who has flourished at SMU since his transfer from Texas A&M.Breakout Player: Kedrick James There were a few transfers that I really liked, and this was a tough call, but James is going to get the nod here and a lot of it has to do with tight end being a position of need. James is the latest big-time recruit reclamation project for the Ponies. The 6-5 263-pound tight end from Waco announced his intention to transfer to SMU this summer. Hunter Thedford transferred to Utah, leaving open competition for who might back up Ryan Becker. James is a more-than-perfect addition to this team. He seemed to finally be coming along at Alabama, as he caught a 29-yard touchdown pass in the A-Day Game (the Crimson Tide's spring game) in Tuscaloosa. He would have had a good shot for a lot of playing time at 'Bama this year, as James was a projected starter this year. After looking through some of his spring game reps, he has potential to be a reliable target over the middle for SMU. He shows decent burst and good hands, and obviously has the size to be a dominant blocker, especially in the AAC as opposed to the Southeastern Conference. All of this comes with an enormous asterisk. James' waiver has yet to be approved by the NCAA, and he, along with a few other transfers, are still waiting to find out if they will be eligible to play this year. Dykes hinted that we might know as soon as Friday. If approved, he could be a serious impact player for the Ponies.SMU was blessed (or cursed, depending on how you look at it) with a difficult schedule that includes six teams — UCF, TCU, Memphis, North Texas, Houston and Temple — that were at least receiving votes for the preseason Coaches Poll and nine teams that played in a bowl last year. While Arkansas State is not one of these seven teams, SMU's first opponent is no slouch either. The Red Wolves are coming off an 8-5 season that was slightly disappointing to the folks in Jonesboro. They came up one game short of the Sun Belt championship due to a couple of losses to inferior teams. But it's a new year for head coach Blake Anderson, but not without some tragedy. Anderson's wife, Wendy, sadly passed away after a two-year bout with breast cancer, and Anderson has stepped away from the team for the time being. Assistant head coach David Duggan will step in for the time being at head coach.Offensively, the Red Wolves return six starters after leading the Sun Belt in total offense. But this year it will have to happen without three-year starter Justin Hansen. Logan Bonner is slated to step in and has extremely limited experience, but the junior has looked good throughout spring and fall camp. Bonner is surrounded by talent, which should ease his transition. Leading receiver Kirk Merritt is back after a season in which he caught 83 passes for 1005 yards and seven touchdowns. The 6-0 senior dominated last year and is going to be joined by Oklahoma transfer Dahu Green. Green has almost no track record, as he broke his ankle in week one last year, but expectations are high for him, as well. While thin at running back, Marcell Murray is back, coming off an 860-yard, eight-touchdown season. The Red Wolves also return three starters on the offensive line and averaged 184 rushing yards per game in 2018. SMU's front seven will be solid like it was in 2018, but a key to this game is how the Mustang secondary handles ASU's dynamic wide receivers and an inexperienced quarterback.Defensively, the Red Wolves are very impressive and experienced. Eight of their top 10 tacklers are returning and are coming off a year in which they allowed 26 points per game. The defensive line is full of capable players, but is headlined by Forrest Merrill, a 338-pound beast on the interior who was one of the best defensive linemen in the Sun Belt in 2018. One question mark for the Wolves is the Bandit position (a defensive end/edge rusher hybrid position), which generated over half the team's sacks last season. While losing both of its top two sackers, a lot of it is scheme-based, as the Wolves have totaled at least 30 sacks each of the last five years. The linebackers are both returning, with Tajhea Chambers (79 tackles in 2018) manning the middle. On the back end of the defense, the secondary is returning everyone, including All-Sun Belt cornerback Jerry Jacobs (four interceptions in 2018), the team's number one corner, along with leading tackler and safety Darreon Jackson. SMU's offensive line struggled mightily in 2018 and it will have its hands full Saturday night.Another key to watch for is ASU's red zone scoring. It was atrocious in 2018, scoring on just 78 percent of its red zone tries. If the Mustangs can stand tall in the red zone and the front seven can take over the game, SMU's defense has a chance to beat down the ASU offense. What worries me most is how the secondary checks Merritt. He is a real weapon and a first-time starting quarterback will lean on his best receiver. SMU's offense needs to focus on one thing: protect Buechele. He is athletic and can move better than Hicks could, but it won't matter if the ASU front seven is constantly generating pressure. I think the offensive line will be much improved this year, as many of its struggles were injury-related, but we still need to see it play out on the gridiron. I think if Buechele has time, he will be able to find his two star receivers, Proché and Roberson. If the o-line falters, look for Dykes and Rhett Lashlee to turn to a more timing-based, quicker offense that gets the ball out quickly. I think if SMU protects Buechele reasonably well, then he could put up some big numbers.Overall, this game is filled with unknowns. Two new quarterbacks, lots of offseason change in both programs, and much more. All that leads up to this: this is 100 percent a toss-up game, as indicated by the two-point spread in Vegas. You could make great cases for both teams as to why they will take the day. On a muggy day in Jonesboro, I'm going to go with experience here. SMU is more experienced, especially at the quarterback position, and I think that will be a big difference. I see a slugfest early on, but both offenses will get comfortable and click more as the game wears on. I think SMU will escape Jonesboro with a huge week one win, as its veterans will shine.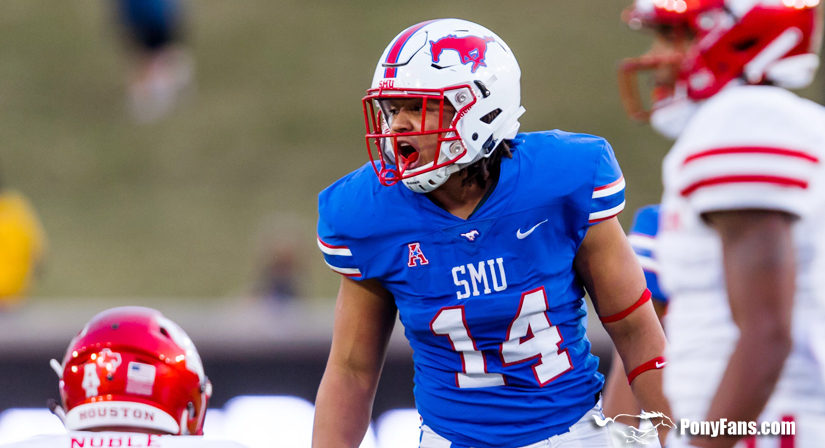 Nate ays the leading SMU tackler from last year should be the Defensive MVP in 2019 (photo by Max Franklin).
Nate's take: SMU 34 ASU 31

Previous Story
Next Story

| | |
| --- | --- |
| | Coach: on opener, captains, No. 23 jersey, impressive freshman |

| | |
| --- | --- |
| | Ponies host TCU at 7 p.m. Sunday |