Pony NATE-tion: Can Mustangs slow TCU running attack?
Ponies, Frogs kick off at 2:30 Saturday
Posted on 09/19/2019 by PonyFans.com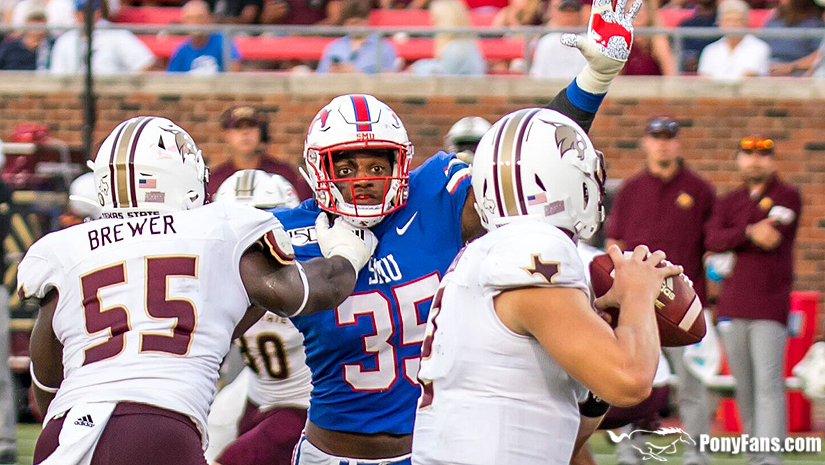 Nate says the Mustangs must get a pass rush from Delontae Scot and the rest of the front seven to force TCU quarterbacks into bad plays and turnovers (photo by Max Franklin).
PonyFans.com is proud to have 18-year-old Nate back as a guest columnist. This week, Nate reviews last week's lopsided win over Texas State and previews Saturday's game against TCU.
Feel free to post comments and constructive criticism, ask him questions, and/or give suggestions for upcoming columns! (He can be followed on Twitter at @Pony_NATE_tion.)___________________________________________________________________________________________________________________________SMU is 3-0 for the first time since 1984, and simply put, this team's ceiling rises every week I watch it. Frankly, it's hard to recall a time when this much optimism surrounded the Hilltop. SMU is coming off a 47-17 beatdown of Texas State, far exceeding projections, just as it has exceeded most projections through three weeks.Quarterback Shane Buechele was solid again, completing 77 percent of his passes for 219 yards and two touchdowns, but he did throw two interceptions. Even with a couple of turnovers, the SMU offense put up some ridiculously gaudy numbers, totaling 639 yards, 390 of which came on the ground. The passing game was a little slow, but I'm going to chalk that up to the running game being so effective and SMU was up by so much, so why throw the ball? Running back Xavier Jones was great again, rushing 20 times for 108 yards and one touchdown (5.4 yards per carry), but true freshman T.J. McDaniel, the highly-touted local recruit out of Southlake exploded on to the scene in his first appearance with 159 yards and three touchdowns on just eight carries. Ke'Mon Freeman was still effective as the short yardage back, and threw a nice block on James Proché's touchdown, but the addition of McDaniel makes this backfield that much more dynamic. The offensive line has continued its dominance, leading the way for this rushing performance while keeping Buechele clean all night, as the quarterback was not sacked once. The defense continues to show leaps and bounds of improvement, with five sacks and an interception, limiting the Bobcats to just 241 yards while shutting down their run game to just 16 yards. The Mustangs did a great job of getting off the field on third down, holding TSU to a 23.5 percent conversion rate. Linebacker/safety Patrick Nelson had himself a night with three sacks and seven tackles. Delontae Scott continued his hot start to the season with a sack and five more tackles, as the defensive front remains a strength of this team, something I'm not sure anyone has been able to say about SMU for a few years. The back end of the defense has also continued to produce in surprising fashion, as safety Rodney Clemons came up with an interception, Brandon Stephens has continued to be a stingy cover corner (five pass breakups on the year) and teams have struggled to go over the top on SMU.All that changes this week, because as good as the Mustangs may have looked against solid Group of Five teams like Arkansas State and North Texas, No. 25 TCU will be a different sort of challenge. This is the 99th time the rivals have faced off with TCU leading the all-time series, 51-40-7. Through two games, this TCU team has looked as formidable as some of Gary Patterson's past teams. The Horned Frogs are coming off an impressive 34-13 win on the road against Purdue. TCU simply overpowered the Boilermakers with a more-than-physical run game. This sets up to be a very interesting matchup, certainly the most intriguing Battle for the Iron Skillet in years. TCU is what it always is, but SMU's eyebrow-raising first three weeks have caught people's attention, to the point that SMU received a Coaches Poll vote and Vegas making SMU only a 9.5-point road underdog. Some of that has to do with TCU's quarterback situation, though.Alex Delton started both games for the Frogs, but freshman Max Duggan has finished both. Against Arkansas Pine-Bluff, Duggan led all of the touchdown drives. Delton has completed 11 of his 28 passes for 124 yards with no touchdowns and one pick. Duggan has completed 23 of his 41 throws for 235 yards and two touchdowns with no picks, accompanied by a rushing touchdown. "Duggan is a good runner," SMU head coach Sonny Dykes said, "When you put the film on, I didn't know that much about him as a player and I was surprised how fleet of foot he is. He can really run, he's athletic and so the scheme doesn't really change that much."Patterson was noncommittal on who his man is going to be Saturday, but all signs point toward Duggan. Of the 14 offensive possessions the Frogs had, Duggan took 11 of them, and Delton did not see any action in the second half. Neither was overly impressive, but in both of Delton's starts, TCU has started slowly until Duggan got the offense clicking. The freshman signal-caller's numbers against Purdue were not gaudy by any means, as he went 7 of 18 for 70 yards and a touchdown. Delton had just five passing yards on six attempts along with an interception. The mediocre quarterback play did not seem to matter, as TCU ran all over the Boilermakers with 346 rushing yards on six yards per carry.TCU has relied heavily on its running game, and it demonstrated that Saturday with dominant offensive line play and an explosive run game. Sewo Olonilua is the big bruiser of the backfield who wore Purdue out, toting the rock 18 times for 106 yards and a touchdown. His complement is Darius Anderson, who is incredibly elusive and explosive and ran circles around Purdue's defense for 179 yards and two touchdowns. SMU's defensive front will have its work cut out for it this week with an elite running game in its crosshairs. Everything Patterson has been saying is pointing towards Duggan getting the start, because when he was asked if there was going to be a change, he simply replied, "maybe." He expanded on this, saying, "if we see a guy's in rhythm and he's moving and they're doing well, then we stay with that guy. We have to start games faster. We'll see how practice goes this week and see how we need to determine that." Delton has gotten the Frogs off to slow starts, so one can only assume what Patterson might be hinting at, especially given how the Purdue game played out, so I'm going to go forward assuming Duggan will be the starter.Dykes also still recognizes the importance of preparing for both quarterbacks, saying "You prepare for both. The thing is the scheme's not really that much different. There's little nuances that change here and there, but you've got to be prepared for both and you've got to be prepared for both sets of plays and I'm sure at some point we'll see both of them. You look at the second game against Purdue and the quarterbacks look a lot more comfortable and the execution was a lot more better." Dykes knows TCU's system moderately well, as he was an offensive assistant in Fort Worth prior to being hired at SMU.While TCU's passing game was nonexistent against Purdue, it is not to be disregarded because stud wideout Jalen Reagor still roams the outside of TCU's offense. Reagor was a monster in 2018, with 1,000 yards and nine touchdowns as an absolute burner that takes the top off the defense. He's gotten off to a slow start in 2019, but he is still a dangerous threat. TreVontae Hights is a threat as well, with eight grabs and 108 yards thus far, but Reagor is the one to whom SMU's defense will pay the most attention. Patrick Nelson has been a monster at linebacker and safety so far for the Mustangs (five sacks and 20 tackles) as well and he needs to continue to do so Saturday.The key for SMU's defense is simple, but following through on the task is difficult: stop the run, make the Frogs' quarterbacks beat you. If the front seven can continue to limit the opposing running game and put heat on the quarterback, SMU will have a shot at the upset. Look for Delontae Scott to play a big role for the defense, as his stellar start to the season has placed him tied for 8th in the nation in quarterback pressures with 16. Putting heat on a true freshman quarterback will be essential for Kevin Kane's defense. One can only hope the Mustangs can pressure Duggan with four rushers, because blitzing creates vulnerabilities for burners like Reagor on the outside.Offensively, SMU is better equipped than ever to handle Gary Patterson's heralded TCU defense. The Ponies are No. 11 in total offense, with 550 yards per game to go along with 44 points per game (which ranks 20th nationally). Buechele has been a revelation and has been a major key in the overhaul of SMU's offense. He currently leads the American Athletic Conference in passing yards and is complemented by a running back in Jones who leads the nation in touchdowns with seven. The Mustang backfield got even more dynamic with McDaniel bursting onto the scene last week.The matchup of the week is SMU's wideouts against TCU's ballhawking and borderline elite secondary. Reggie Roberson is currently ninth in the nation in receiving yards and has been a phenomenal deep threat for Buechele, leading the nation in yards on deep receptions (20+ yards), per Pro Football Focus. James Proché is a known commodity and has burned TCU in the past. The Frogs' secondary, led by senior corner Jeff Gladney, could be a problem for Buechele. They shut down future NFL first-round pick Rondale Moore last week for just three catches and 25 yards. Purdue was playing with a backup quarterback, so that was a factor, and Buechele is without a doubt the best quarterback TCU has seen to this point. Regardless, SMU has some legitimate threats on the outside who are playing extremely will with their quarterback. "They're good players," Gladney said. "We're going to scheme them and slow them down like we usually do."TCU's secondary is full of threats like Gladney, who had a pick against Purdue. TCU plays a ton of man coverage, so the onus will be on Proché and Roberson to win one-on-one battles. Trevon Moehrig and Ar'Darius Washington are also threats on the back end of the defense, with two and one picks to their credit, respectively. Buechele will have to be careful with the risks he takes, given that any turnovers could be lethal to the Ponies. One thing that would help SMU immensely would be another reliable option for Buechele on the perimeter to stress the Frog's defense. Tyler Page has shown flashes and Kylen Granson has been able to attack the seam out of the tight end position, as well. Up front, TCU is just as stingy. The Frogs surrendered just 26 rushing yards to Purdue, partly due to Purdue being down most of the game, but it is impressive, nonetheless. The defense is led by linebacker and leading tackler Garret Wallow, who also has tallied two sacks. Ross Blacklock is also a 6-4, 305-pound pass-rushing threat in the middle. SMU's offensive line is going to have to continue the great work it has been doing and keep Buechele clean and establish a running game. Protecting Buechele is paramount this week especially, because TCU's great secondary might cause the receivers to need a bit longer to get open. SMU's dynamic rushing attack needs to be up to the challenge for SMU to have a chance.This is an incredibly difficult game for the Ponies. They're going on the road against a cross-town rival who has owned them for a better part of this decade. They haven't beaten them since 2011. Dykes downplayed the importance of this game to SMU, iterating it as "a good opportunity for us." I'd like to think he's giving a bit of a different message to his team. A year into the Sonny Dykes Era, immense improvements are already apparent. "I think we're just a year better than we were last year," Dykes said. "More mature and I think we're just a bigger, faster, stronger team and a team that's playing with some confidence."I think this is the best SMU team in a while and it is the best-equipped to beat TCU in a while. While Patterson is a great coach and will come up with a good scheme to slow down SMU's red-hot offense, the confidence levels and talent on SMU's offense are too high not to give TCU fits. SMU's front seven has been awesome and has the depth to deal with TCU's rushing attack. The Mustangs won't stop the running game, but I think they can slow it down enough to force TCU's less-than-stellar quarterbacks to beat them and make some mistakes. Kevin Kane is going to make the true freshman beat him. SMU will put a lot of pressure on the Frogs and make Duggan uncomfortable in a big spot. This is both teams' toughest matchup of the season thus far, and this has potential to be the most competitive Battle for the Iron Skillet a long time.This game will eventually come down to quarterback play and who is ready to make a play in a big spot. Shane Buechele has played in plenty of these environments and I think Saturday will be his signature game as the Mustangs' signal-caller. SMU is going to rely on its talented veterans and the momentum it has built up over the first three weeks to go into Fort Worth and beat TCU for the first time in eight years. Give me the Ponies in an upset.Nate's take: SMU 31 TCU 27

Previous Story
Next Story

| | |
| --- | --- |
| | Mustangs improve record to 6-1 |

| | |
| --- | --- |
| | Images by Rob Graham |