Pony NATE-tion: Can SMU contain mobile USF quarterback, remain unbeaten?
Mustangs, Bulls kick off Saturday at 3 (CT)
Posted on 09/26/2019 by PonyFans.com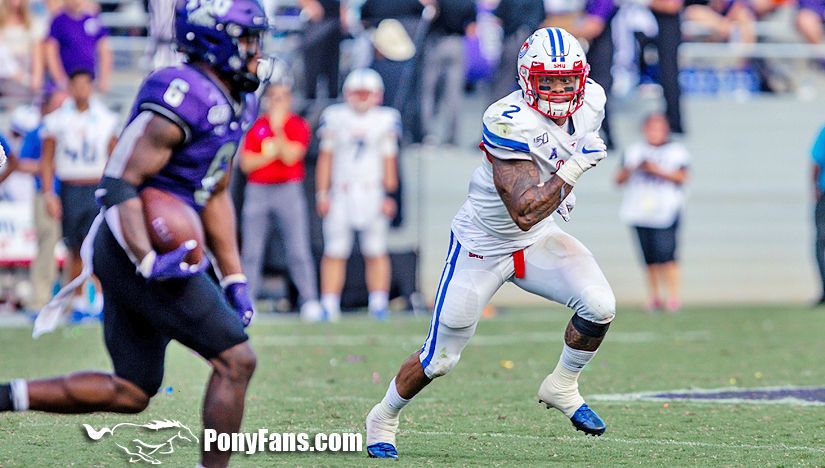 Assuming South Florida plays mobile quarterback Jordan McCloud, Nate says it is critical for Pat Nelson and the SMU defense to keep McCloud in the pocket Saturday in Tampa (photo by Max Franklin).
PonyFans.com is proud to have 18-year-old Nate back as a guest columnist. This week, Nate reviews last week's victory at then-No. 25 TCU and looks ahead to Saturday's American Athletic Conference opener in Tampa against South Florida.
Feel free to post comments and constructive criticism, ask him questions, and/or give suggestions for upcoming columns! (He can be followed on Twitter at @Pony_NATE_tion.)___________________________________________________________________________________________________________________________Things never have been better on the Hilltop in the post-Death Penalty era. Head coach Sonny Dykes has his team 4-0 for the first time since 1984, when the Mustangs went 10-2 and won a share of the Southwest Conference championship. After a great 3-0 start with three impressive wins, the Ponies confirmed the optimism with a thrilling 41-38 win in Fort Worth to reclaim the Iron Skillet for the first time since 2011.You really can't say enough about the offense anymore. The Mustangs racked up 406 yards, 41 points (31 in the first half) and made play after play to keep the chains moving when the pressure was on. Quarterback Shane Buechele was awesome. He threw for 288 yards and two touchdowns, all while completing 67 percent of his passes and running for another touchdown. Besides one miscue when he forced a deep throw over the middle into double coverage and threw a pick in the end zone, the veteran quarterback demonstrated some real moxie and made huge throws in big spots. His back-shoulder throw to James Proché, who had 10 catches, for a touchdown could not have been placed more perfectly. There also were some perfectly placed deep balls to Reggie Roberson, who had 122 yards. My favorite play of the game was the double-reverse flea flicker that resulted in Buechele finding tight end Kylen Granson for a huge gain. It was just another example of Dykes and offensive coordinator Rhett Lashlee providing a spark for the offense when it needs one.Buechele used his legs to move the chains when needed, and consistently made good decisions all day. Buechele is a huge part of why this offense has been cooking lately, as it gashed what came into the game as the No. 2-ranked defense in the nation.The offensive line was fantastic once again, establishing the ground game rather well and only surrendered one sack. Continuity has been key for the O-line, staying relatively healthy and continuing to control the front line. The running game wasn't incredibly effective, but it came up with timely plays.Running back Xavier Jones was one of the best players on the field. He has been explosive and has shown great patience when hitting the holes that have opened for him. His wheel route on the touchdown catch was a thing of beauty as he had great timing and burst as he burned the TCU defender who was guarding him. He has become a big play machine for the offense, and it is great to see him return to his old form in his senior year after an injury-riddled 2018. Granson also has been a great addition to the offense, presenting a consistent threat down the seam that can complement the Proché/Roberson combo.The defense's improvement can not be overstated either. While it got gashed on the ground a bit for 256 yards, it came up with three takeaways, three sacks and seven tackles for loss. TCU's passing attack was largely ineffective, as Max Duggan only completed 16 of his 38 throws.Linebacker Delano Robinson and defensive back Ar'Mani Johnson were named to Pro Football Focus' AAC Team of the Week for their performances against the Frogs. Robinson and Auburn transfer Richard McBryde's performances were great as they stepped in for injured captain Richard Moore. Defensive coordinator Kevin Kane also devised a great game plan to slow down TCU, and the blitz he called on fourth-and-3 to ice the game could not have worked better, as the Frogs' right guard did not see SMU linebacker Patrick Nelson coming on a delayed blitz down the middle. Nelson laid a hit on Duggan which forced an errant throw and sealed the upset. When TCU had the ball down three points starting on the SMU 40-yard line, the Mustangs stood tall and came up with the stop.Now the expectations are rising, and the way this team has played, they should be rising. SMU is 4-0 and is ranked 28th in the Associated Press poll as one of the top vote-getters. A win this week on the road against South Florida likely would land the Mustangs their first top-25 ranking in 35 years. The Bulls of South Florida come in with a 1-2 record. They kicked the season off with a bloodbath of a loss to College Football Playoff contender Wisconsin as they fell, 49-0. The offensive struggles persisted in a 14-10 loss to a subpar Georgia Tech team. But something clicked against South Carolina State as the Bulls won in a 55-16 rout, ending an eight-game losing streak dating back to 2018.One intriguing storyline going into this game is the reunion of USF head coach Charlie Strong with Buechele, as the two were once at the helm of Texas. A lot has changed since Buechele quarterbacked the Longhorns on that opening night against Notre Dame in 2016. But Strong still recruited him to Texas and knows him well. "Charlie's obviously gonna know what his strengths are, know what his weaknesses are," Dykes said. "He's gonna have a real good feel for that." There are obviously no hard feelings, as Strong still respects the quarterback, and rightfully so. "When I had him in '16, he was a true freshman, so to watch him develop, his game has really elevated because now he's learned the game," Strong said. "When you've been in a program, and now the older you get, the wiser you become, and I think that's where he is."For the second week in a row, SMU will face a team that is in the process of breaking in a new quarterback. Blake Barnett started the first two weeks but struggled mightily. Some blame falls on him, but it should also be noted that USF's offensive line has been beyond atrocious. Barnett was constantly under fire, and he is a pocket-style and less mobile quarterback. Enter Jordan McCloud, a redshirt freshman to whom Strong turned for the SCSU game. McCloud completed 16 of 27 passes for 217 yards and three touchdowns, along with 56 rushing yards and two more touchdowns. He was more effective than Barnett due to his elusiveness and athleticism. All of a sudden, the offense was generating big play after big play. Part of it has to do with quality of opponent, but the Bulls seem to have found something.As far as weapons go, none really has emerged. Johnny Ford is a 5-foot-5-inch speedster who is used in many ways in the offense, sort of as a web back. He can take the top off a defense and SMU's secondary will have to know where he is on the field at all times. Mitchell Wilcox is another threat to watch. He is an NFL-caliber tight end who is a problem especially in the red zone. A young quarterback always can lean on a good tight end, and I anticipate McCloud to lean on Wilcox Saturday.The key to stopping USF is the same as it was for Wisconsin and Georgia: get after the quarterback. USF's O-line is nothing short of atrocious. SMU has had no problem generating pressure on the quarterback thus far, and containing McCloud in the pocket will also be paramount. The game plan Kane comes up with will be interesting, given the lack of tape on the redshirt freshman quarterback.Defensively, USF had a litany of issues against Wisconsin, but has since settled down. In fact, USF is now tied for first in the FBS in takeaways with 11 and fumbles recovered with seven. This is severely inflated due to the Bulls creating eight takeaways against SCSU, but still plenty impressive. The Bulls are also second nationally in tackles for loss per game with 11.Patrick Macon is the leading tackler for the Bulls with 21, five of which have come for a loss. USF doesn't sport a largely dominant defensive front but rather a mob of capable bodies, as no one has more than one sack. The USF defense isn't bad by any stretch, but it seems to be vulnerable on the ground. This is also a bit inflated because of what Wisconsin running back Jonathan Taylor did to it in Week One, but USF has surrendered 170 rushing yards per game. The key for SMU is simply to keep doing what it has been doing. Control the line of scrimmage and protect Buechele. Establish the run and keep Buechele clean to give Roberson and Proché time to get open and make plays. While USF's defense is not bad, it is certainly not the quality of TCU's defense, a squad that the Ponies picked apart a week ago.I think SMU's offense will continue to be a problem for defenses. USF's defense is capable but won't be able to stop the Mustangs. SMU's defense has not been great, and it will be fascinating to see how McCloud is gameplanned for. He is a dynamic quarterback who has been a sparkplug for plenty of big plays for the Bulls. I have begun to have faith in this team I would not have had at the beginning of the season. This will be a tight game, but with two gritty road wins under their belts, I think the Ponies will make it three in Tampa Bay this week. SMU will be 5-0 and ranked by next week.Nate's take: SMU 34 USF 28

Previous Story
Next Story

| | |
| --- | --- |
| | Images by Max Franklin |

| | |
| --- | --- |
| | Photos by Max Franklin |