Pony NATE-tion: What happens in primetime matchup of ranked teams?
SMU, Memphis kick off at 6:30 (Central) Saturday
Posted on 10/31/2019 by PonyFans.com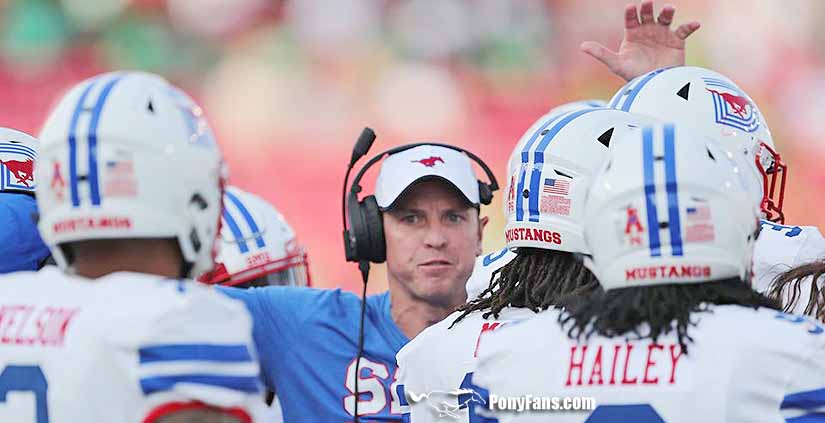 Nate says defensive coordinator Kevin Kane and the SMU defense will have their hands full Saturday with the Memphis offense, which features dangerous running back Kenneth Gainwell and a slew of explosive receivers (photo by SMU athletics).
PonyFans.com is proud to have 19-year-old Nate back as a guest columnist, this time to review last week's win at Houston and to look ahead to Saturday's nationally televised showdown against the Memphis Tigers.
Feel free to post comments and constructive criticism, ask him questions, and/or give suggestions for upcoming columns! (He can be followed on Twitter at @Pony_NATE_tion.)___________________________________________________________________________________________________________________________I never thought I'd write this, but SMU is 8-0, ranked in the top 15, featured on ESPN's College Gameday and will be on ABC's 6:30 (Central) primetime slot called by Kirk Herbstreit and Chris Fowler. Read that sentence a few more times to let it sink in. The Ponies are coming off a sloppy and messy win on the road against a poor Houston team with a backup quarterback, but headed back up I-45 with a 34-31 win in their pockets. Before rehashing the main points of this game, do not lose sight of two things. First, weird things happen in college football on Thursday nights. While it wasn't pretty, a win on the road against an inferior opponent on a Thursday is huge, no matter how well a team plays. Second, SMU has just begun its rise. Don't get greedy, and enjoy the ride. It has been a pleasure to write about and watch.Offensively, the group looked disjointed and its 385 yards of total offense fall under the season average of 504 (a number that is calculated after the 385-yard performance). Part of that was due to Houston turnovers that led to very short fields for the Mustangs' offense, but the SMU was not clicking. It was sloppy play because there were drops, penalties and just general fundamental mistakes SMU has not been making in 2019. The biggest difference for me was the third-down offense, as the Mustangs converted just five of 15 third downs, falling far below the 45 percent season average. The win may have come at an enormous cost. SMU wide receiver Reggie Roberson took a reverse six yards and seemingly went down normally. He hopped up and limped off and eventually was carted to the locker room. The Ponies' leading receiver's status for Saturday is still a mystery, which leads me to believe that this injury might cause him to miss the biggest game of the year. It is a foot injury, and those injuries tend to affect burners like Roberson more than others. Not having him would be a huge loss for the Mustangs, as Roberson has the range that makes him a threat to score from anywhere on the field. The defense always must account for home run threats like him, because all it takes is one play. In his place, it is imperative that Rashee Rice and Tyler Page step up to make some plays if Roberson indeed is out.The defense made some plays and created a couple turnovers but was also sloppy. Houston had some huge plays due to poor tackling and even worse angles taken at the ballcarrier. SMU was able to generate a ton of pressure to the tune of seven sacks and safety Rodney Clemons and linebacker Patrick Nelson were awesome again. Clemons had two pass breakups and a pick, and UH quarterback Clayton Tune had a 27.1 quarterback rating when throwing at Clemons. Houston had no run game to speak of outside of a couple long ones, but the pass defense was poor as Tune carved up the secondary for 407 yards. That is bothersome, especially given the opponent this week.While SMU generally was good on defense and was able to excel in the "big three" (sacks, takeaways and third down defense), there were some lapses on the long Mulbah Car run for six and the two Marquez Stephenson touchdowns. They all involved poor angles and tackling. Good teams win when they don't play well. SMU had an off night and still escaped Houston with a road win against an in-state rival. There is nothing to be ashamed of. Fix the fundamental issues and get healthy, because the lights get a whole lot brighter Saturday.This Memphis team is good and is likely the best team SMU has faced all year. The Tigers come in with a 7-1 record, the one loss coming on a fluky no-catch call that did them in against Temple that I highlighted in my Temple preview. This is the typical Memphis team: high-octane offense full of explosive athletes and burners. Head coach Mike Norvell's team is über-talented and is a six-point favorite over the No. 15 Ponies for a reason.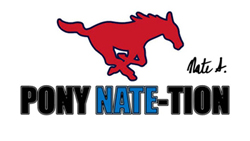 (photo by SMU athletics).
SMU defensive coordinator Kevin Kane needs to come prepared and gear this defense up for the 10th-ranked scoring offense in the country, a unit that scores 39.5 points per game. It is not pass-heavy or run-heavy either, as the passing game is ranked 25th and the running game is ranked 45th in yards per game. Quarterback Brady White has thrown for about 2,100 yards, 20 touchdowns and only four picks with an awesome 69 percent completion rate. It is not dink-and-dunk either, as he averages 10.3 yards per completion.White's weapons are numerous. The outside is littered with home run hitters. Get this: six receivers have a longest catch of more than 46 yards, and the average of those players' longest receptions is 61 yards. Six different receivers have at least two touchdowns and five have at least 300 yards receiving. Damonte Coxie is the leading receiver with 529 yards and three touchdowns. Antonio Gibson averages 27 yards per catch and has five touchdowns. He must always be accounted for, as he can score from anywhere on the field at any time.On top of all that, SMU must account for one of the most — if not the most — dynamic running backs in the country. Kenneth Gainwell is the latest explosive Memphis running back, a la Darrell Henderson. I would venture to say that he is the most dynamic player SMU has faced as well. The offensive line is playing at an extremely, high level, as well and that makes Gainwell that much better. He does everything and fits perfectly into the modern football trend of splitting backs out wide to create mismatches with linebackers who struggle to keep up with them in the open field. He has 979 rushing yards for an absurd 7.1 per carry and 11 rushing touchdowns, as well as 440 receiving yards for three more touchdowns. One weapon who has accounted for more than 1,400 yards and 14 touchdowns clearly is someone for whom Kane and the Mustangs' defenders will have to account. How SMU matches up with Gainwell will be interesting, given that he is such a mismatch for slower-footed linebackers. Richard McBryde and Delano Robinson will have to deal with his incredible speed and quickness in the open field.The key to slowing down this offense will be to continue to create the splash plays: sacks, takeaways and tackles for loss. No offense is immune to takeaways and those will cripple any team. SMU's playmakers like Nelson and Delontae Scott need to shine Saturday.Defensively, Memphis is very stout. The Tigers surrender just 23 points per game and are especially stingy in the secondary, giving up fewer than 200 passing yards per game. The Tigers' defense seems to fit with the "bend but don't break" mentality, as teams have had some success moving the ball without the killer turnover or sack. Memphis only has 16 sacks to its credit so far, which is not a bad number, but it is something the Ponies' o-line should be able to handle as it has all year.Memphis' defense has two leading tacklers tied at 45 tackles, linebacker Austin Hall and defensive back Sanchez Blake Jr. Hall makes a ton of plays, with five tackles for loss, and five pass breakups. The biggest playmaker of concern for me is Dorceus Joseph, a 6-foot, 275-pound defensive lineman. He has 8.5 tackles for loss and leads the team in sacks with three. He is one of many disruptive players in the front seven. The Tigers can be had in the front seven. Teams are picking up 4.1 yards per carry and 188 rushing yards per game against Memphis. I would anticipate a heavy workload day for running back Xavier Jones, who is coming off another great outing that included a video game-like touchdown run on which he shook half of Houston's defense. Especially if Roberson is out, the Mustangs will need to lean on their reliable running game.Overall, this is going to be an awesome matchup between two great teams on primetime television. It is everything every player and fan wants, and now the Mustangs just must take it. These are two explosive offenses, with evenly talented defenses. This game will come down to quarterbacks Shane Buechele and White, and maybe even who has the ball last. Not having Roberson would handicap the offense in that more attention can be given to the other big-time weapon, James Proché. Last week's performance, especially after Roberson went out, gives me some pause. It will be an extremely hostile environment at the Liberty Bowl, and this spotlight will have Memphis extremely fired up. I think the undefeated dream unfortunately ends for the Ponies Saturday night in a wild one. I hope I'm wrong.Nate's take: Memphis 45, SMU 41

Previous Story
Next Story

| | |
| --- | --- |
| | First of two galleries |

| | |
| --- | --- |
| | Mustangs earn No. 5 AAC seed |