Pony NATE-tion: Will Mustangs bounce back against East Carolina?
Mustangs, Pirates kick off at 11 a.m.
Posted on 11/08/2019 by PonyFans.com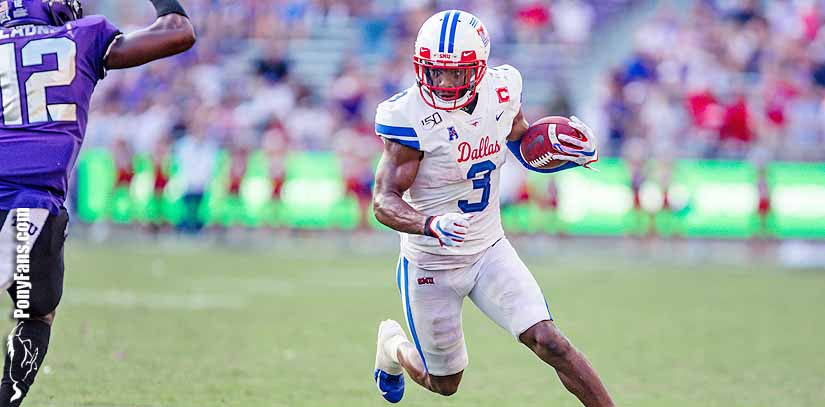 With Reggie Roberson out of the lineup last week, James Proché was the clear focus of the Memphis defense ... and still caught 14 passes for 161 yards and a touchdown (photo by Max Franklin).
PonyFans.com is proud to have 19-year-old Nate back as a guest columnist, this time to review last week's loss at Memphis and to look ahead to Saturday's Homecoming game against East Carolina.
Feel free to post comments and constructive criticism, ask him questions, and/or give suggestions for upcoming columns! (He can be followed on Twitter at @Pony_NATE_tion.)___________________________________________________________________________________________________________________________The Cotton Bowl dream has officially taken a massive blow. SMU fell last Saturday to Memphis, 54-48, in a complete shootout. It was an awesome day in Memphis. ESPN's College GameDay featured the then-undefeated Mustangs, capped by Lee Corso donning a Peruna headgear for his trademarked weekly pick, much to the chagrin of the Memphis faithful. As someone who made the drive to Memphis for the game, the atmosphere at the Liberty Bowl was nothing short of amazing. I have many thoughts about both this game and its atmosphere, and what it means for both SMU and the American Athletic Conference.The AAC usually gets at least one game featured on the primetime ABC slot, to go along with College GameDay. But these circumstances were special. SMU, up until that point, was one of the most popular stories in college football for its 8-0 start, and Memphis was rolling with its own 7-1 record, and to say Saturday was a success for both the programs and their conference would be an understatement.It was a successful night for all parties, because both teams put on a show on the field in one of the most entertaining games of the year, piling up 1,067 yards of total offense for 102 points … and that does not include several long kickoff returns. It was competitive and exciting and was everything ABC could have hoped for ratings-wise. The atmosphere was electric. Walking into that stadium, the energy was pumping and it wasn't 30 minutes till kickoff yet. Throughout the game, it was loud as can be, with a smidge under 60,000 yelling full throat in the historic Liberty Bowl. It was one of the most exciting and intense environments I've ever been a part of, and the perfect weather was the cherry on top. All things considered, it was a smashing success for SMU, Memphis and the AAC.As far as SMU is concerned, there are several observations to be made. First, kickoffs — anyone who watched that game would tell you that SMU's special teams were awful all night. Punts were hit-or-miss, and there was not a missed field goal, but goodness, the kickoffs and the coverage were bad. Of the first eight possessions for Memphis, one kickoff was returned for touchdown, another was returned for a touchdown but was called back because of an iffy block-in-the-back flag, and of Memphis' first seven possessions, the average starting field position was at the Memphis 45. Consistently giving your opponent the ball consistently at what is essentially midfield is losing football. This was the biggest game-changer between the two teams and was the largest gap between the Tigers and Mustangs.Aside from the special teams, I don't think the offensive fireworks were due to the defenses necessarily being bad. We have seen what SMU's defense is capable of, but it just did not have the firepower to keep up with Memphis' never-ending arsenal of weapons. It wasn't a matter of bad defense. Instead, it was due to two of the top 10 scoring offenses in the country doing what they do best: light up the scoreboard.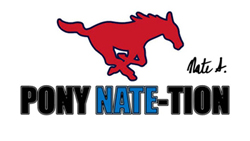 (photo by Max Franklin).
I'd hate to put this on SMU's defense, but it just did not make any splash plays. "Club Takeaway" was shut down for the night and the pass rush didn't get into a groove until it was too late. One sequence that comes to mind is a surefire interception and possible pick-six going right through an SMU defender's hands. Two plays later, Memphis was in the end zone. It truly is a game of inches.Offensively, I learned a few things. First, wide receiver James Proché (14 catches, 161 yards, one touchdown, eight of his receptions resulting in a first down or touchdown) was amazing, as usual, and surely did great things for his draft stock on a national stage like that. Quarterback Shane Buechele had a 116.3 passer rating when targeting Proché. But I also learned that his graduation will hurt, but the wideout spot will be in good hands, as freshman Rashee Rice was incredible in Reggie Roberson's absence. Rice made play after play, and it was so exciting to see for the program's future. He finished with seven catches for 122 yards and multiple highlight-reel grabs. Buechele was a leader and performed so well on such a huge stage, as he demonstrated all sorts of poise and leadership, always fighting and leading the team so well. He finished with 456 yards and three touchdowns.My last observation is this: yes, the loss hurt, and nobody wants to lose. But Saturday night spoke volumes to me about how far the program has come under head coach Sonny Dykes. It is awesome that SMU was featured on the Saturday night primetime game, but for the first time since the 80s, I saw 60,000 people thrilled that they had taken down the Mustangs, along with a few alerts that were letting the masses know that SMU had been upset. The Ponies were the ones getting upset. SMU coming to town caused a sold-out stadium (the first at Memphis since 2015), and that is something that only top-tier programs can typically say.SMU no longer controls its own destiny in the AAC West, but it is still more than winnable. All it will take is one more Memphis loss and the Ponies are back in the driver's seat, and would need to win out again. SMU (8-1) has East Carolina, Navy and Tulane left on the slate, so now following a loss, SMU's "one week at a time, go 1-0 every week" motto will be tested starting with the Pirates from East Carolina.ECU comes in with a 3-6 record and is riding a four-game losing streak. The Pirates are coming off a wild 46-43 loss to No. 17 Cincinnati, so they must not be taken lightly. This team is competitive and will not roll over. First-year ECU head coach Mike Houston will bring out a fired-up team ready for a matchup with a top-25 Mustang team.Offensively, ECU comes in scoring a shade over 23 points per game, a number that simply doesn't cut it in this high-scoring age of football, and I don't anticipate it cutting it against SMU's high-flying offense. Holton Ahlers is the signal-caller for this offense, and he has thrown for more than 2,200 yards and 11 touchdowns. But turnovers have been a struggle, as he has thrown eight picks and has been somewhat inefficient with a 56 percent completion rate.But Ahlers was great against Cincinnati with 535 yards and four touchdowns. He had an adjusted completion percentage of 72.3 to go along with five big-time throws (a metric Pro Football Focus uses to quantify throws of high difficulty). ECU's leading receiver is the dynamic C.J. Johnson, who has 682 yards and three receiving touchdowns while averaging 15.5 yards per catch. He is coming off a huge game against Cincinnati in which he caught 12 balls for 283 yards and a touchdown, with all 12 catches coming for a first down or touchdown.There are a couple of other big-time weapons on the outside, Blake Proehl and Tyler Snead, who have combined for 60 catches, 819 yards and four touchdowns. Ahlers has been ECU's most dangerous threat to run to the end zone, five rushing touchdowns among his 277 rushing yards. The lead back, however, is Demetrius Mauney who has 390 rushing yards. Overall, the Pirates' run game averages just 3.8 yards per carry, which plays into SMU's strength of its run defense.After being burned for several big plays last week, SMU defensive coordinator Kevin Kane will have to take the secondary back to the drawing board. Any defensive adjustments SMU makes will be interesting, and I think the biggest key will be generating pass rush. Once SMU started putting heat on Memphis quarterback Brady White, the Mustangs finally got some stops. Putting pressure on Ahlers will be essential for SMU this week.On defense, the Pirates are giving up about 30 points per game. Where they have been susceptible is defending the run. Opponents have run for 204 yards per game and 23 touchdowns. ECU has forced 12 turnovers and has totaled 18 sacks. This is a defense that doesn't create flashy plays and struggles to stop the run. I really like how the high-powered SMU offense matches up with this squad.When I look for impact players on defense, I look for playmakers who create splash plays: interceptions, tackles for loss, sacks and pass breakups. Xavier Smith is ECU's leading tackler at inside linebacker with 62 tackles and a forced fumble. The 6-2 Kendall Fultrell has been a menace up front with 14 tackles for loss and nine sacks. Purvis Chance and Alex Turner have both been great up front as well with 10 and 9.5 tackles for loss respectively.I really like how disruptive the ECU front four is, but I think SMU's offensive line has proven time and again that it can handle a strong pass rush. The matchup to look for is the battle in the trenches as SMU's offensive line should try to exploit ECU's weak run defense. It will be key to keep Buechele clean and keep the Fultrell and the rest of the Pirates' front seven out of the backfield.Overall, I really like this matchup for the Mustangs, especially as a bounceback game. I think the Mustangs come out locked in and ready to play as they handle their business against a struggling East Carolina. I've got SMU winning comfortably.Nate's take: SMU 41, ECU 24

Previous Story
Next Story

| | |
| --- | --- |
| | Mustangs win opener, 74-65 |

| | |
| --- | --- |
| | Mustangs improve to 9-1 |