Pony NATE-tion: SMU, Navy clash with AAC West dreams still alive
If gloomy forecast is accurate, SMU running game will be critical
Posted on 11/20/2019 by PonyFans.com

Nate says that if Mother Nature plays a role Saturday in Annapolis, Xavier Jones and the SMU running game will have to have an exceptionally strong day for the Mustangs to pull off a victory (photo by Max Franklin).
PonyFans.com is proud to have 19-year-old Nate back as a guest columnist, this time to sort through the factors that could impact Saturday's game at Navy.
Feel free to post comments and constructive criticism, ask him questions, and/or give suggestions for upcoming columns! (He can be followed on Twitter at @Pony_NATE_tion.)___________________________________________________________________________________________________________________________With two weeks left to play in the regular season, No. 25 SMU sits at 9-1 and with a great opportunity ahead. The Ponies still need one more Memphis loss (the Tigers take on Cincinnati in the season finale) to control their own destiny. A Memphis loss combined with SMU winning out would mean the Mustangs' first berth in a conference championship game since 2010, when SMU took on UCF in the days of Conference USA. It goes without saying that winning these next two games is mandatory for SMU if the Mustangs want to play for a conference title and potentially the Cotton Bowl.SMU is coming off a wild 59-51 win over East Carolina, a (now 3-7) Pirates team that also gave Cincy a run for its money the week prior. It was a firework show, as the two teams combined for 1,280 yards. ECU outgained SMU, 644-636, and carved up the Ponies for almost 500 passing yards. SMU's defense is finally starting to wear down due to attrition and the fact that this is a long season and a lot of players on this defense have an absurdly high snap count on the season.Linebacker Delano Robinson missed the ECU game but will return for Saturday's matchup against Navy, so the Mustangs' third-leading tackler will be a welcome addition to the defense. "We're certainly going to need him," Sonny Dykes said. "Delano's been one of those players that's been really consistent for us. You can always tell when Delano's not in the game. There's been a difference."It was another huge day for the Mustang offense as well, with Shane Buechele having another impressive stat line of 415 yards and five touchdowns. He now leads the nation in Pro Football Focus' metric of big-time throws (which quantifies throws of very high difficulty).Running back Xavier Jones and wide receiver James Proché had their typical incredible performances to which we have become accustomed, but the emergence of tight end Kylen Granson as a key weapon attacking the middle of the defense can not be understated. The Rice transfer had 138 yards and three touchdowns, and he has emerged as a real problem for defenses. Buechele had a passer rating of 158 when targeting Granson. This has done wonders to help alleviate the loss of injured wide receiver Reggie Roberson.After a much-needed bye week for the banged-up Mustangs, they will travel to Annapolis, to take on a high-quality 7-2 Navy squad that is coming off a 52-20 drubbing at the hands of Notre Dame. Ken Niumatalolo's team comes in with its typical triple-option attack that has given teams fits for so many years.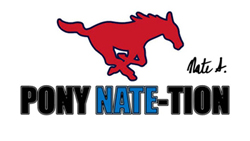 (photo by Max Franklin).
Looking at Navy's schedule, while it is a very good team, the Midshipmen don't have a big win of note. Anytime they have faced a high-quality opponent, they have lost, losing by two scores to Memphis and getting blown out by Notre Dame. Their best win is probably a 41-38 win over Tulane. Navy has benefitted from a relatively soft schedule but still should not be taken lightly.Quarterbacked by Malcolm Perry, the Midshipmen lead the nation in rushing offense with an average of 326 rushing yards per game and are hanging up almost 38 points per game, which ranks 12th in the country. This rushing attack is nothing short of fierce: Perry has more than 1,100 rushing yards and has hit paydirt 16 times on the ground (also five times through the air). He is averaging an impressive 6.4 yards per carry.Given the nature of the triple-option, there are a ton of weapons that can hurt a defense. The Midshipmen boast eight players who have at least 100 rushing yards this year. Perry is most often complemented by fullbacks Nelson Smith and Jamale Carothers, who together have accounted for 908 yards and 15 touchdowns at almost six yards per carry. This backfield is full of athleticism and it shows on tape.Perry does have 758 passing yards and five touchdowns, as Navy loves to keep the defense honest by hitting it with long-range daggers from time to time. All of Navy's three leading receivers average over 26 yards per catch so when the Midshipmen attack through the air it is with intent to be a scoring play. Mychal Cooper is the leading receiver with 314 yards and two touchdowns.SMU's defense has been getting torched the last two weeks, primarily through the air. As I said earlier, this is not a bad defense at all, but injuries are just adding up and there have been no takeaways. This defense was reliant on splash plays like sacks, interceptions, and fumbles, but the turnover "Bottle Service" has dwindled of late. A game like this is a big chance for defensive coordinator Kevin Kane's defense to step up and make a statement against a high-powered offense like Navy's.The triple-option is based on deception, on the defense not knowing where the ball is, and window dressing. Navy runs it to perfection, so the onus will be especially on the SMU exterior defenders like the ends and linebackers who are more often than not the read keys for Perry when he runs the option. A matchup like this requires special attention in the film room and on the practice field, along with a preferably veteran defensive group like SMU's. The defensive issues for SMU have been mainly in the back end these last two weeks, as Memphis and ECU had their rushing attacks bottled up decently. SMU is giving up 33 points per game this year, but I like SMU's chances to not get run over by Navy's offense, given the Ponies' strong and veteran front seven. Navy will obviously have success scoring points like normal, but I don't anticipate another horrid 70-point outing that Navy had on SMU a few years ago. Linebacker Patrick Nelson and defensive end Delontae Scott will have to continue providing constant penetration up front for SMU to have a shot.Defensively, Navy has been very good this season, only surrendering 22 points per game. The Midshipmen are giving up just 321 yards per game, and the stat that pops out the most is that opponents are averaging just 3.2 yards per rush against Navy. The Midshipmen also are giving up only 212 yards per game in the air, which is another testament to just how good their defense has been in 2019.Where Navy has made its money on defense is on third down, as opponents are converting just 33 percent of their third downs. Navy is very capable of rushing the passer, with 24 sacks on the season, as well as 13 takeaways. This is not a splashy defense with lots of sacks and takeaways, but it keeps the opposing offense in front of it and is able to get off the field on third downs. The front seven also lives in the backfield, with 60 tackles for loss on the season.SMU is going to have to be able to sustain long drives because this constant running attack wears a defense down, and that is where Navy's bread and butter is. The Midshipmen have dominated time of possession, averaging 33:03 compared to 26:57 for opponents — a massive discrepancy between teams.The Navy defense is led by Diego Fagot who leads the team with 69 tackles to go along with 2.5 sacks, an interception, four quarterback hurries and a forced fumble. You get the picture: Fagot is all over the field as the 6-3, 240-pound linebacker can not stop making plays. Another big-time playmaker is Jacob Springer who plays the "Striker" position and leads the defense with seven sacks and three forced fumbles. Michael McMorris and Evan Fochtman lead the back end of Navy's defense with eight and five pass breakups, respectively, each player also with a pick to their credit.All things considered, Mother Nature may play the largest role Saturday, as it is expected to both rain significantly and be plenty cold. That means the passing game will be severely affected, which gives an enormous advantage to Navy, if SMU's electric passing game is neutralized a bit by the wet weather. This is going to come down to the warfare in the trenches, where Navy has dominated all year long.SMU is going to need a huge day from its offensive front and Xavier Jones to have a chance. Ball security will be essential for both side, especially if the elements make the ball slippery. Quite simply, if SMU does not run the ball well Saturday, the AAC championship game dream likely will die in Annapolis. It is going to take an extremely gritty effort from the Ponies, and I think they will be geared up for it after coming off a bye week to get healthy combined with Navy fresh off a beating at the hands of Notre Dame. I'm going to take SMU, but do not feel great about it. I think SMU sneaks out of Annapolis with a huge conference win in a sloppy game.Nate's take: SMU 31, Navy 28

Previous Story
Next Story

| | |
| --- | --- |
| | Mustangs, Midshipmen square off Saturday in Annapolis |

| | |
| --- | --- |
| | Ponies fall in Annapolis, 35-28 |