Pony NATE-tion: Expect another tight SMU-Tulane game on Senior Day
Mustangs host Green Wave at 3 p.m. Saturday
Posted on 11/28/2019 by PonyFans.com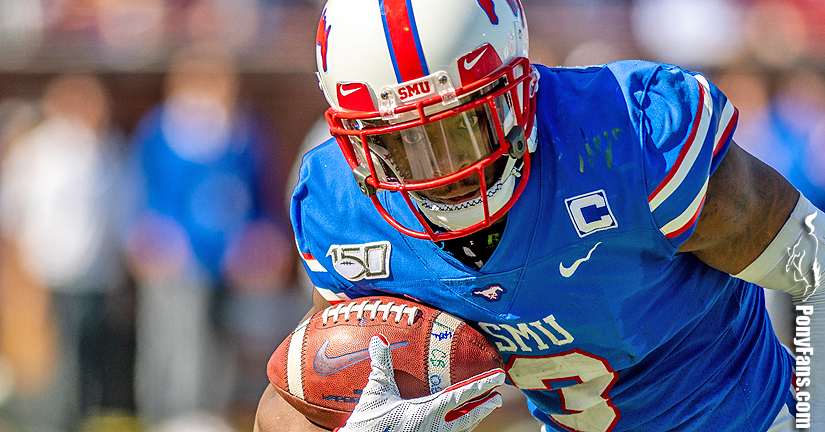 Nate says that in a game that could evolve into a shootout, he expects wide receiver James Proché to break out with another huge game in his final home game as an SMU Mustang (photo by Spencer Stewart).
PonyFans.com is proud to have 19-year-old Nate back as a guest columnist, this time to shake off Thanksgiving dinner by reviewing the Navy game and looking ahead to Saturday's regular-season finale against Tulane on Senior Day at Gerald J. Ford Stadium.
Feel free to post comments and constructive criticism, ask him questions, and/or give suggestions for upcoming columns! (He can be followed on Twitter at @Pony_NATE_tion.)___________________________________________________________________________________________________________________________SMU's conference championship and Cotton Bowl dreams were laid to rest in a 35-28 loss to Navy in Annapolis. This game came down to discipline, as most bouts with Navy do. Like the post-Memphis reaction, this game requires a lot of perspective from the SMU side of things. The world is not ending, and the Ponies are 9-2 and going for their 10th win this Saturday against Tulane. Nine wins, let alone double-digit wins, for SMU has not been in the cards for almost 30 years. Continue to appreciate the ride and enjoy the exponential growth this program has gone through under Sonny Dykes.Defensively, marking the triple-option is all about discipline and being sound with read keys and assignments, as well as not getting bored, given that Navy will break a big play with a fake or play-action. Navy racked up 540 yards, including a surprising 162 through the air. SMU held Navy to 10 first-half points as the Mustangs played very physically, snuffing out Navy's offense. But Navy was 20 seconds short of doubling up the Mustangs in time of possession battle (40 minutes to 20 minutes), and it showed. By game's end, SMU's defense was worn out, physically and mentally. The cut-blocking wore out the defensive front, and Navy's gains came in chunks, capped with Malcolm Perry's 70-yard dagger of a touchdown. Mentally, the Ponies wore out as well as they overplayed a gap badly on Perry's run and jumped offsides on the game's deciding play.Since the Houston game, the defense has not looked good. Teams are beginning to rack up gobs of yardage and the takeaway "bottle service" has gone dry. SMU still broke its school record for sacks in a season Saturday, and this isn't a bad defense. It has just gotten worn out as the season has gone along, and the secondary has been getting exposed more and more every week. The front seven continues to be a strength of the team, but the splash plays I always talk about have thinned severely. SMU has forced just one turnover since the Houston game. Including the Houston game, SMU has surrendered yardage totals of 510, 514, 636 and 540. Averaging a total defense of 550 yards per game will get a team beaten more often than not, and it has cost the Mustangs two losses and a shot at the ultimate dream season. It is essential that the defense rights the ship ahead of this Senior Day matchup against Tulane.Offensively, the Ponies did not sustain enough drives to help keep the defense off the field. Early on, the offense was cooking with 21 points in the first half despite a Xavier Jones red zone fumble. But for whatever reason, SMU abandoned the run game, got sloppy and its offense completely dried up to the tune of four (!) yards in the third quarter, which was when Navy made its run and took the game by the throat.It wasn't quarterback Shane Buechele's finest performance, but he showed a lot of poise in the face of adversity, coming up with plenty of answers to Navy's run in crunch time. On his long 61-yard pass to freshman wide receiver Rashee Rice, Buechele recognized Navy's heavy blitz off the edge from the left side and executed a great play call from Rhett Lashlee to throw a wide receiver screen into the teeth of the blitz to the races to tie the game. It was evidence that a great playcaller and his veteran QB were in sync, something I love to see and makes me more than excited for what this offense is capable of in 2020.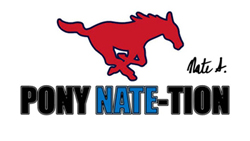 (photo by Spencer Stewart).
After losing two out of its last three, a fiery and competitive Tulane team awaits the Ponies on Senior Day. Tulane is 6-5 and is coming off a 34-31 heartbreaking loss to UCF in which a last-minute onside kick attempt that was recovered by Tulane was foiled by an instant replay that showed the ball grazing the kicker's leg before it had reached the required 10-yard threshold. While SMU is first in the conference in scoring, it sits 11th in scoring defense. Tulane can score as well, ranking fifth in the American Athletic Conference in scoring, right in between the two teams that most recently shredded the Mustang defense, ECU and Navy. The Green Wave scores 34.5 points per game and surrenders 26.5 points per game, which ranks sixth in the conference.Tulane started off scorching hot with a 5-1 record, the lone loss coming at Auburn, but after losing four of its last five, the Green Wave is desperate to stop its skid. While it was drilled by Memphis, Tulane blew a late lead to Navy and took Temple and UCF down to the wire. This is a misleading losing skid, and the Green Wave is far more competitive than its record indicates. The last two matchups between these two were competitive and thrilling, and I expect more of the same this time around.On offense, Tulane ranks fourth in the AAC in total yards with 454 yards per game, led by quarterback Justin McMillan. He has thrown for just under 2,000 yards and only completes 57 percent of his passes and has thrown 10 picks and just 14 touchdowns. But Tulane doesn't make its money through the air. It lives off a physical and athletic running game that is second in the AAC behind Navy in rushing yards per game with 252 yards per game.McMillan leads the Green Wave in rushing with 654 yards at 4.8 yards per attempt and 12 touchdowns. He is complemented by a host of runners; Tulane has five other runners with at least 200 rushing yards this season (for context, SMU has three). The primary back in terms of yards is Corey Dauphine who has 517 yards and has been very explosive, averaging over eight yards per carry and has six touchdowns. Darius Bradwell is the second-leading carrier behind McMillan with 100 carries and 436 yards. Scatback Amare Jones is the last prominent backfield component, with 330 rushing yards and three touchdowns to go along with being third on the team in receiving with 286 yards, averaging over 10 yards per catch.Through the air, Tulane does not have too many weapons, especially given that the Green Wave leans on its run game so much. Darnell Mooney leads the team in receiving with 617 yards and five touchdowns, followed up by Jalen McCleskey with 445 yards and three touchdowns. Tulane is primarily a zone read-based running team, but has the capabilities of big plays through the air. McMillan can hit some deep shots but seems extremely mistake-prone on video and will take some unnecessary risks. Look for some bottle service to be popping Saturday on SMU's sideline. The takeaways have dried up recently for SMU, but McMillan's adventurous mentality could provide ample opportunity to change that. SMU's secondary has struggled mightily since its strong start, so this matchup of the secondary versus McMillan is very interesting.Defensively, the Green Wave has been decent but I'm still waiting to see a defense slow down SMU. Navy sort of did, but the conditions were sloppy. The forecast looks clear for Saturday, so Tulane's defense will have its hands full. To Tulane's credit it has been quite stingy both up front and in the secondary, holding teams to 161 rushing yards per game and 217 passing yards per game. The defense lacks a great pass rush, averaging just over a sack per game. Quarterbacks have been picked off just nine times this season as well, so Tulane doesn't have a ton of ballhawks. The Green Wave have been sound on third down, holding opponents to an impressive 38 percent on that key down.Tulane is led in tackling by safety Chase Kuerschen, who has 61 tackles. De'Andre Williams is one of the more disruptive defenders Tulane has, as he has 3.5 tackles and is the second leading tackler from the defensive tackle position. Graham Lawrence and Moody Marvin make up a solid run-and-hit linebacker duo that have combined for 12 tackles for loss and 105 tackles. But the biggest impact players Tulane has are defensive end Patrick Johnson, who leads the team in tackles for loss and sacks, and safety P.J. Hall who has an outstanding ballhawk with seven pass breakups and two picks. Johnson is a 6-3, 250-pound edge defender who is always in the backfield and could be an issue for SMU's offensive tackles.As good as Tulane has been defensively, Memphis shredded the Green Wave in their matchup, to the tune of 47 points, so I took a look at exactly how Memphis did this given the vast similarities between the Mustangs' and Tigers' offenses. First of all, McMillian really is susceptible to turnovers and poor decision-making. Memphis feasted on this, and SMU defensive coordinator Kevin Kane's defense must take advantage of this. I have my doubts about McMillan's abilities.But Memphis was able to take advantage of Tulane's defense through creative play calling, feeding its playmakers and taking shots downfield accentuated with precision passing. If that does not sound exactly like SMU to you, we have been watching different teams. I'm aware the game was over a month ago but watching the Memphis-Tulane tape gave me all sorts of hope for what SMU's offense will be capable of this week. Memphis fed its best playmaker, running back Kenneth Gainwell, all night and he finished with 307 yards and three touchdowns. I expect a huge day from Buechele and especially Proché in his final home game in his final home game as an SMU Mustang. He is SMU's best playmaker, and I expect plenty of touches for the all-conference senior on his Senior Day. I have a hunch that Dykes and Lashlee will take a long, hard look at the Memphis tape.Overall, I think this is a great matchup for SMU on offense. Tulane has struggled defending big plays all year, and SMU should have plenty of ability to exploit that. What I worry about is whether SMU will be able to stop the Tulane offensive attack that has gotten hot lately. Tulane is prone to turning the ball over, but after the performance by Navy last week, Tulane's dynamic rushing attack is scary. Tulane's passing attack has been driven by the big play, as well, and SMU's secondary has struggled mightily in the back half of the season.This looks to be another shootout, but I just don't think Tulane has the athleticism and firepower to keep up with SMU. I think this will be an extremely competitive game, just not quite as much as the previous two matchups with Tulane. I think SMU's offense puts on a show this Saturday and caps a phenomenal regular season with a win and a 10-2 record.Nate's take: SMU 48, Tulane 38

Previous Story
Next Story

| | |
| --- | --- |
| | Mustangs, Green Wave kick off at 3 Saturday afternoon |

| | |
| --- | --- |
| | Mustangs beat Abilene Christian, 70-51, improve to 7-0 |