Meet the opponent: breaking down Florida Atlantic
Mustangs, Owls meet Saturday in Boca Raton Bowl
Posted on 12/15/2019 by PonyFans.com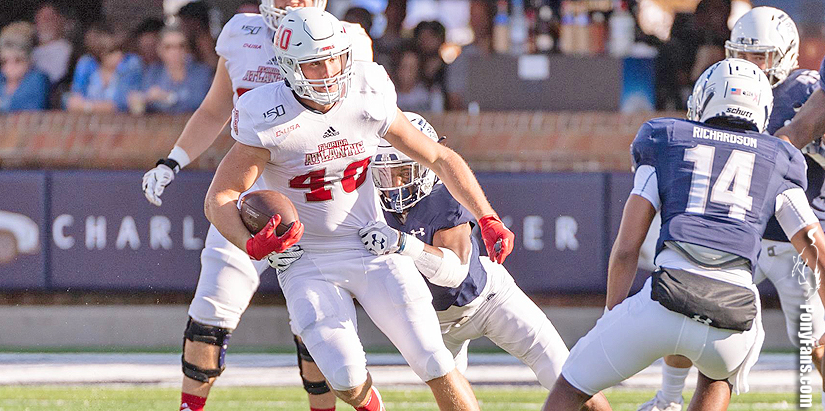 Harrison Bryant leads all FBS tight ends with 65 catches, which he turned into 1,003 receiving yards and seven FAU touchdowns en route to winning the John Maxey Award as the top tight end in the nation (photo by fausports.com).
The SMU Mustangs return to the postseason Saturday when they face the Owls of Florida Atlantic in the CheriBundi Boca Raton Bowl FAU Stadium.PonyFans are forgiven if they celebrated the announcement of the Mustangs' bowl opponent with a collective "who?"That is not said to make light of the Owls' accomplishments. FAU, which enters the Boca Raton Bowl with a 10-3 record, opened the season with a surprisingly close (45-21) loss to Ohio State, which now is trying to finish off a run for the national championship and then got run over, 48-14, by UCF, a team many thought was the unquestioned heavyweight in the American Athletic Conference.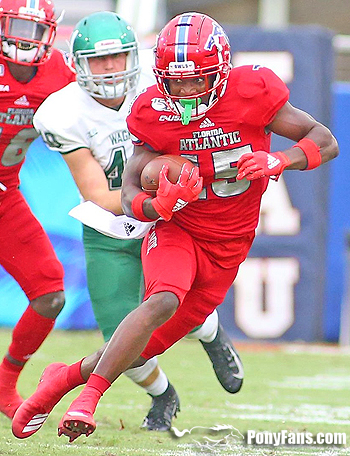 Cornerback Meiko Dotson led Florida Atlantic and Conference USA with nine interceptions in 2019 (photo by fausports.com).
All FAU has done since then is win 10 of 11, including a 49-6 obliteration of UAB in the Conference USA Championship Game. The All-Conference USA teams included 17 Owls, including five who earned first-team honors: quarterback Chris Robison, tight end Harrison Bryant, center Junior Diaz, left tackle Brandon Walton and cornerback Meiko Dotson.The Owls responded to the back-to-back season-opening losses with a streak of four consecutive victories, showing FAU head coach Lane Kiffin said was evident in the opener, in which Ohio State jumped out in front by four scores before the Owls clawed their way back to make the game competitive."Two different games," Kiffin said. "Obviously, we started off very poor … (to) start 28-0 like that in a half of a quarter … played about as bad as you can in all phases of the game. Then, (we) played a lot better after that — 21-7, we outscored them. Obviously, that's not a moral victory, but that does show our players (that) if we do things right, especially defensively … (Ohio State's) starters were still in (and) our defense did a really good job after that."Much of the credit for the Owls success has gone to Kiffin, who went 26-13 in Boca Raton … and celebrated his accomplishment for bolting for Oxford, Miss., to become the head coach at Ole Miss. Defensive coordinator/linebackers coach Glenn Spencer was named the team's interim head coach for the bowl game. Former Florida State and Oregon head coach Will Taggart was named the new head coach for the program going forward, but Spencer is believed to be largely in charge when the Owls and Mustangs face each other.So what kind of opponent awaits the Mustangs?It's hard to say. When a coach ditches his team before a bowl game for another gig — see Chad Morris bolting for Arkansas before the Mustangs faced Louisiana Tech a couple of years ago in the Frisco Bowl — the inclination for the interim coach is to not change too much, in the hope that the players can rely on the things that have brought them so much success during the season and helped them reach the postseason. But with two weeks to prepare since dismantling the Blazers in the conference title game, Spencer and his staff could opt to add wrinkles that the Mustangs have not seen when scouting the Owls.After watching his team dismantle the Blazers in the Conference USA title game, Kiffin had high praise for the team he left behind."Three years here, not just playing in two conference championship games, (but) winning two conference championship games at home … potentially two 11-win seasons — it's a special team," Kiffin said. "and now here's another conference championship game that's a blowout, 49-6, against a really good team."To have 585 yards today was really special, and I think these kids did a great job avoiding distractions that obviously could have been there. (I am) really proud of these guys, and just really happy for the university (and) for the fans. They're champs again and so that trophy is back here for another year, and that's pretty neat."
Offense
The Owls outscored their opponents in 2019 by an average of 35.23-22.31 points per game, scoring 40 or more points in five games, and tallying at least 30 points nine times. The Owls average 443 yards of total offense per game, including 278.7 per game through the air.Robison, a graduate of Horn High School in Mesquite, Texas (where one of his teachers was former SMU defensive end Greg Hill), was a heralded recruit who took part in the Elite 11 quarterback camp and originally committed to Oklahoma before ending up in Boca Raton. He completed 264 of 434 passes (60.8 percent) for 3,396 yards en route to picking up first-team all-conference honors. Robison protects the ball well, tossing 26 touchdown passes — he threw at least four three times this season, including five in FAU's win over Wagner — and coughed up just six interceptions in 13 games.Sophomore Malcolm Davidson is FAU's top threat on the ground, rushing 102 times for 711 yards and nine touchdowns, but the 5-10, 205-pound sophomore is one of three Owls who rushed for at least 320 yards: James Charles had 69 carries for 350 yards and three touchdowns, and Larry McCammon had 91 carries for 324 yards, and reached the end zone seven times.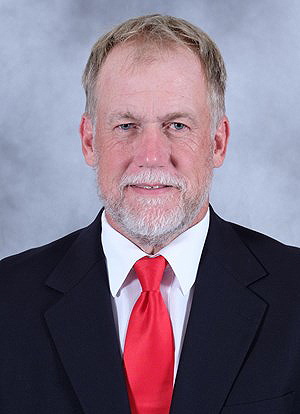 FAU defensive coordinator and linebackers coach Glenn Spencer will coach the Owls against SMU in the Boca Raton Bowl after Lane Kiffin left to be the head coach at Ole Miss (photo by fausports.com).
Bryant is this season's recipient of the John Mackey Award, which is given annually to the nation's top tight end. The first-team All-Conference USA honoree leads all Football Bowl Subdivision (FBS) tight ends in receptions (65) and yards (1,004), and has seven receiving touchdowns. Wide receiver Deangelo Antoine fell just short of the team lead in receptions, hauling in 61 passes for 771 yards, and was one of three players — wide receiver John Mitchell and backup tight end John Raine (who received honorable mention All-CUSA honors) were the others — with five receiving touchdowns.The FAU offense has the potential to strike quickly: four Owls have caught a touchdown pass of at least 50 years, and three more have scored on receptions of at least 40 yards.
Defense
Florida Atlantic is led by linebacker Akileis Leroy, a second-team All-CUSA honoree who leads the Owls the team this season with 101 tackles, 15.5 tackles for loss and 7.5 sacks. He also picked off three passes and forced five fumbles.Fellow linebacker Rashad Smith pressed Leroy for the team lead in tackles, with 98 through 13 games. He also had 11.5 tackles for loss and 3.5 sacks, a pair of interceptions and a team-high four fumble recoveries.After Leroy and Smith, the Owls' top pass rushers are defensive end Leighton McCarthy and defensive tackle Ray Ellis. McCarthy is a slender (6-3, 220) speed rusher who got to opposing quarterbacks for 10.5 sacks, while the 6-1, 285-pound Ray uses quickness more than brawn from his interior position to collect 8.5 sacks of his own.Opposing teams sometimes threw away from Dotson, but he still led the FAU defense with nine interceptions; nobody else in all of Conference USA had more than five.
Special teams
Punter Matt Hayball is sold, averaging 43.14 yards on 63 punts this season. His longest of the year was a 77-yard bomb, and he has given up only four touchbacks while dropping 19 inside the opponents 20-yard line.As much as any team, the Owls want to reach the end zone rather than relying on the kicking game. Placekicker Vladimir Rivas hit 16 of 23 field goals in 2019, and is far better on intermediate-range kicks: Rivas converted 14 of 16 from between 20 and 39 yards, but was just 2-for-7 from 40 or more yards out. Aaron Shahiari handles most of the kickoff duties, and reached the end zone 19 times for touchbacks.Antoine earned Honorable Mention A-CUSA honors as both a receiver and as a kickoff return specialist after averaging 20.36 yards on 14 kickoff returns. Receiver Dante Cousart handles punt returns for FAU, averaging 4.76 yards on 17 returns.
FAU schedule / results
Ohio State 45, FAU 21UCF 48, FAU 14FAU 41, Ball State 31FAU 42, Wagner 7FAU 45, Charlott 27FAU 28, Middle Tennessee State 13Marshall 36, FAU 31FAU 41, Old Dominion 3FAU 35, Western Kentucky 24FAU 37, FIU 7FAU 40, UT-San Antonio 26FAU 34, Southern Miss 17FAU 49, UAB 6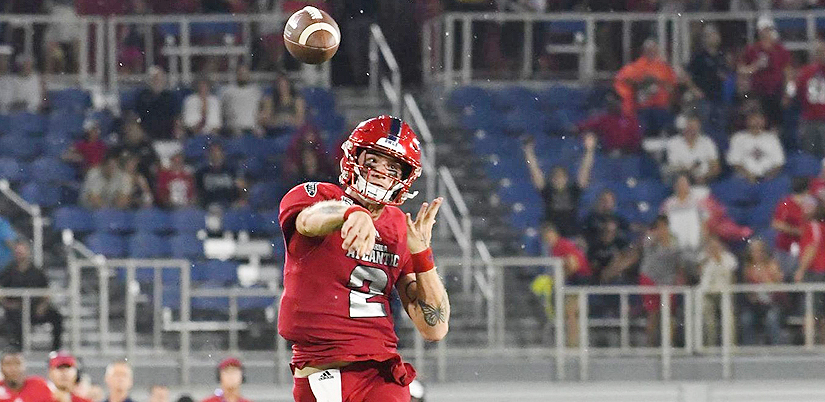 A graduate of Horn High School in Mesquite, Texas, FAU quarterback Chris Robison threw 26 touchdown passes and just six interceptions en route to first-team All-CUSA honors (photo by fausports.com).

Previous Story
Next Story

| | |
| --- | --- |
| | Mustangs to meet FAU Dec. 21 |

| | |
| --- | --- |
| | SMU faces Florida Atlantic Saturday |