Pony NATE-tion: Will Mustangs get win No. 11 in Boca Raton Bowl?
SMU, Florida Atlantic face off at 2:30 (CT) Saturday
Posted on 12/18/2019 by PonyFans.com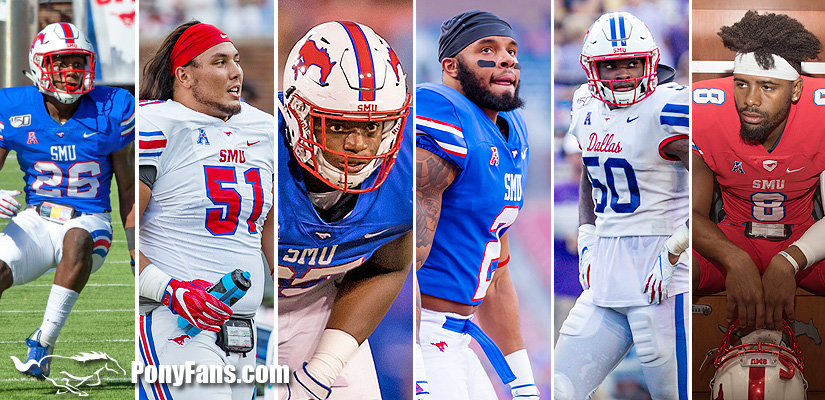 Nate says the SMU defense faces a considerable challenge against quarterback Chris Robison and the dangerous FAU offense (photo by PonyFans.com).
PonyFans.com is proud to have 19-year-old Nate back as a guest columnist for this, his last column of the 2019 season in which he breaks down Saturday's matchup with Florida Atlantic in the Boca Raton Bowl.
Feel free to post comments and constructive criticism, ask him questions, and/or give suggestions for upcoming columns! (He can be followed on Twitter at @Pony_NATE_tion.)___________________________________________________________________________________________________________________________SMU put a bow on its remarkable 10-2 season by beating Tulane at home on Senior Day in impressive fashion. Some waiting time ensued, and SMU found out it will be headed to the beaches of Boca Raton, Florida to take on the hometown Florida Atlantic Owls, a fellow 10-win Group of Five team. Saturday afternoon's matchup is quietly one of the most intriguing matchups of the bowl season. The Owls come in off a conference championship, as they beat UAB in the Conference USA title game in convincing fashion, 49-6. The 10-3 Owls come in riding a wave of 10 wins in their last 11 games. They were tasked with a difficult opening two weeks of the season, with road trips to Ohio State and then-18th ranked UCF. Both of those games were blowouts, but the Owls quickly got their season on track. Following a loss to Marshall with games to go, FAU went on to win those final six games by an average of 25.5 points per game. Obviously, the final score doesn't tell the whole story, but it gives a good indication of how dominant this team has been.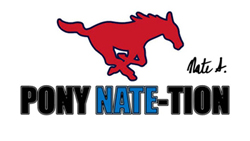 (photo by PonyFans.com).
This impressive season was led by then-head coach Lane Kiffin, who parlayed his impressive efforts coaching the Owls into becoming the next head coach at Ole Miss. Defensive coordinator Glenn Spencer was named interim coach for the bowl game. Since then the Owls made former USF, Oregon and Florida State coach Willie Taggart their new leader who will take over after the Boca Raton Bowl.This game figures to be a high-scoring affair, as it features two of the top 16 scoring offenses in the country. Florida Atlantic comes in with one of the most dynamic offenses in the country, and Sonny Dykes has not lost sight of that. "(FAU has a) lot of team speed. I know they have a tight end that's one of the best in the country at his position," Dykes said said. "I thought their quarterback's playing at a high level. Got a lot of speed at wide receiver and running back."This team speed he describes is quite impressive. The offense is led by quarterback Chris Robison, who has guided FAU to 35.2 points per game, which ranks 16th nationally, and 443 yards per game, which ranks 33rd nationally. Robison has thrown 26 touchdowns against just six interceptions in 2019 and completed an efficient 60.8 percent of his passes. His 261.2 yards per game through the air puts him 22nd among FBS quarterbacks. On tape, he isn't as much of a run threat, but loves to throw on the run and can maneuver outside the pocket well. He has a gunslinger mentality and loves to fish for big plays. His gunslinger mentality is nicely highlighted by his 11.4 yards of average depth of target in the C-USA Championship Game.He has plenty of impressive targets, as well. The tight end Dykes referred to is First-Team Associated Press All-America Harrison Bryant, one of the most talented players in the country and certainly one of the most talented who will take the field Saturday. Bryant leads the team in catches (65), receiving yards (1,004) and receiving touchdowns (7). Bryant presents all sorts of options for his offense as he is used in many ways: out of the slot as a third-down machine, a deep threat down the seam or on the outside, or in the red zone. The point is, Bryant was voted the best tight end in college football with good reason. He has great hands, is a physical runner, and is a threat at all levels of the field. He also has great awareness of how to find soft spots against zone coverage. How SMU defensive coordinator Kevin Kane gameplans for the star tight end will be interesting. He has options like bracketing, manning him up, or zoning him. Keep an eye on this matchup.But is not just Bryant that can attack the defense, as wideout Deangelo Antoine is reliable as well. His 771 yards, 61 catches and five touchdowns both rank second on the team. He is awfully elusive and demonstrated that versus UAB, averaging 18.4 yards after catch per reception. Other notable targets include Tavaris Harrison and John Mitchell, who have combined for 984 yards and seven touchdowns. Second tight end John Raine has also been a red zone threat, as he has hauled in five touchdowns.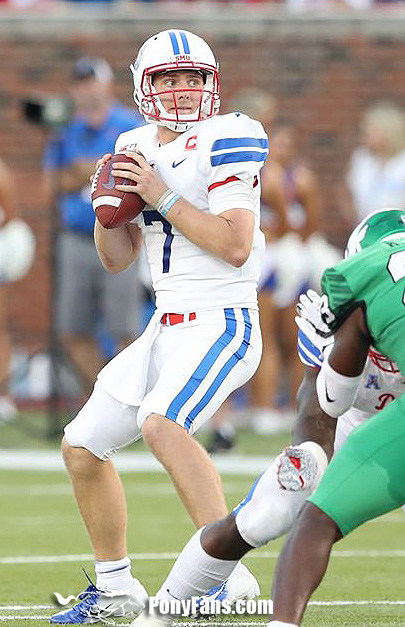 Nate says it is critical that quarterback Shane Buechele and the SMU offense must continue its productive season, because the potent Florida Atlantic offense presents the possibility of an offensive shootout (photo by SMU athletics).
The Owls average 164.3 rushing yards per game, which is about middle of the pack nationally. Their leading rusher is the explosive Malcolm Davidson, who is taking over for now-Buffalo Bills lead runner Devin Singletary. Davidson has been a big play machine, averaging seven yards per carry. He has 730 yards and has racked up nine touchdowns. Larry McCammon III is the short-yardage bruiser with seven touchdowns, but Davidson is the feature back.How SMU matches up with FAU defensively will be based on the Mustang secondary. Kane will need one of his best efforts to take care of this highly explosive offense. Dykes said he was impressed with FAU's team speed, and rightly so. The best way to help a secondary, especially one that has struggled (SMU is 121st in the nation in pass defense), is to provide an effective pass rush. SMU set a program record and led the nation in sacks this season with 50, so Delontae Scott, Pat Nelson and the rest of the SMU defensive front need to put heat on Robinson. The defense has relied on splash plays like sacks, tackles for loss and takeaways; that narrative doesn't change at all Saturday, and SMU will need some splash plays from its defense.Defensively, FAU has plenty of team speed as well and has been a very effective unit. Ranking 33rd in scoring defense. While the Owls have had their struggles defending the pass, they have made their money off of third down, boasting the 13th-best third-down defense in the country with a 30.8 percent conversion rate. They are able to get off the field in key situations. SMU's offense has been great on third down, so that situation will be a total chess match.The Owls are also complete ballhawks, leading the nation in takeaways with 31 — 21 interceptions and 10 fumble recoveries. SMU quarterback Shane Buechele is going to have to be very careful with the ball, because it is "Football 101" that nothing kills chances of winning quite like turning the ball over.FAU has been able to generate lots of pressure in the backfield, too, with 32 sacks and 85 tackles for loss. The Owls have been stout against the run and have a very good front seven. Star linebacker Leroy Akileis has been a stat sheet stuffer this year and has been incredible, with an absurd 101 tackles, 15.5 tackles for loss, 7.5 sacks, three picks and five forced fumbles. Possibly the best player on the defense is cornerback Meiko Dotson, who has been great and epitomizes the "ballhawk" mentality, with a ridiculous nine interceptions this season. The FAU defense also has plenty of solid pass rushers with five different guys with four or more sacks. Even with the pass rush, the best part of FAU's defense is its ballhawking secondary. This is one of the better secondaries I have evaluated this season.As great as FAU's defense has been, I am yet to see anyone who can stop SMU's incredible offense. I'll believe it when I see it. I don't believe this offense can be slowed down nearly enough for it to matter. It all revolves around Buechele, who has been a big-play machine in 2019 and has been SMU's MVP. His deep ball is one of the best I've seen, as he has a 118 passer rating on throws 20 or more yards down the field. I think SMU's offense will still score plenty Saturday, simply due to how ridiculously consistent Buechele, wide receiver James Proché, running back Xavier Jones and the rest of this unit have been all year.This is a great matchup and a great showcase for two great Group of Five teams, in a game that will be featured at 2:30 (Central time) on ABC. I still struggle with the interim coach factor, as I have been scarred by SMU's miserable performance in the 2017 Frisco Bowl without its coach. That leads me to believe we will not see FAU's "A game" without Kiffin. It also should not be forgotten that this will be a wildly pro-FAU crowd, as the game is to be played in the Owls' home stadium. SMU has been incredibly consistent all season, and its only two losses have come by a combined 13 points to a couple top 25 AAC teams in Navy and Memphis. I also love the factor of so many of SMU's best players like Proché, Jones, Nelson, Scott, Rodney Clemons and many others are playing their last games as Mustangs, providing a little more juice.I don't think it's a matter of if SMU can score, but how and when. SMU will need to take care of the ball as its first and foremost priority. This can not be overstated, and Buechele will need to ensure all of his downfield risks are worthwhile. SMU will have its hands full with this dynamic and explosive FAU offense, but without its architect, Kiffin, there likely will be some drop-off with the Owls' offense.Even without Kiffin's offensive input, I still see a bit of a shootout happening. SMU will go about its business and put forth another impressive offensive output. FAU will take some time to adjust without its coach offensively, and the coaching advantage between Kane and FAU's new playcaller is notable in my opinion. I think SMU will be able to slow down the Owls just enough. SMU will cap a special 10-2 resurrection season with a win in a very entertaining Boca Raton Bowl and finish with an 11-2 record. I like the Ponies in a shootout.Nate's take: SMU 41, FAU 34

Previous Story
Next Story

| | |
| --- | --- |
| | SMU faces Florida Atlantic Saturday |

| | |
| --- | --- |
| | Mustangs finish season 10-3 |