The big gamble that paid off in a big way
Desire to play defense brought Brandon Stephens to SMU, even without a scholarship
Posted on 07/14/2020 by PonyFans.com

Brandon Stephens said part of the credit for his development at cornerback goes to SMU receivers James Proché, Reggie Roberson and Rashee Rice, who he said are as good as any the Mustangs faced all year in 2019 (photo by Spencer Stewart).
Brandon Stephens doesn't remember the last time he was called in to his coach's office.But a few weeks into the SMU Mustangs' 2019 preseason camp, just days before the Ponies were set to open the season at Arkansas State, he got word that defensive coordinator Kevin Kane wanted to see Stephens in his office. Stephens headed upstairs and waited, unsure of what was coming."I was pretty nervous," Stephens said. "It's not often that I'd been called into a coach's office, and when it happens, it's typically not good news, so I was preparing myself for the worst at that point. It's not like I thought they were going to send me home, but like I said, I never told to go see a coach in his office. (Kane) called me in, told me he likes what I have done on the field, that he thought I was becoming a leader on the defense, and told me that he and (head) Coach (Sonny) Dykes and the rest of the staff had talked, and they were putting me on scholarship."That was a big weight off my shoulders. That was what I wanted to hear."Stephens was beyond relieved when he got the news … but only after Kane had a little fun with his new cornerback."He dragged it out a little bit — he was going with it," Stephens said, now able to laugh about the somewhat excruciating conversation. Then, when he told me, I just dropped my head in disbelief."Stephens called his mother, Charlotte, who "was screaming on the phone," he said. "She had told me it was going to happen. She said she knew I was going to get a scholarship. She was ecstatic — she and my sister did all my screaming for me."That a player who would start every game wasn't on scholarship prior to that is unusual, to say the least. But Stephens' spot on the team and financial aid were anything but guaranteed.At the start of their preseason camp last season, the Mustangs retreated inside the team's indoor practice facility for a session hidden from the brutal August heat. Almost immediately, he caught Kane's eye."(Cornerbacks) Coach (Kevin) Curtis had said 'the UCLA guy' was going to be there," Kane said. "So I watched this guy, lined up against … I think it was Reggie Roberson, and he just smothered him all the way downfield. I walked over, and the tape on his helmet said 'STEPHENS.' I introduced myself right away."That's one way to make an impression. The former Plano High School star was so coveted coming out of high school that he fielded scholarship offers from many of the nation's premier programs, including Alabama, Stanford, Florida, Ohio State and Oklahoma before heading west to play for Bruins. In Inglewood, he toiled in a crowded backfield, waiting his turn. When Chip Kelly took over as the new head coach before the 2018 season, he told Stephens he was going with other players at running back. Stephens didn't necessarily like the decision, but at least the UCLA coaches granted him a redshirt in 2019, thereby affording him two years of eligibility wherever he ended up. Before that, however, Stephens already had started to consider doing something different. When he started looking for a new school, he wanted to do so at a new position."It's kind of weird, because I'd be in practice and see the defense, and I knew the guys on the team at UCLA, and I always imagined myself playing in the secondary," Stephens said. "It's a position that's so unique. The footwork, where you're supposed to be … I love that playing DB is so reactionary. You're on that island, protecting your ground. I guess I just had a feel for it."Stephens' athleticism never has been in question, so the fact that he could handle the physical rigors of his new position is not surprising. The odd part was that the only time he had played defensive back at any level was in seven-on-seven work in high school. Needless to say, the absence of any in-game experience on defense made Stephens' effort to transfer at a new position challenging.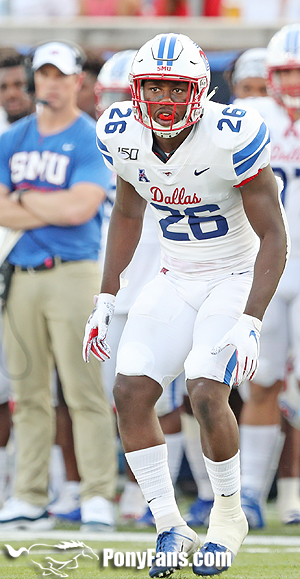 Playing defense for the first time at any level of his football career, Brandon Stephens finished seventh on the SMU roster in 2019 with 49 tackles (photo by SMU athletics).
Curtis, his position coach at SMU, said he never has seen a player take the gamble Stephens did, transferring at a position he never had played, and walking on at a new school without a scholarship."We were looking for a grad transfer," Curtis said. "He had only played running back, but said he wanted to play defensive back. He didn't have any film, even film of him doing defensive drills. You could tell from watching him run the ball that he was athletic, but without seeing him (play in the secondary), it was hard to say we could put him on scholarship."We started talking, and he's a sharp young man. He said, 'Coach, I'll bet on myself, and I want to play DB.' He came here, and after two days — two days — we saw he could play."That Stephens ended up as a Mustang speaks volumes about his self-confidence, because he had other options. SMU didn't offer him a scholarship, but was the only school to offer him a tryout on defense. Coaches at other schools remembered what a promising prospect he was on offense. Texas, BYU, Kansas State and San Diego State were among the teams that offered him a chance — with a scholarship attached — to play running back."All I wanted was to play defense," said Stephens, who brought a sociology degree with him from UCLA and now is working toward his Master's in Liberal Science, and is spending the summer in a real estate internship with the Dallas-based Blackman Group. "Plenty of schools contacted me about playing running back, and I I appreciated the opportunity, but I told them I was set on playing defense. Not having an offer meant it could be a struggle, but I never thought about (playing running back again).""You have to understand that he came in and made this team and earned a scholarship without a summer offseason program," Curtis said. "He finished up his classes, worked himself into shape and jumped in when he got here. Brandon is a sponge, a very smart young man. That's the way it works: you can be a great athlete, but you have to be smart to change positions."When you're learning something that fast, you have to be able to learn something Monday and build on it Tuesday, and then build on that. Brandon did that from the first day."Kane said that while Stephens' lack of experience on defense meant he was starting out behind the other cornerbacks, the time Stephens spent on offense definitely helped."He's a very good athlete, but he's also very smart," Kane said. "When we started teaching the concepts of our defense, he picked them up quickly, because he has such a good understanding of what the offense is trying to do. He had a lot to work on, as far as his technique, his footwork — things like that — but mentally, he picked things up very quickly."More often than not, coaches are not prone to start inexperienced players right away. Mistakes can harm the player's confidence; the need for confidence is even greater for players in the secondary, where a mistake can mean a touchdown for the opposing offense.But Kane said he didn't hesitate to put Stephens in the starting lineup against Arkansas State."Not at all," Kane said when asked if the idea of starting a player who had been practicing at the position for less than a month had caused him any sleepless nights. "After two weeks, we knew he was one of our best corners, so we threw him out there … and remember, Arkansas State had some really good receivers. We figured he's one of the best we had, so let's go — he'll figure it out along the way."It's one of those deals where you hold your breath, but he did a good job … obviously."The confidence to play a new position and recover from a mistake is another way in which Stephens thinks his experience at running back helped him."With a game in 30 days or so, I knew my plate was going to be full, and I was excited for that challenge," Stephens said. "Some players are fortunate enough to learn the playbook through spring ball and the course of training camp, but all I had was training camp to learn the defense. The coaches didn't simplify anything — they gave me everything they gave the other guys, but the coaches and the other DBs helped me a lot: understanding the defense, learning the terminology, how to watch film. I got it alright at the start, and then my mind was going 100 miles per hour — thinking about the Cover 2 (defense), the Cover 3."But as far as getting beat or missing an assignment, I compare it to fumbling on offense. Once you fumble, you've got to go back out there, you've got to have a short-term memory. It's the same thing on defense — you've got to have that at corner. If you make a mistake, you can't fold. You tip your hat to the receiver and then you line back up, because there's another play coming."Stephens said that before he arrived at SMU, he was made aware of the fact that he not only had to impress teammates and coaches, but also fans."One of my good friends, before I came to SMU, told me that if you give up a pass, everyone thinks you're the worst player on the field," he said. "But then when you break up a pass, they think you're the best."With me, it's natural. They teach it to you your whole life: the next play is the only one that matters. Every player has heard that countless times … and it's true. You will make mistakes, and you have to get on the next rep, because the next play is the only one that matters."Stephens said that in addition to the extensive help he got from his coaches and fellow defensive backs as he made the transition to defense, he also had to acknowledge another group for accelerating his adjustment: the Mustangs' receivers."We have such a great group of receivers," he said. "James (Proché) got drafted. Reggie (Roberson). Rashee (Rice). These guys are as good as any receivers we see. Going up against all of them, yes — I gave up catches. But as training camp went by, they help all of us (defensive backs) compete at the highest level."The work on the field and in the film room paid off for Stephens, who finished 2019 as the seventh-leading tackler on the SMU roster, with 49. "When you understand the defense, and you're communicating, knowing your assignment and just playing freely, your mind stops going 100 miles per hour. When that stops, you stop thinking. You just play."With a full season of coaching, practices and games on the defensive side of the ball, the 6-foot-1, 220-pound Stephens said he expects to improve in 2020 over his impressive 2019 debut, which he hopes will lead to a chance to play after his SMU career. Curtis said that even with the uncertainty around the fall college sports season caused by the coronavirus pandemic, he expects Stephens to get that chance."The one thing the NFL looks for is big cornerbacks who can run," Curtis said. "Brandon is a big guy, he can run, and no matter what happens with the season, NFL scouts will line up to evaluate him. What happens this season depends — we don't know how everything is going to play out — but for guys with that size who can run like he can, who are strong and smart like he is, there's not one scout who won't evaluate him.""To come to SMU and play defense, I just needed that chance," Stephens said. "I told (the SMU coaches) that I'd be ready, I was up for the challenge. Toward the end of camp, closer to Game 1, I kind of got the feel for the position, and the coaches saw that I was getting more comfortable with the position. I transferred to play. I came to play, not be a backup. I bet on myself that I could get here, and I bet on myself that I could learn the position and play."I hope I get the chance to play after this year. If I don't, I leave SMU with a great education. But if I do … I'll bet on myself."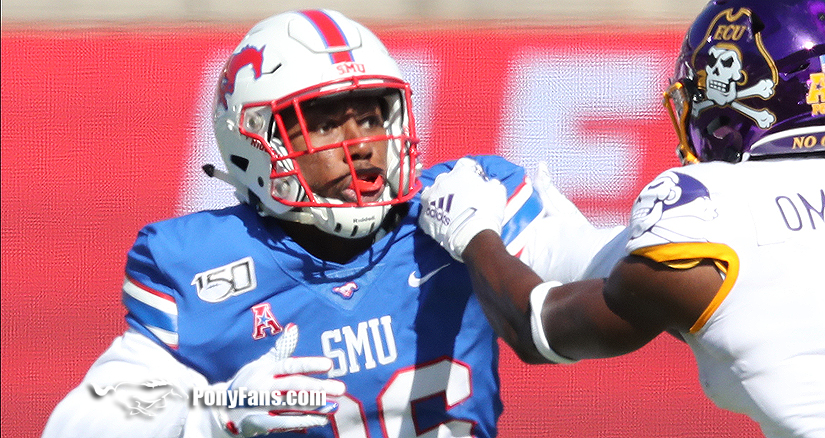 In less than a year, Brandon Stephens transferred to SMU and transformed from a backup running back to a cornerback who started every game in 2019 (photo by SMU athletics).

Previous Story
Next Story

| | |
| --- | --- |
| | Tim Jankovich hoping junior forward can make significant leap for second consecutive season |

| | |
| --- | --- |
| | Guard eager to take the floor at SMU after transferring from Cal, sitting out 2019-20 |