PonyFans.com Q&A: Shane Buechele
SMU quarterback reflects on Tulsa, looks ahead to ECU ... and beyond SMU career
Posted on 11/27/2020 by PonyFans.com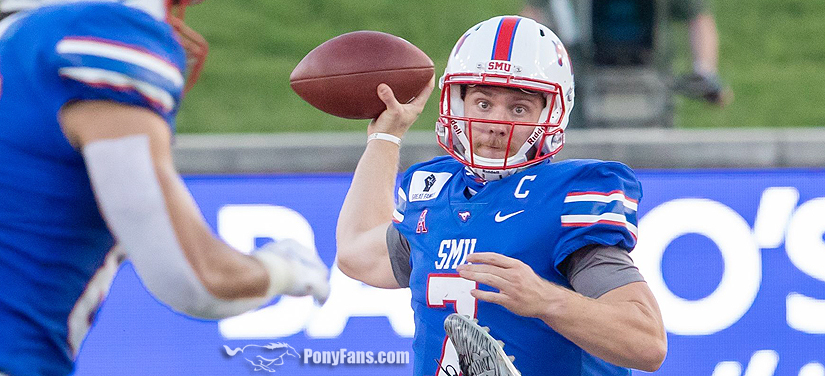 One of the top passers in the nation, Shane Buechele is less interested in individual accolades than he is in victories ... which, he points out, will bring more attention for himself and for the Mustangs (photo by Max Franklin).
After nine games, the SMU Mustangs sit at 7-2, and head to East Carolina for an 11 a.m. game Saturday against the team in which they engaged in the biggest shootout of 2019, an SMU win in which the teams combined for 110 points and more than 1,200 yards of offense.SMU quarterback Shane Buechele visited with PonyFans.com to discuss a number of topics, including how he and his team handled the sudden postponement of last week's game against Houston, what he learned about the offense after wide receiver Reggie Roberson get hurt, and what lies ahead for himself and for the Mustangs.
PonyFans.com
: Saturday's game against Houston was postponed because of COVID-related issues. How did you spend Saturday?
Shane Buechele
: Well, it wasn't a day off. We had little practice, did some game-planning for the upcoming week's game — we got in a good workout. We were still around the facility, around each other.
PonyFans.com
: Given the way the Tulsa game ended, was this the worst week to have a game postponed?
Buechele
: In my opinion, I think so, because that game was really disappointing, and we were excited to get back on the field. But when you look at it, it was really a blessing in disguise. We have played a lot of games, and we have some guys who were a little banged up. So we wanted to play the Houston game, but the extra week gave some guys a chance to recover.
PonyFans.com
: As disappointing as the loss to Tulsa was — as any loss is — does it offer some kind of encouragement to lose a game like that and then realize you're still 7-2?
Buechele
: Not really. We have won some games, but we expect to win, so when we don't, it's really disappointing. So it's nice to have seven wins, but that bus ride home was terrible on the way back. It was really frustrating, losing the way we did. Laying an egg in the second half is unacceptable. Super-excited to bounce back this week, good week. We generally do a good job of channeling our energy. The strength coaches and the coaching staff do good job of helping us with that, keeping us focused.
PonyFans.com
: Whenever someone gets hurt, coaches and teammates talk about how "it's a chance for the next guy to step up" … and that's true. But there's a reason the first guys are the starters. What did this offense lose when Reggie Roberson got hurt?
Buechele
: The biggest thing we lost … he's obviously an explosive guy, our main deep threat, but he's also a dependable route runner and pass catcher, and he's an extremely smart guy, a real leader of that wide receiver group. He's extremely talented, and you hate to see him get hurt — you hate to see anyone get hurt. But what it has done is show that the guys who have stepped into bigger roles — Rashee Rice, Tyler Page, Danny Gray — are probably better than most people realized. You don't replace a guy like Reggie, but all three of those guys have shown they're capable of more than they were doing. Maybe the most improved is Rashee. His main thing is his confidence. He has always been talented — you watch him and you know that right away. But the progress he made over the offseason is showing up now. He had to step up when Reggie got hurt, and he has. He has grown physically, but he also has grown in terms of his confidence.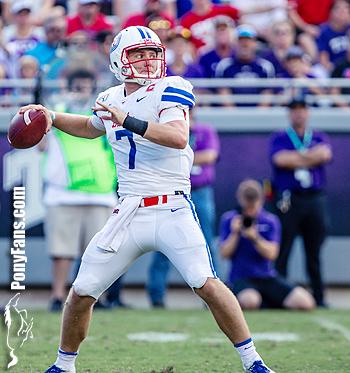 Quarterback Shane Buechele and the Mustangs face East Carolina at 11 a.m. (Central time) Saturday (photo by Max Franklin).
PonyFans.com
: Before he got hurt, you obviously relied on Reggie a lot — he has missed half of your games and he's still the fifth-leading receiver, and third in yards. As you spread the ball around among the others — Rashee, Kylen Granson, Danny, Tyler and the rest — do you read defenses differently or go through your progressions differently without Reggie out there?
Buechele
: I don't know that I read defenses differently, but I think missing him changes the game plan a little bit — not a huge change, but it has maybe helped me get a better understanding of each guy's strengths. With Reggie, I always know he could run past a press cornerback, I could put some air under it and he would go get it. But without him, I have had to learn more about what each of the others can do. Danny is a burner — he can go get any deep ball. Tyler is more of a possession guy. Rashee is a little of both. These guys have grown a lot in the time since Reggie got hurt. They're obviously very talented receivers, and really dependable, too.
PonyFans.com
: Derek Green is now the No. 2 quarterback. Has your relationship with him changed since he assumed that role?
Buechele
: Maybe a little. Derek has really embraced the role, working really hard. Even when he was the No. 3 guy, he know he was one step from being the starter, and he prepares like he expects to. Now that he's the No. 2, he is practicing really hard, and I really enjoy sharing my knowledge with him. I have been in his shoes — I know what that role is like. It's a tough position to be in, but Derek has shown a lot of maturity the way he handles the whole thing. When I was the backup at Texas, my teammates and coaches knew that I wanted to be there for them at all times if they needed me, and that's what D-Green has done. He has really embraced the role.
PonyFans.com
: We've seen him as a holder on special teams, but without getting to watch practice, a lot of people have not seen a lot of him at quarterback … because that role is already filled. So as a quarterback, what does he do best?
Buechele
: Derek can make every throw — he has got a really strong arm. But I think what a lot of people don't know, because they haven't had a chance to see it yet, is that he's a really good athlete. He throws really well on the run, and he can throw accurately on the run. That's not easy to do.
PonyFans.com
: You and he are both sons of former professional athletes. Do you and he ever trade stories about things your dads have taught you?
Buechele
: Maybe once in a while. The subject comes up every now and then, and it's kind of fun. My dad is a little bit older, than his dad, but they both had long careers, successful careers. Derek and I are really lucky to have dads with so much experience to share with us.
PonyFans.com
: Along those same lines, you obviously play a different sport than your dad, who played professional baseball, but how often do you still seek playing advice from your dad, as far as how to play in a big game, how to throw in certain weather conditions, etc. — factors that can come into play in any sport? Or do you leave that entirely to your coaches?
Buechele
: I still definitely ask him questions about a lot of things. I probably did it more at the beginning of my college career, asking about things like what he did to get ready for games — things like that. My dad played a long career, a successful one, so I want to talk to him as much as I can.
PonyFans.com
: You have a lengthier résumé than many college athletes: you obviously are an accomplished player, you're in grad school now, you had an internship with a minor league baseball team … whenever you reach the end of your playing days, do you already know what you want to do after your playing days?
Buechele
: I've thought about that a lot, actually. I have thought about going the coaching route — it's pretty awesome to know you can have an effect on young people. But I have wanted to get into management with a sports team, specifically in the NFL. I'd like to work my way up to become a general manager. That's why I'm taking a lot of strategy classes and management classes in Cox (School of Business) — to help with that. Who knows? That's the plan, though — we'll see. But I hope I'm not done playing for quite a while.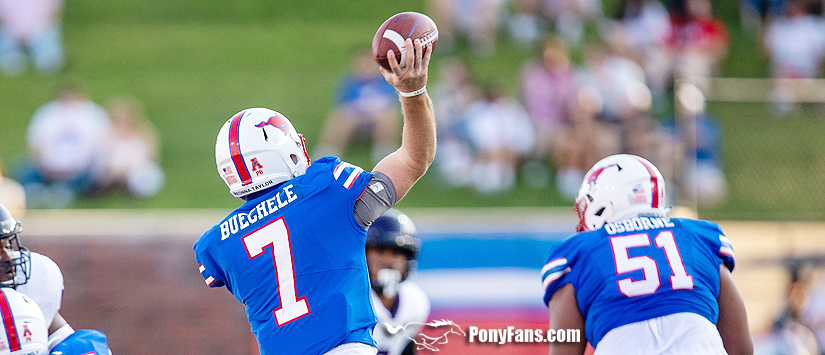 Buechele has yet to try his hand at professional football, but already has looked ahead enough to have an idea of what he wants to do after his playing days are over (photo by Max Franklin).

Previous Story
Next Story

| | |
| --- | --- |
| | Ponies host Texas A&M-Corpus Christi Monday |

| | |
| --- | --- |
| | Mustangs improve to 2-0 with 91-54 rout |