Meet SMU defensive coordinator Jim Leavitt
Veteran DC plans to teach the way he wants his defense to play: fast
Posted on 02/23/2021 by PonyFans.com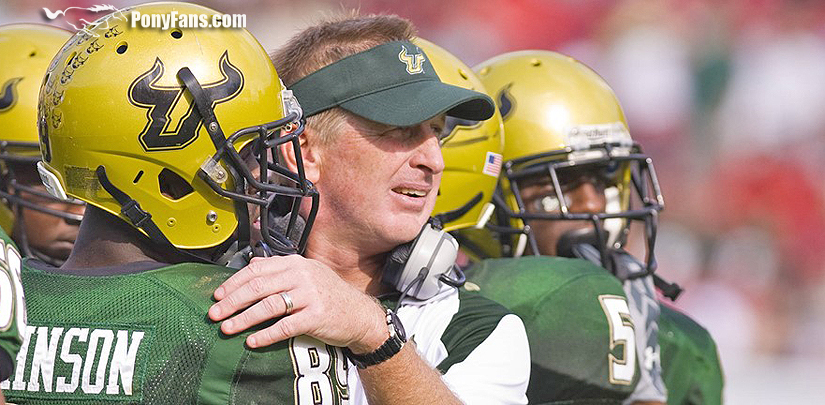 New SMU defensive coordinator Jim Leavitt took the South Florida program from its infancy to as high as No. 2 in the country (photo by gousfbulls.com).
One of the prices teams pay for winning is that other programs tend to take notice. Consider the case of SMU: after going 5-7 in Sonny Dykes' first season, the Mustangs have gone 17-6 over the last two seasons.That kind of turnaround brings numerous benefits to a program, but also tends to draw the attention of other schools wanting to tap in to that success. A year ago, Miami plucked offensive coordinator Rhett Lashlee to fill the same role with the Hurricanes; this offseason, defensive coordinator Kevin Kane was lured to Illinois as the Illini's associated head coach and outside linebackers coach.Dykes found himself seeking a defensive coordinator after the conclusion of the normal coaching carousel. SMU announced Jan. 27 the hiring of Jim Leavitt, the veteran defensive mind whose most recent stop was a year as defensive coordinator at Florida Atlantic.This year isn't the first time Dykes had tried to hire Leavitt. Dykes offered Leavitt a job when he was head coach at Louisiana Tech, but was not alone in his pursuit — Leavitt also was in talks with Jim Harbaugh, who he ended up joining as linebackers coach of the San Francisco 49ers."We have been friends for about 15 years. I met him at a golf tournament. My wife and I happened to be in Hawaii at the same time he was, and we got along really well, and stayed in touch," Leavitt said of Dykes. "I always thought I wanted to work with him."Leavitt rose to coaching prominence as head coach at South Florida from 1997-2009, where he took the program from its infancy to national prominence. USF entered the top 25 in its 11th season, 2007, climbing as high as No. 2 in the Associated Press poll. He coached the 49ers' linebackers for four seasons, served as the defensive coordinator and linebackers coach at Colorado (2015-16) and Oregon (2017-18) and spent 2019 as an analyst at Florida State before following former Oregon and Florida State coach Willie Taggart to FAU in 2020. The Owls finished the 2020 season ranked fifth nationally in red zone defense (.696), 10th in scoring defense (17.4), 16th in pass defense (188.2 YPG) and 24th in total defense (342.8 YPG). FAU also finished with 25 sacks in just nine games and reached the 2020 Montgomery Bowl.Leavitt said that while he is excited to join Dykes at SMU, leaving FAU was difficult."It's always hard to leave players. They might not always believe that, but it's true," Leavitt said. "I drove all the way to Mobile, Ala., and turned back around and drove back — that's about nine hours each way — because I didn't want them to just get a text message. I needed to sit down with them and talk to them."Those players meant an awful lot to me, and they did a good job. In the end, you coach because of your players. My mom is in St. (Petersburg), which is about a four-hour drive from Boca (Raton, where FAU is located). But it's about a two-hour flight from Dallas. I talked to my wife, Jody, about it a lot. It's going to be hard, but she and the girls (Sofia is 10, Isabella is 9) are going to move to Tampa. I'm going to be busy putting in a new defense, but they'll be there with Mom, and I can get there pretty easily."The new defense Leavitt will install at SMU will include a multitude of looks, with even-man and odd-man fronts, and aggressive pass rushing — the same system that was the backbone of USF's ascent when he was the Bulls' head coach. He said he has not spent a great deal of time reviewing the Mustangs' 2020 defense, because he plans to teach his system as if his players all are new to it."I run what I run defensively," Leavitt said. "I have been fortunate to work for some great coaches, so I have learned a lot of systems, and I have taken things from a lot of them. I listen to a lot of people, so I pretty much know the direction I want to go, how I want to go."That system has yielded relentless defenses, most notably at USF."I have been in the NFL, I have done the linebacker drills at the (NFL) Combine, I got 38 guys from those USF teams into the NFL — I think 18 made it, guys like (NFL defensive ends) George Selvie and Jason Pierre-Paul, but the rest made it into camps," Leavitt said. "There's no reason we can't do that at SMU. Coach Dykes and his staff have done a great job, positioning SMU as a viable option, because SMU has so much to offer."To that end — selling SMU to top players — Leavitt said he doesn't see a difference in what it will take to recruit players to the Hilltop, compared to the recruiting he did at large state schools like Oregon and Colorado."I don't think (recruiting) is different from those schools, because I don't look at SMU as a small college," he said. "When I got here, I walked around the facilities and went through the press box, and I Facetimed with my wife and girls, and they couldn't believe how beautiful it is."Sometimes it takes someone coming in from the outside, but I don't see a reason why we can't attract the best players out there. We're in one of the greatest cities in America. I see it like a Stanford — we're in a great conference, it's a great university where you can get a great education. I don't see why we should take a back seat to anybody. Tampa is nice, but Dallas is Dallas. It's not a hard sell."Before he focuses on future players, he has a current team to teach. He has to add a new defensive line coach — he said he has been asked for input, but the decision will be made by Dykes, Leavitt said. Every coach has to teach newcomers who join a team each season, but in Leavitt's case, he's the newcomer. That, he said, will only help, because everyone, assistant coaches and players alike, begins the learning process from equal starting points."The coaches have a pretty good grasp of what we're doing, and the players will, too," Leavitt said. "One thing about SMU players, they're smart. I haven't gotten through one-on-ones with everyone yet, but I will. They know football — now it's just about getting them all up to speed."That idea —
speed
— comes up when talking to Leavitt. He said he sometimes will run with his players. He talks about getting coaches and players up to speed with learning his system. He wants to hit the recruiting trail — you guessed it —
running
."Coming here has been one of the best transitions I have had, from the university to the people I've met in Dallas to the players and coaches on the team," Leavitt said. "I can't wait for spring practice. We're going to go … full-speed."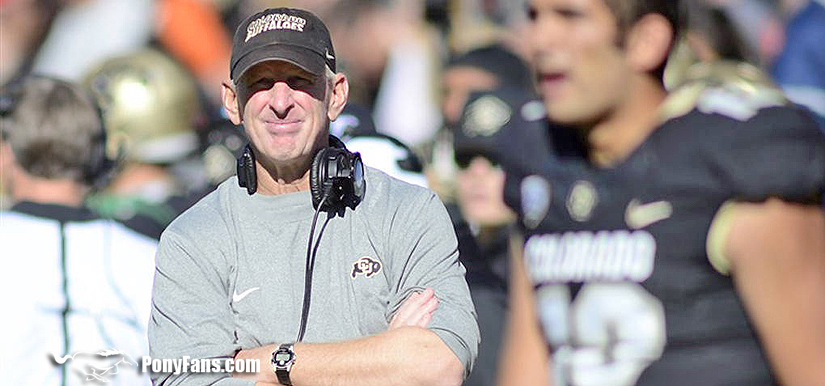 SMU is the 11th college coaching job for Leavitt, who also has had stops at high-profile programs like Oregon and Florida State, and in 2015-16, Colorado (photo by cubuffs.com).

Previous Story
Next Story

| | |
| --- | --- |
| | SMU graduate student Billy Nayden added to Mustangs' staff |

| | |
| --- | --- |
| | New assistant coach comes to SMU from Kansas |