Former Groza Award finalist ready to kick off next chapter at SMU
Decorated kicker Blake Mazza transferring from Washington State
Posted on 04/05/2021 by PonyFans.com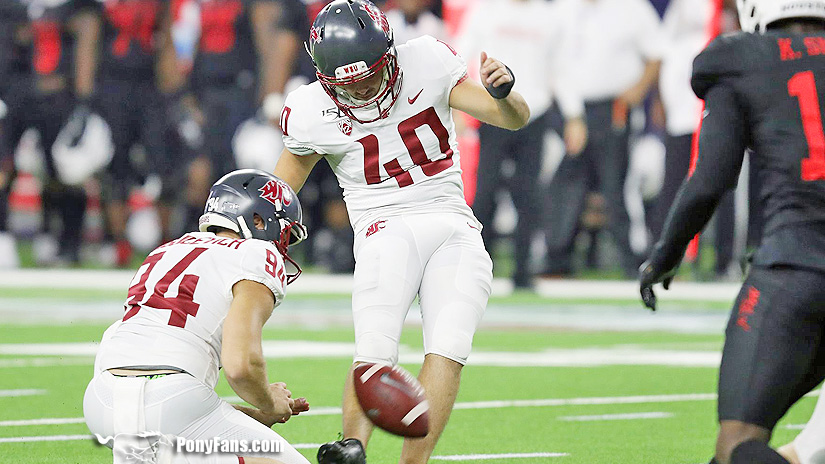 In his sophomore season at Washington State, new SMU kicker Blake Mazza was one of three finalists for the Lou Groza Award, which is given annually to the top college kicker in the country (photo by wsu cougars.com).
One of the annual tasks for every coach is the replacement of outgoing players. Some graduate, some transfer, some simply opt to not play anymore, and in each case, coaches must find someone to fill those roles.Looking at the SMU football team, it's easy to see some of the holes that have to be filled. Head coach Sonny Dykes and his staff have to figure out which quarterback will replace Shane Buechele, who will emerge at tight end after the departure of Kylen Granson, and who will take over at cornerback for Brandon Stephens.But one of the critical voids that must be filled is that left by Chris Naggar, the former Texas kicker who led the American Athletic Conference in scoring last season and was named a semifinalist for the Lou Groza Award, which is given annually to the nation's premier college kicker. Over the offseason, amid the attention paid to incoming freshmen and a slew of transfers, one name that didn't draw as much attention as some others was that of Blake Mazza, a kicker transferring from Washington State.Kickers rarely draw the attention of some of their more high-profile teammates. As the cliché goes, you don't realize how important they are until you don't have one.Mazza (pronounced "MAZZ-a") is not some afterthought plucked from an intramural soccer team. He is a decorated kicker with numerous ties to SMU. After graduating from Plano High School, where Chris Sailer Kicking named him the No. 12 placekicker prospect in the nation, he walked on at Arkansas. When head coach Bret Bielema and his staff were fired, Mazza entered his name in the transfer portal and headed to Washington State.He arrived in Pullman with no assurances of playing time — "I don't think there's a coach out there who will recruit you and tell you the job is yours," Mazza said — but he won the starting kicking job as a redshirt freshman, finishing third in the Pac-12 with 90 points, including a league-high 60 extra points, the most in a single season in WSU program history. He hit 10 of 15 field goals, including a long of 50 yards.A year later, he improved on his strong debut. Mazza earned first-team All-Pac 12 honors and was one of three finalists for the Lou Groza Award, which is given annually to the nation's premier kicker. He converted 20 of 21 field goals — his 95.2 was the highest percentage percentage in program history — and earned Midseason All-America Second Team honors from The Athletic. His 115 points led the conference in scoring and his 20 field goals were second in the Pac-12 and 18th in the nation, and his streak of 18 field goals without a miss set a new WSU record."If you had told me when I went to Washington State that I'd become a Groza finalist or that I would hit 18 straight field goals," Mazza said, "I would have told you you're crazy. Some coaches said their biggest fear was me having some success early, and that it would be hard to get my percentage go up. As it turns out, it did."His accuracy reached a perfect 100 percent in 2020, albeit in a covid-shortened season in which he only attempted — but also hit — four field goals for the Cougars in an abbreviated season that ended with him earning All-Pac-12 Conference Honorable Mention and second-team Associated Press All-Pac-12 accolades."For the last season and a half, I was thinking a lot about how hard it was for my family just to see me play, flying from DFW to Pullman," Mazza said. "That's a long trip, and there's a financial burden with it. I was getting school paid for, but my grandfather passed away and I wanted to be near my family. I wanted them to be able to see me play, I wanted my fiancée to be able to see me play. I wanted to come home."Mazza will earn his Sport Management degree from Washington State as soon as he completes his spring internship with Select Sports Group. At SMU, he'll have two years of eligibility in which to pursue his Master's in Management. Just like when he headed to WSU, he arrives at SMU with no assurance of any specific role or playing time."I'm going to come in and help the team," he said. "Obviously, I hope that means I'm the starter, but if not, I know they signed a freshman (Brendan Hall) who I hear is really good, and I'll work him."Washington State was coached by Mike Leach when Mazza arrived; in his final season, he was playing under new coach Nick Rolovich after Leach had left for Mississippi State. Mazza said Rolovich didn't try to "re-recruit" his kicker to stay, because he understood the reasons for the decision to transfer."I spoke to him on the phone, and we had a really good conversation," Mazza said. "He always preaches at WSU that family comes first — always. I told him that it was nothing the staff had done or the university had done. He understood that my family is very close to SMU, and there were no hard feelings.As soon as Mazza entered his name into the transfer portal, he heard from SMU assistant head coach and special teams coordinator Chris Brasfield."I also heard almost immediately from schools in the SEC, Big 10, Pac-12 and ACC, too," Mazza said. "But I told them right away I was pretty focused on SMU."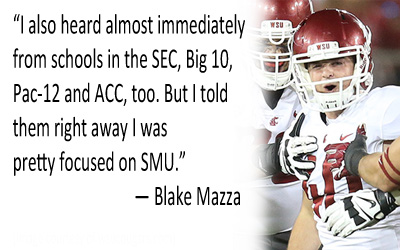 (photo by wsu cougars.com).
Brasfield was not Mazza's first exposure to SMU. At Arkansas, he was teammates with Cole Hedlund, whose brother Chad kicked for SMU in 2015. In high school, he sometimes trained with Naggar, who played at Arlington High School. As he readies for his first season at SMU and Naggar hopes to get to the NFL, they're training together again."He said he loved playing at SMU," Mazza said of Naggar. "We have known each other since high school, and he kind of recruited me. He said Coach Dykes is a lot different than some other coaches, very personable. When I talked to Coach Dykes on the phone and on FaceTime, I got that feeling, too."Choosing a college program is hard for a young Athlete; Mazza has now selected three, and said his priorities during the recruiting process changed since he first headed to Arkansas."Coming out of high school, I wanted an opportunity to play the biggest football out there, and I played in those games. I played on GameDay, I played at places like Oregon and Washington, I played with 80,000 fans in the stands. But there were more American Athletic Conference teams in the top 25 than the Big 12 had. I'm coming to be near my family and get my Master's, and to play for a great team that I think will be very successful this fall."At Washington State, Mazza handled field goals and field goals, but surrendered the kickoff chores to minimize the discomfort he felt because of tendonitis in his plant foot. Now, he said, he is fully healthy, and appears to have the leg for the job if asked: his longest field goal in a game was 51 yards against Utah, and he said he has connected from 62 yards in practice, and from 69 yards in an individual workout. (For perspective, the record for the longest field goal in NFL history is 64 yards by Matt Prater in 2013, then of the Denver Broncos.)Mazza has a significant to-do list that retains much of his focus: finish his internship and undergraduate degree. Get married — he and his fiancée, Makenzie, began dating when they were going into their junior year of high school, and will marry in June. Earn his Master's at SMU. He also is hoping that he and Naggar will cross paths again … as professional kickers."Chris is a great kicker, he spoke really highly of SMU and the coaches and the team, so he's part of the reason I chose SMU," Mazza said. "He and I have the same goal, too. There's only 32 of those jobs out there, but hopefully we'll get to play against each other one day."

Previous Story
Next Story

| | |
| --- | --- |
| | Mustangs' new coach was HC at Prairie View A&M, assistant at Baylor, Michigan |

| | |
| --- | --- |
| | Mustangs host Temple Saturday for Senior Day |