A family affair ... for first and final time
Hayden and Dylan Howerton face off in 2021 opener
Posted on 09/01/2021 by PonyFans.com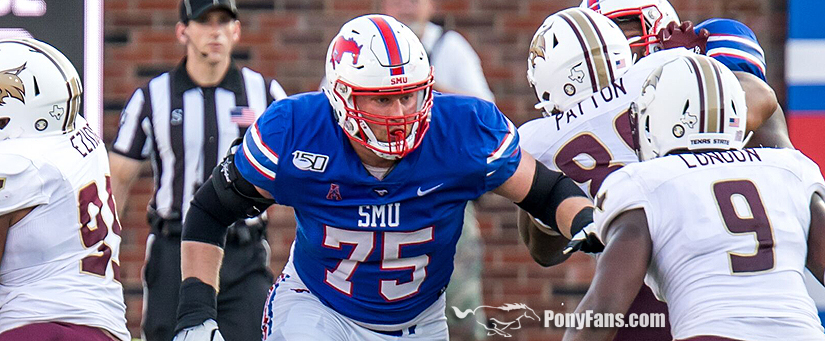 A fixture on the SMU offensive line, Hayden Howerton begins his final season on the Hilltop by facing off against his brother, Dylan, and Abilene Christian at 6 p.m. Saturday (photo by Max Franklin).
When SMU and Abilene Christian announced their schedules for the upcoming football season, many fans of each program likely made a scheduling note and moved on to the rest of the games.For Teri and Rodney Howerton, of Katy, Texas, the first game on each team's schedule brought about excitement and a little uncertainty of how to behave … because they'll have a son on each side when the Mustangs host the Wildcats at 6 p.m. Saturday. Hayden is a fifth-year senior stalwart in the interior of the SMU offensive line; his younger brother, Dylan, is a redshirt freshman offensive lineman at Abilene Christian."They have never played against each other," Teri said. "(The schedules) brought a feeling of excitement and anticipation for us. For them, they both want to win, they both want to play well. Of course, Dylan wants to do well against his older brother."The Howerton parents, Teri said, have been planning for Saturday's game since June. They have had split jerseys custom-made: one half, befitting of SMU's "White Out" plan for Saturday, will be white with half of Hayden's No. 75, the other half purple with half of Dylan's No. 66. Even the name "HOWERTON" across the back will be split-color. Teri said she might even wear one red Converse sneaker and one purple — equal love for her sons.The Howerton family is exceptionally close. They communicate constantly through a four-way group text message, the name of which Dylan changed this week to "Football-less Howertons" with a mandate that football is not to be discussed this week, lest the violator be subject to a $5 fine. Staying away from the topic of football as the season approaches is harder than some might think.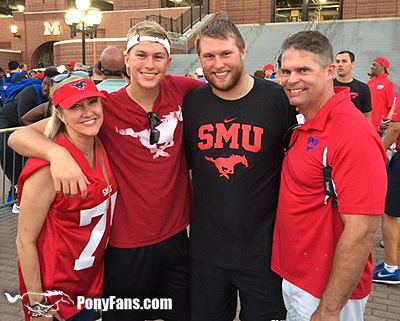 Teri and Rodney Howerton will be in the unusual position of cheering for both teams Saturday (photo by Howerton family).
"We're weirdly close," Teri said. "We can usually tell you what Hayden did today at practice, and what Dylan did, too. We have separate sidebar conversations with each of them, and if there's something we really need to know, we call."Within the close Howerton family, the bond between Hayden and Dylan is exceptionally strong."They're best friends," Teri said of her sons. "They have this weird 'twin language' — that we don't understand. When they're out of school at the same time, which of course isn't that often now, they're together all the time. They spend time together, they work out together, it's like they're together 24 hours a day."Teri said she hopes for a little more than the normal post-game family gathering, because while Hayden can enjoy the evening with his parents, Dylan will be expected to pack up and head back to Abilene with his team."Hayden takes his time after games, showering, talking to coaches and teammates," Teri said. "Just this once, I hope he hurries through that to come visit with all of us, including Dylan."While the family observes the no-football rule of texting this week, Rodney said he assumes his sons are still in communication this week — just not about anything relating to Saturday's game.The Howertons are vocal and visible fans at their sons' games. In Hayden's first four years at SMU, they have missed "maybe a couple" of his games, always wearing his jersey. One was to be at an important game Katy game for Dylan, and of course last year some schools didn't allow fans because of coronavirus restrictions.On the other hand, the Covid-19 pandemic also played a key part in making Saturday's brotherly showdown happen. Amid the chaos of the pandemic that turned many sports basically upside down, the NCAA allowed all athletes an additional year of eligibility. The 2020 season was the strangest ever in just about every measurable way, but the virus has allowed Hayden to pursue a Master's degree in management at SMU's Cox School of business … and to play against his brother. His parents, of course, will be there to see every minute."We take that seriously," Teri said of the ever-present No. 75 jersey she normally wears to games. "Some things are not going to change" … until they debut the split-jersey look Saturday at Gerald J. Ford Stadium. They were in the stands for all of their sons' games at Katy High School, "where you stand just about the whole game," Teri said, which laid out the blueprint for their vocal support at SMU and Abilene Christian games.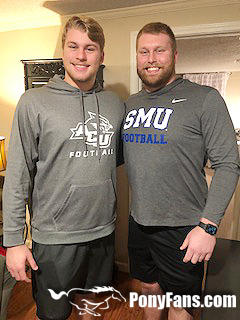 Dylan and Hayden Howerton will play against each other for the first time Saturday when SMU hosts Abilene Christian (photo by Howerton family).
But with a son on each side Saturday, vigorous cheering might become … awkward, at least."We'll be cheering for the offenses — both offenses," Rodney said. "Ultimately, we want them to play well and for their teams to play well, but we're hoping both offenses have a big night."In recent years, weekends meant Friday night Katy games and then a mad dash for Teri and Rodney to Dallas, or wherever the Mustangs were playing Saturday. This year, of course, the Mustangs and Wildcats will play many games on the same days, which presents scheduling headaches for Teri and Rodney. SMU and Abilene Christian have their off weeks at different times, so that's two weekends when the Howerton parents' choices are made for them. Abilene Christian plays at SFA at 1 p.m. Oct. 30 — the same day SMU plays at Houston. Depending on the as-of-yet-unannounced time of the SMU/UH game, there's a chance they could see both sons play in one day. If the Mustangs and Cougars get a night game, "we need to find a friend with a private plane, or a helicopter," Teri said. "One of the few games we missed was the win at TCU (in 2019)," Rodney said. "We already told Dylan, 'we don't care if Abilene Christian is playing Alabama — we're going to TCU this year.' Beyond that, we haven't made any promises to either. We'll see how things play out."Before planning the rest of the fall travel schedule, the Howerton parents have to get through watching their sons play against each other for the first time. They can not support one team over the other, of course, but they do acknowledge the stakes are different for their sons."Dylan has a longer way to go, of course," Rodney said, "while this is Hayden's last lap, so to speak, at SMU. "I think it will mean more when it's over, they both played well, both teams play well and we can get a photo for our Christmas card."

Previous Story
Next Story

| | |
| --- | --- |
| | WR talks about health of his knee, 2021 offense, jersey number change |

| | |
| --- | --- |
| | Mustangs allow just two shots on goal, improve to 2-0 heading into Monday showdown against Denver. |