Pony NATE-tion: Preseason awards
Nate identifies which players could lead Mustangs in 2021
Posted on 09/01/2021 by PonyFans.com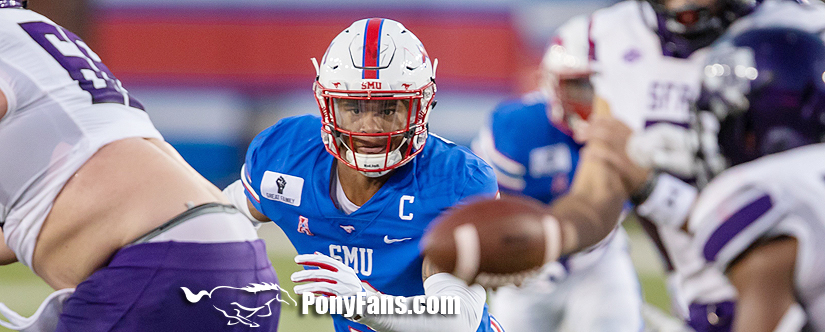 Nate says linebacker Delano Robinson will thrive in the new Jim Leavitt defensive system (photo by Max Franklin).
The 2021 SMU football season starts Saturday … but the season isn't officially underway until PonyNATE makes his preseason awards predictions.
Offensive MVP: Offensive Line
This may seem a little bit out of the ordinary for an entire offensive line to be a team's MVP, but it's hard to single out just one of the five. SMU returns all five starters up front and is set to have one of the best offensive lines in the conference and country. The line will have familiar players in new places, but has loads of experience; four of the five starters are seniors (two of them redshirt seniors). Former tackle Jaylon Thomas is poised for a big senior year at left guard after earning second-team All-American Athletic Conference honors in each of the last two seasons. Hayden Howerton opted to use his extra year of eligibility and come back for a fifth year, at right guard, following a strong 2020 in which he was Second Team All-AAC at left guard. Center Alan Ali returns for his senior season, while Auburn transfer Justin Osborne will be the right tackle after a strong first season with SMU at right guard. Senior tackle Beau Morris, who was on Phil Steele's preseason All-AAC Second Team, will flip from the right side to the left. Returning the entire offensive line from one of the best offenses in the country is a great way to usher in a new quarterback, and I think this group will do just that.
Defensive MVP: Linebacker Delano Robinson
With new defensive coordinator Jim Leavitt, it will be interesting to see how Robinson and the rest of the defense is deployed. This may signal a change from defenses of the past few years that gambled for big plays. While they often came up with splash plays (sacks and takeaways), they also were susceptible to the big play. Either way, returning the team's leading tackler and captain of the defense is a good start for Leavitt. Robinson led the team with 77 tackles, six of those for a loss, and three sacks. He is simply always around the ball. Robinson's name showed up on Athlon Sports', Phil Steele's and PFF's preseason All-AAC teams.
Breakout Player: Quarterback Tanner Mordecai
Everything is set up for Mordecai to be successful in his first season as a starter. The former four-star recruit transferred to SMU after three seasons as a backup at Oklahoma. SMU has a great track record with transfer quarterbacks, and the 2021 offense has just about everything a new quarterback could want, including arguably the best receivers in the conference and arguably the best offensive line in the conference. Mordecai was just named the starter Sunday after beating out highly touted freshman Preston Stone and returning veteran Derek Green for the job. This was a somewhat obvious pick given his position, but Mordecai should take advantage of a fantastic opportunity with SMU.

Previous Story
Next Story

| | |
| --- | --- |
| | WR talks about health of his knee, 2021 offense, jersey number change |

| | |
| --- | --- |
| | Mustangs allow just two shots on goal, improve to 2-0 heading into Monday showdown against Denver. |