Pony NATE-tion: Whose momentum continues when SMU hosts UNT?
Mustangs, Mean Green kick off at 6 p.m. Saturday at Ford Stadium
Posted on 09/08/2021 by PonyFans.com

PonyFans.com is proud to have journalism student Nate back as a guest columnist for the 2021 season. This week, Nate breaks down Saturday's Metroplex matchup against North Texas.
Feel free to post comments and constructive criticism, ask him questions, and/or give suggestions for upcoming columns! (He can be followed on Twitter at @Pony_NATE_tion.)___________________________________________________________________________________________________________________________

Nate says quarterback Tanner Mordecai and the SMU offense should have another big day Saturday against North Texas (photo by Spencer Stewart).
The Ponies return to Gerald J. Ford Saturday after a beatdown of Abilene Christian in the season opener for each team. It was quite the debut for new signal-caller Tanner Mordecai, who broke the school's single-game record for touchdown passes, with seven. In the 56-9 win, SMU looked sharp all around. ACU is by no means a good team and SMU did exactly what it was supposed to do, but it was still nice for the Mustangs to start out on the right foot, given all the new faces.Head coach Sonny Dykes seemed especially pleased with the performance. "Very clean game. Really happy with the way our guys played," he said. "Like I said, thought we were focused and really came out and we played pretty well." His overall message was that there will obviously be things to clean up, but he was happy with the effort, focus and how clean a game his team played.Before jumping into the upcoming North Texas matchup, there is a lot of warranted praise for the defense and several offensive weapons, but the one that really caught by eye was the return of tight end Grant Calcaterra. In his first game back in almost two years, he caught two touchdowns and looked like he had not lost a step. He looked very smooth and appears to be a great red zone target. If he can stay healthy, SMU may have itself one of the best weapons in the American Athletic Conference.It's hard to draw a lot from the ACU game simply because of how poor the opponent was, but it was a start. The non-conference schedule sets up nicely for SMU as it is a slow ramp-up into the TCU game and into conference play. SMU is still heavily favored against North Texas but will still need to keep building on last week to gain momentum into the back half of the nonconference schedule. A road game against Louisiana Tech, which almost beat Mississippi State, no longer seems like a layup ahead of the TCU game.North Texas is coming off its own beatdown of an inferior opponent: the Mean Green beat Northwestern State, 44-14. Senior running back DeAndre Torrey was a force, with 244 rushing yards and 320 all-purpose yards. The leading receiver was Roderic Burns, who had six catches for 114 yards and a score. North Texas didn't throw the ball much at all — starter Jace Ruder only threw it 21 times compared to the 50 rushing attempts the team had. He was 10-of-21 in his first start, but North Texas pass-catchers didn't help him out much, dropping seven passes.UNT's offense should be great once again — it led Conference USA in total offense with 513 yards and scored 34 points per game. One name to keep an eye on is wideout Tommy Bush, who transferred from Georgia. He was quiet Saturday but was one of UNT's big (6-5, 199 pounds) additions. Up front UNT returns four starters and leads a great rushing attack that got off to an even better start last week.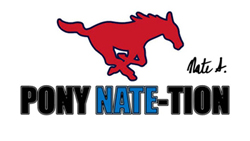 (photo by Spencer Stewart).
Defensively, there is a familiar face to SMU fans calling the North Texas defense: Phil Bennett. The former SMU head coach is tasked with fixing, simply put, the worst defense in college football. UNT surrendered the most yards per game in the country (522) and gave up 43 points per game. UNT brings back its All-Conference USA defensive tackle Dion Novell as an anchor in the middle of the defense. It also brings back leading tackler KD Davis, who kicked off his season with a bang as he racked up 14 tackles, two sacks, and three tackles for loss.The gameplan should be simple for SMU and should be very similar to the gameplan each of the last two years: run the football. UNT is just incapable of stopping the run. It surrendered over six yards per carry and 269 rushing yards per game last year. SMU hung up 65 points with 366 rushing yards in 2020 and 49 points with 211 rushing yards in 2019. It doesn't appear the run defense has gotten any better in Denton as Northwestern State was able to rack up 261 yards on the ground and over five yards per carry.SMU didn't run the ball incredibly well against ACU. Running for 182 yards and 4.9 yards per rush is by no means bad, but we have seen SMU run it up for much more than that. Granted, with some of the shuffling on the offensive line, growing pains are to be expected. Jaylon Thomas has been moved inside, Beau Morris and Marcus Bryant are currently battling for the starting left tackle job, and Justin Osborne is now at right tackle. I wouldn't be shocked if that is a big point of emphasis this week. Within the running game, one name to watch out for is Tre Siggers, who will be going against his old team Saturday. The North Texas transfer led the Mean Green in rushing in 2019 and impressed early on at SMU. He led the Mustangs in carries against ACU and appears to be splitting the load with Ulysses Bentley. It's easy to imagine that Dykes may give Siggers some more work given this opportunity against his old team.This is another big mismatch for SMU and another game in which I anticipate SMU to put up some gaudy offensive numbers against an inferior opponent. It is certainly a crosstown rivalry game that both teams get up for, but SMU has much more talent and has demonstrated that in the last two years. The Mustangs will take care of business Saturday and keep the ball rolling into a difficult pair of road games against Louisiana Tech and TCU. Enjoy the points party Saturday at the Hilltop!Nate's take: SMU 52 UNT 21

Previous Story
Next Story

| | |
| --- | --- |
| | Papa Ndoye scores equalizer |

| | |
| --- | --- |
| | Defender nets winning goal |