Pony NATE-tion: Will Mustangs' early success continue in first road game?
SMU takes on Louisiana Tech Saturday in Ruston
Posted on 09/15/2021 by PonyFans.com

PonyFans.com is proud to have journalism student Nate back as a guest columnist for the 2021 season. This week, Nate breaks down SMU's first away game of the season, which will be Saturday at Louisiana Tech.
Feel free to post comments and constructive criticism, ask him questions, and/or give suggestions for upcoming columns! (He can be followed on Twitter at @Pony_NATE_tion.)___________________________________________________________________________________________________________________________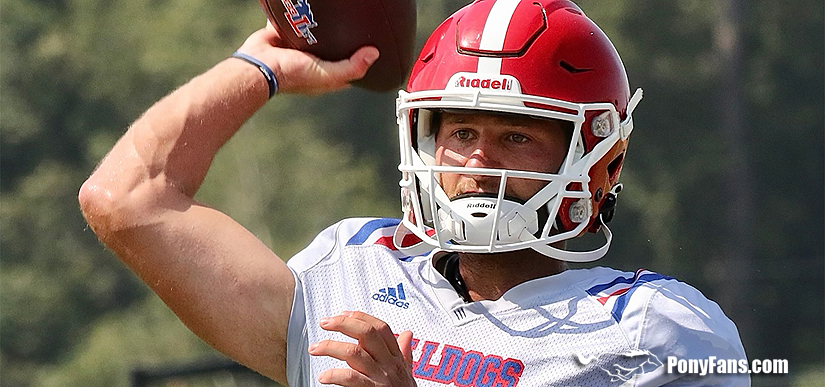 Quarterback Austin Kendall played at Oklahoma and West Virginia before settling in Ruston at Louisiana Tech (photo by latechsports.com).
SMU is coming off a 35-12 win over North Texas in which the Mustangs were not nearly as clean as they were against Abilene Christian. SMU came on strongly in the second half en route to the win but it was a very messy first half from the offense that included five punts (two three-and-outs), two interceptions and a fumble. Aside from the massive 62-yard Rashee Rice touchdown that finally got the Mustangs on the board, SMU averaged a miserable 3.2 yards per play in the first half."You go back and you look, (we) turned the ball over three times in the first half, did some things that are pretty uncharacteristic for us," head coach Sonny Dykes said. "Quarterback (Tanner Mordecai) turned the ball over a couple times tonight. The miscommunication down after we got the interception, turned it right back down to them on the goal line — that was a communication error." SMU was able to turn it on in the second half and ultimately wear UNT's defense down and hit multiple big plays in the game with touchdowns of 62, 58, 29 and 85 yards.Going forward, the foursome of pass-catchers at Mordecai's disposal is going to be a real problem for SMU's opponents. There have been issues with drops, but Danny Gray is an elite big-play threat and has game-breaking speed — see the impressive burst he showed on his 58-yard score. Rice has continued to progress, and we have yet to hear too much from Reggie Roberson as he works back from his injury. Tight end Grant Calcaterra is looking more and more like a serious red zone weapon for Mordecai, and it is just the beginning. Once Roberson rounds into form, this offense is going to have some serious firepower.On top of that, the early returns on Jim Leavitt's defense are very good, after SMU held UNT to just 12 points, 5.2 yards per play and 22 percent on third down. It has been against two inferior teams, but so far so good for the new defensive coordinator. Seeing this early progress leading up to much tougher tests down the road is quite encouraging.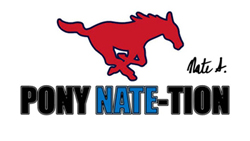 (photo by latechsports.com).
Now the Mustangs head to Ruston, La., to take on Sonny Dykes' old team: Louisiana Tech. Dykes enjoyed a lot of success with the Bulldogs, winning a Western Athletic Conference championship and a WAC Coach of the Year award before bolting for California. Louisana Tech may not be a very good football team, but the Bulldogs' games have certainly been entertaining. LaTech had a 34-14 fourth quarter lead in Starkville against Mississippi State but blew the lead and lost in heartbreaking fashion. The Bulldogs then turned around and won in a wild 45-42 shootout with Southeastern Louisiana.There are many connections in this game that make it interesting. Dykes had his first head coaching gig in Ruston, and was succeeded in 2012 by current LaTech head coach Skip Holtz, who has gone on to build a very nice program that has won a lot of games over the years. LaTech quarterback Austin Kendall also has a strong connection to Mordecai: the two were teammates at Oklahoma prior to Kendall's transfer to West Virginia.Dykes was very complementary of Kendall. "When you put the film on, you just see a good football player. You see a tough guy that goes out there and is talented," he said. "What I like about him is he's got some grit to him. He's just one of those tough-minded quarterbacks that's going to find a way to get things done and a way to move the team and score points and be successful. At the end of the day, that's really a quarterback's job."LaTech's offense will be a good test for an SMU defense that is off to a strong start. The Bulldogs are averaging about 408 yards per game and a bit under 40 points per game. Kendall spreads the ball around to his receivers, but his main three receivers appear to be Bub Means, Smoke Harris and Tre Harris. La Tech's lead runner is senior running back Marcus Williams who a few outlets had as preseason First Team All-Conference, but he is off to a bit of a slow start, averaging just 3.9 yards per carry.But what has carried La Tech through two games is takeaways. The Bulldogs already have racked up seven takeaways through two games, and defensive back BeeJay Williamson earned Conference USA Defensive Player of the Week honors after a two-interception performance against Southeastern Louisiana. The key for SMU will be ball security because taking the ball away is about all this LaTech team has done well so far. Stopping the run has been fine for LaTech, but when it isn't taking the ball away, it is getting torched through the air for 432 yards per game and 8.1 yards per attempt.If SMU can take care of the ball, it will be fine against LaTech. One potential wild card is that amid the effects of Hurricane Ida, it is expected to be a muggy and rainy afternoon in Ruston. It's hard to say how much that will affect the game plan, simply because we don't know the weather yet or how severe it will be.Mordecai has had some turnover struggles and that is something Dykes harped on in his presser, and it will be very important against a team that has been great at turning the ball over. SMU is again a better team, but LaTech has shown the ability to make games entertaining and close. This will be a closer game than you think, but SMU will get out of Ruston with a win in Dykes' homecoming and head to Fort Worth 3-0.Nate's take: SMU 38 LaTech 24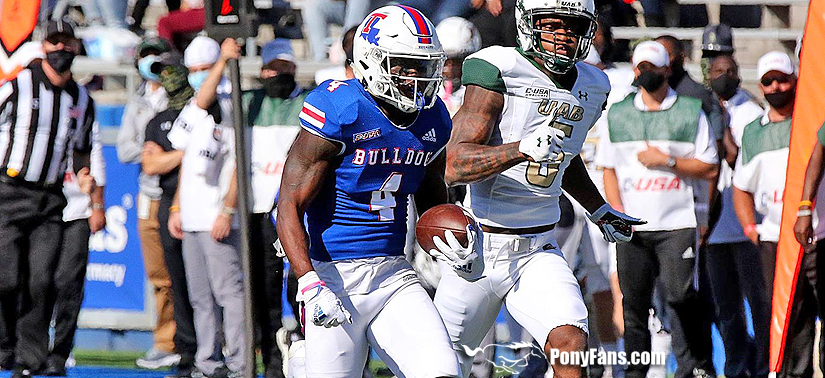 Cornerback BeeJay Williamson is the Conference USA Defensive Player of the Week after picking off two interceptions Saturday against Southeastern Louisiana (photo by latechsports.com).

Previous Story
Next Story

| | |
| --- | --- |
| | Mustangs host UIW Monday |

| | |
| --- | --- |
| | The most veteran players on SMU roster remember the last time SMU faced Louisiana Tech |