Meet the Mustangs: Harrison Thomas
Linebacker transferring from Army to play on the Hilltop
Posted on 05/11/2022 by PonyFans.com


In the era of the NCAA transfer portal, teams across the country will welcome more and more new players; among the newest Mustangs is linebacker Harrison Thomas (photo by SMU athletics).
PonyFans.com caught up with linebacker Harrison Thomas, who is transferring from Army to SMU. Thomas discusses his injury history, his second recruiting cycle, and the built-in connections he'll have on the Hilltop. Thomas was a sophomore at Army, but because of the covid waiver players receive, he said he has four years of eligibility remaining at SMU.
PonyFans.com
: Have you had any history of significant injuries?
Harrison Thomas
: I only have one significant injury in my career and unfortunately it was this past season: I dislocated my elbow pretty early into last season and resulted in the end of my season. Thankfully I have been blessed to be pretty healthy throughout my career other than this past season.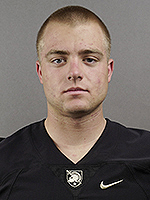 Harrison Thomas (photo by goarmywestpoint.com).
PonyFans.com
: What went into your decision to leave Army?
Thomas
: Being completely honest, leaving West Point was the hardest decision in my life. A lot factored into my decision into leaving Army. It really came down to how I want my life to look really in the next 20 years. The past two years at West Point I have made so many amazing friends — people that I will continue to be friends with my entire life. Also the coaches — I became really close with especially the first-class strength coaches I have met at West Point have taught me so much as a player and a man. (Strength and conditioning) Coach (Conor) Hughes is one of those guys who … every conversation you have with him, you always pick up some form of knowledge or attitude from just being around him. Even the new guys that came in the spring were super-knowledgeable and a pleasure to be around. It just made my decision to leave so much harder than it already was. Ultimately it came down to two things: I needed a fresh start in my career and I wanted to change the my career path. I knew I wasn't going to be a 20-year career Army officer, and I wanted an opportunity to kick-start another career earlier, as well as continue playing the game of football at a great university.
PonyFans.com
: Coming out of high school, you had offers from Southern Miss and Youngstown State. How many options did you have this time? What other schools did you seriously consider?
Thomas
: After entering the portal I had several options pop up right away in some FCS schools. I also had some bigger-name options come up later in the week, but for me, my conditions for leaving Army needed to be for a great school, program and a community full of great people to interact with and accept me into their city.
PonyFans.com
: How did you and SMU find each other? Did you have a pre-existing relationship with any on the team or the coaching staff?
Thomas
: For me finding SMU was easy because the roots had already been set back in my junior year (of high school). I took a visit to SMU as one of a string of visits to Pitt, Army, Georgia Tech and Kentucky in the spring of my junior year. I believe this was when Coach (Rhett) Lashlee was the OC. SMU has always been on my radar as a potential place for me to be. My dad attended SMU for his undergraduate, my best friend currently goes there and now my little brother and my friend's sister will now be heading there in the fall to be a part of the class of 2026. So when I was given an opportunity to join this great program, I was extremely excited and knew that no matter what other options were available, this was the place I wanted and needed to be. I don't have any connections with any current players at SMU, but I look forward to meeting them all this summer and to get to work and prepare for next season.
PonyFans.com
: What criteria went into your decision that ended up with you heading to SMU? Was anything different in this recruiting process compared to when your first time around?
Thomas
: As I said a little earlier the three main things I was truly looking for, in order: No. 1, it had to be a great school — similar in academics and connections to West Point. I like the small-class aspect and really the accountability of needing to show up to pass the class. I also like that, in smaller classes, you will actually learn something instead of words being thrown at you with no context because then going to class is pointless. No. 2: I needed to be a part of a winning program and a program on the rise. Everywhere I have played I have been a part of a successful team. No matter how talented a team is, they can not win at this level without a bunch of hard-working people coming together day in and day out and competing. That is the type of program I want and need to be a part of. No. 3: A close community who is willing to accept this kid from Florida into their city with open arms even though it might be two years late. After I made that list it was an obvious choice because to my knowledge SMU and Dallas are all of those things and more. It also did not hurt I now have several people close to me joining me there. That was just the icing on the cake for me.
PonyFans.com
: How similar are the systems you played in at Clearwater Central Catholic High School and Army, compared to the system you'll be joining at SMU?
Thomas
: The schemes I played at CCC and Army were almost exactly the same, with the exception of Army's scheme being way more advanced with some different packages. For me, SMU's new defensive coordinator (Scott Symons) is a mastermind in the fact that he can be so unpredictable with how he game plans for an opponent. He seems very flexible with different coverages and packages, depending on who he is playing on that given week. From the research I have done, he has had a very successful career so far, and it is still very early.As far as how similar it is to Army and CCC I would say it is pretty similar in regards to the front seven and gap schemes, but I couldn't give an answer in regards to how similar Coach Symons' scheme is until I get a chance to look at the playbook. Overall I am just excited to learn from him and the rest of the defensive staff and continue to improve as a player every day.
PonyFans.com
: Your high school highlight clips are full of quarterback sacks and big hits on the ball carrier, including many in the offensive backfield. What would you say you do best … or how would a coach whose team has to face you describe the way you play?
Thomas
: What I do best is definitely rush the QB — it has been really what got me to the level I am at. One thing Army has done for me is improve my ability to play the run. As far as off the field, I really pride myself on my IQ — it is what allows me to be flexible and really makes me stand out on the field. I am not the tallest or fastest person on the field, but I make up for it with superior effort and I really have made a career of that. Every coach that I have faced from high school to now knew that I was coming for all 60 minutes, and that I put in a lot of hours preparing for each game. So if I was preparing to play myself I would definitely be ready to have somebody going all out for 60 minutes and for him to know a lot about what we are trying to do as an offense. Super-excited to get down there and meet all of the great people in the program, University and community. Pony Up!

Previous Story
Next Story

| | |
| --- | --- |
| | SMU cornerback reviews spring practice, new defense, 2022 coaching staff |

| | |
| --- | --- |
| | Former forward/guard joins Rob Lanier's staff as graduate manager |