Catching on
Mustangs gear up for 2022 season with numerous passing targets from which to choose
Posted on 08/18/2022 by PonyFans.com

"Wide Receiver U."Since a parade of productive wideouts began appearing on NFL rosters when Emmanuel Sanders was drafted in 2010 by the Pittsburgh Steelers, some in and around the SMU football program have applied that moniker to the program that has sent numerous receivers to the professional ranks, a list that also includes Cole Beasley, Courtland Sutton, Trey Quinn, James Proché and, in the 2022 draft, Danny Gray.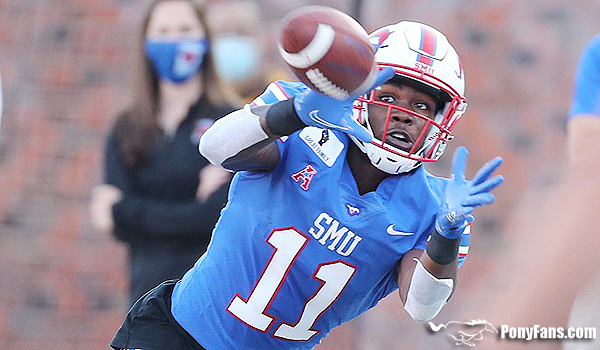 Senior Rashee Rice returns after a 2021 season in which he led the Mustangs in receptions, receiving yards and receiving touchdowns (photo by SMU athletics).
The SMU program has recruited and identified a lot of talented receivers in recent years, including some who did not end up playing on Sundays, and this year is no exception. First-year head coach Rhett Lashlee and his staff will lead a Mustang team that is stacked with talented targets for the passing game.A year ago, some viewed then-junior Rashee Rice as the "third receiver" on a team that also included Gray and Reggie Roberson. The 6-2, 203-pound Rice's 64 receptions, 670 yards and nine receiving touchdowns led all SMU receivers in each category; his 1,756 career receiving yards are good for No. 17 in program history, and his 15 career receiving touchdowns tie Rice with Ron Morris for No. 10 on the all-time list at SMU.New wide receivers coach Rob Likens said he knows what he has, physically, in Rice, but is at least as impressed by the way Rice has approached his senior season."What I have seen from (Rice) is his … trying to take that next step in his leadership, and that's going to be big," Liken said. "Obviously, when your best players, your most athletic guys are your best leaders, and all that stuff, then your team has a higher ceiling. I've been preaching (that to Rice) ever since I've been here, and I think I've seen him trying to make that step in that area. So that's a positive."If Rice is the "name" receiver in the group — the face splashed across the middle of an SMU football billboard over his hometown declaring Fort Worth as "Mustang Country" — he is anything but alone. Also returning are wideouts Roderick Daniels, Dylan Goffney, Austin Upshaw, Jordan Kerley, Calvin Wiggins, Jayleen Record and Beau Barker, as well as tight ends Nolan Matthews-Harris, Simon Gonzalez and Ben Redding — between them, the 10 accounted for 67 receptions, 740 yards through the air and another seven trips to the end zone.In other words, Lashlee, offensive coordinator Casey Woods have a slew of familiar names to call in the passing game … and even that doesn't paint an accurate picture of the targets available to quarterbacks Tanner Mordecai and Preston Stone. The 2022 SMU roster lists 22 players as wide receivers and 11 more as tight ends. In addition to the players returning from last year's roster, the Ponies have added a slew of talented freshmen, headlined by tight end R.J. Maryland. Lashlee and the SMU staff have worked the NCAA Transfer Portal to their advantage, welcoming four receivers — Beau Corrales (North Carolina), Moochie Dixon (Texas), Jake Bailey (Rice) and Teddy Knox (Mississippi State) — as well as tight end Kam Allen from Michigan State.Likens and Woods, who doubles as the Mustangs' tight ends coach, spent much of spring practice and the early portion of preseason camp simply letting the players show off what they can do."Spring training is completely different than fall camp," Likens said. "Fall camp is … you've got to identify within the first week, for sure .. OK, who are the guys that are going to help you in that first game, or, you think, into the season. And then you've got to narrow it down and get those guys most of the reps and start developing those guys to play and win for you in the first game."(We have) got a lot of guys out there. (The coaches are) just trying to distribute the reps and, you know, really trying to find out the transfer guys that showed up after spring training. Just trying to identify and see which one(s) of those guys (are) be able to help us this year."The coaches have the unenviable task of sorting out which receivers and tight ends will start games, which will get the most reps and who will be asked to fill what roles in the new Lashlee/Woods offense. PonyFans have gotten a look at the returning players, and the freshmen deserve the same learning curve that veteran players had. But what about the transfers?
Corrales
is entering his sixth season since graduating from Georgetown (Texas) High School. The 6-4, 211 senior played at least one game in each of the last five seasons at UNC — he had 36 appearances in five seasons — with a high of 13 in 2019, but battled injuries while in Chapel Hill. His best season was 2019, when he ranked third among Tar Heel targets in catches with 40, receiving yards (575 and receiving touchdowns (6).Corrales enrolled at SMU in January and took part in the Mustangs' spring workouts, getting used to his new quarterbacks, coaches and offense."Beau is kind of a specimen, really, the way he runs routes, the way he can body up with defenders," Mordecai said. "He's a really smart football player, he's aware of the space around him and how to fit in to those spaces. He's long, he's fast, he's strong — he's really strong. He's a lot stronger than he looks, just because he's long. He's really physical and he's a tough-minded football player, too."He can go up and jump for a ball better than anyone, so the windows get bigger, even when they're small, for him."Likens said Corrales's size gives him an obvious advantage over smaller defensive backs, and has better speed than many realize."The big thing for Beau is that Beau is a big body, so any time you have a big-bodied receiver, you expect him to make those contested catches," Likens said. "That's going to be his big deal on this football team. He has deceiving speed — he can run by people. However, when you're 6-3, 6-4, and you're over the 200(-pound) range, your specialty has to be contested catches, and you've got to go up and out-jump people. So that's the kind of thing that we're really focusing on for Beau, to bring to the table for our offense this year.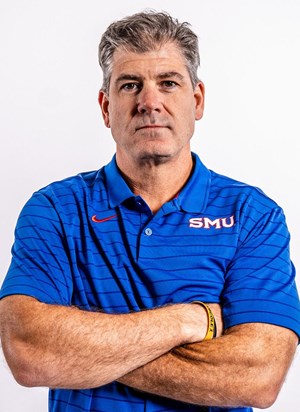 Wide receivers coach Rob Likens (photo by SMU athletics).
"I recruited him out of high school when I was at Arizona State, so I knew what he was about, and we really liked him, and then he chose to go to North Carolina. Then, when I got to Miami, it was COVID, so we would do nothing but sit at home and look at everybody else's film. So I had a chance to watch him play at North Carolina, and he was a problem for some defenses with his size and speed."The 6-foot, 185-pound
Dixon
is fast — really fast. In two seasons in Austin, he played in 15 games, starting one, and caught 15 passes for 176 yards and a touchdown — a 73-yard score in the Valero Alamo Bowl that was the longest reception ever by a UT freshman in a bowl game.The 5-11, 167-pound
Knox
is a little like Dixon — a flier who can get deep from an outside receiver spot or lineup in the slot. He played in three games last season that ended up as a redshirt campaign, returning a kick for 31 yards."Teddy and Moochie are extremely fast," Likens said. "They've got some great speed, and speed always helps you. It makes the defense back up, you know, and if we can get them to back up, we can do some things that we underneath, and we can have some big plays down the field, which is … that's what our offense does. We've got to create explosives, and it starts with the outside guys doing that."An argument can be made that
Bailey
was Rice's most dangerous offensive player in 2021, when he led the Owls with 56 receptions and 714 receiving yards, reaching the end zone twice. He had a reception in every game, stretching his career streak to 16 straight games with at least one catch and landed a spot on the watch list for the Paul Hornung Award, which recognizes and rewards versatile players who fill multiple roles for their teams."All three of them are extremely quick, so that's going to help us with our quickness phase, and we needed that," Likens said. "We needed some quick guys on the perimeter."The 6-5, 230-pound Allen redshirted in 2021, his first season in East Lansing after piling up 70 catches for 1,185 receiving yards and 13 touchdowns in just 28 varsity games at North Forney High School.Overall, Likens said he relishes the challenge he, Lashlee and Woods face in figuring out how to use all of the weapons available to them in the passing game."Obviously, we helped ourselves athletically, and speed-wise — there is no doubt about that," Likens said. "So that's exciting, but now we've got to get to the point where … are we going to be able to get them ready to play in that first game. There's a lot that goes in to it, obviously, with the development phase."

Previous Story
Next Story

| | |
| --- | --- |
| | Tanner Mordecai, Preston Stone give SMU coaching staff satisfying tough choice |

| | |
| --- | --- |
| | Sebazco scores game-winner as Mustangs win Nelson's debut |