PonyFans.com Preview: SMU opens AAC play at UCF
Game postponed until Sunday because of Hurricane Ian
Posted on 09/29/2022 by PonyFans.com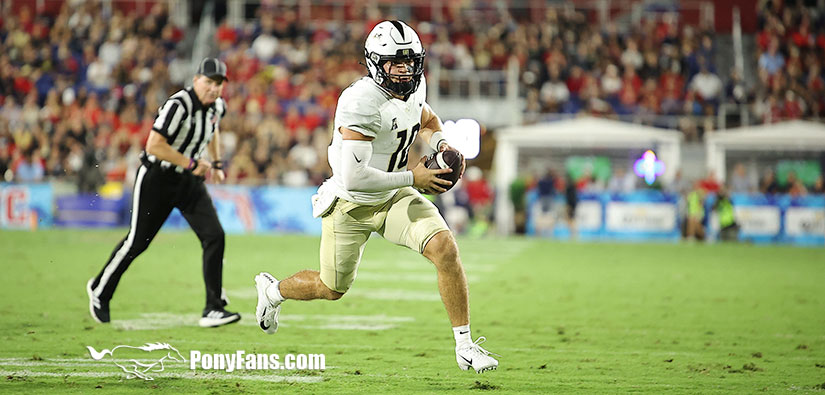 Quarterback John Rhys Plumlee leads the UCF offense through four games in both rushing and passing (photo by ucfknights.com).
The non-conference portion of the SMU season is over. The Mustangs head to Orlando — weather permitting — to face Central Florida at noon (Central time) SUNDAY in a game that was delayed by a day in the hope that Hurricane Ian will vacate central Florida in time to allow the Mustangs' plane to touch down and the game to be played.After four games, the Mustangs head east with a 2-2 record … but how much has been learned about the team? SMU rolled over inferior North Texas and Lamar teams, and then lost a pair of one-score games, falling by seven points at Maryland and by eight to TCU.After the loss in College Park (Md.), SMU head coach Rhett Lashlee talked about how the Mustangs needed to respond to their first setback and get ready for the Horned Frogs. Now they have to try to erase back-to-back losses in the most important game so far this year — Sunday's tilt against the Knights (3-1) will be the first American Athletic Conference game of the year for each team. UCF is one of just seven FBS teams to play five of its first six 2022 games in its home stadium; the Knights are 75-23 (.765) all-time in FBC Mortgage Stadium.Of course, it also is fair to ask how much can be determined after four games about the Knights. Are they the team that was outgained by nearly 100 yards in a 20-14 home loss to Louisville? Are they the runaway train that wrecked South Carolina State, 56-10, and Florida Atlantic, 40-14, before getting Georgia Tech coach Geoff Collins fired after a 27-10 win over the Yellow Jackets?For the second week in a row, the Mustangs will face a team led by a coach who is more than familiar with Lashlee. Last weekend, the Ponies faced TCU, which of course is coached by Lashlee's former boss at SMU, Sonny Dykes. This week, SMU will play against a UCF team coached by Gus Malzahn, who was the Arkansas Razorbacks' offensive coordinator and wide receivers coach when Lashlee played for the Hogs.Lashlee that he prefers coaching against people with whom he does not have a personal history, but has done it enough times that the more important subplot to Sunday's game is the fact that it is against an American Athletic Conference opponent."We've coached against people we've coached with," Lashlee said. "It's not the first time I've gone against Gus on the other sideline — I did it once as a player, I did it once when I was the OC at Samford (in Birmingham, Ala.) — so I've done it enough in my career (that) it's not weird. (I) don't like playing friends, I don't like playing people I care about, but that's part of it. They're going to want to whip us, we're going to want to beat them. It's the first conference game.SMU defensive coordinator Scott Symons said he has been disappointed that the Mustangs' defense was inconsistent the last two weeks, allowing 38 and 457.5 yards per game against potent Maryland and TCU offenses, but that the talent is there to do the job. The defense was well-prepared, and when the performance gets more consistent, the desired results will follow."We've got to collectively execute at a higher level," Symons said. "Was there any similarity between the two offenses? No, and there won't be any similarity this week — this week's a little bit different. So I just think, overall, we've got to keep understanding that it's Year 1 in the system. It's frustrating for me, because I know what we're capable of the level I think we can play at, but I just want to see our guys executing."We played hard — we just started out sluggish. When you play good football teams, and you don't execute, you don't leverage the ball and tackle well, those situations occur."Malzahn-coached teams are known for potent offenses, and this year's UCF team is no exception: the Knights are averaging 34.25 points and 482.5 yards per game through four games.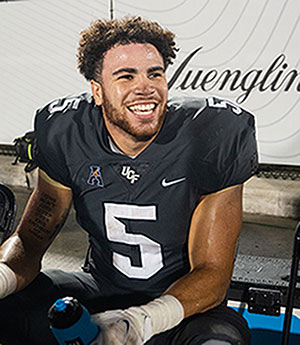 Running back Isaiah Bowser added a power element to the UCF backfield after transferring from Northwestern (photo by ucfknights.com).
Leading the Knights' charge is quarterback John Rhys Plumlee, a 6-foot, 200-pound senior who transferred to UCF this year from Ole Miss where he played … as a wide receiver. Through four games, he has completed 58 percent of his passes for 206.8 receiving yards per game. He also is the team's leading rusher, with 69 carries for 404 yards on the ground, for a healthy 5.9 yards per carry. He has reached the end zone four times as a runner, and has overcome three interceptions with five touchdown passes — four of which came in the Knights' 56-10 laugher over South Carolina State.The top running back is grad student Isaiah Bowser, a 6-1, 220-pound transfer from Northwestern who has 69 carries for 228 yards and five scores.The top receiving target is Javon Baker, the 6-1, 208-pound junior who transferred from Alabama and leads the Knights with 18 catches for 257 yards (14.28 yards per catch) and a pair of touchdowns. Senior receiver Ryan O'Keefe (5-10, 175) — of Austin Texas — has 15 carries for 136 yards. Backup running back Johnny Richardson (5-7, 170) is the third Knight with double0-digit receptions: 10 catches for 61 yards and a score. "We've got a great opportunity this week," SMU defensive coordinator Scott Symons said. "(UCF) is maybe the best offense we've seen. They've got a quarterback who I think had 125 [actually 110] receiving against me last year, when (cornerbacks) Coach (Rickey) Hundley and I played against him. I mean, he torched us (when Plumlee was) at Ole Miss. He can really run, and now he's playing quarterback."They've got a downhill running back that can hit it for 20, and they're perfectly happy with him hitting it for four and five. They've got a speed back, they've got jet-motion guys. We'll get the fly sweeps, all the jet tosses — all that kind of stuff … and No. 1 (Baker) is maybe the best receiver we have seen, the transfer from Alabama."For all of their weapons, the Knights present another challenge to the Mustangs: speed."UCF's team speed is unbelievable," Lashlee said. "I don't know if we'll play a faster team this year — Lord, I can't imagine it — because they've got guys everywhere on both sides of the ball that can absolutely fly. So we're going to have to do a good job on defense containing that, and on offense trying to match that, and on special teams, as well."The UCF has been downright stingy, allowing just 13.5 points per game and ranking first nationally in Red Zone defense. As he is with Malzahn, Lashlee is personally familiar with the architect of the Knights' defense: defensive coordinator Travis Williams."I've got a lot of respect for Travis Williams, too," Lashlee said. "He and I were fortunate enough to win a national title together, as well. But other than that, it's … the players are going to play the game, and we're going to do everything we can to win."I see (Williams') DNA and his personality, which is … if you're a coordinator, you want your offense, your defense to take on your personality. Travis was a great player in '04 at Auburn, on that undefeated team in 2004. Played in the league for a bit… I know every player on that defense loves him. They play hard, they play fast. They're giving up less than 14 (points) a game, they have not given up over 20 yet, they have the No. 1 Red Zone defense, because that's Travis's personality. You get down in there … he's a fighter, he's got a lot of passion and those guys have bought in to that."UCF is allowing 146.8 rushing yards per game — barely over half of what the Knights' offense has generated (275.8 per). Operating out of a 3-3-5 base alignment, the Knights are led on defense by linebacker Jason Johnson (6-2, 224), a transfer from Eastern Illinois who has a team-high 32 tackles, including one tackle for loss. Fellow senior linebacker Jeremiah Jean-Baptiste (6-2, 230) is next, with 19 tackles, with 3.5 tackles for loss and a sack.Safety Quadric Bullard has 14 tackles, including two tackles for loss, a forced fumble and a team-leading three passes broken up.Lashlee said the Mustangs' morale is high after the Maryland and TCU games — contests the Mustangs' first-year head coach said he thinks his team had opportunities to win."Our guys believe that not only do we belong, we can win," Lashlee said. "So I think there's a lot to be said for that, especially getting into our league (games). Every game's going to be a one-score game, just like it's been the last two weeks. So we've just got to find a way to get over the hump and win one of those. But I have just as much confidence in our team now as I did before we went to Maryland. "We are beat up. I think this is the first time since 2018 that we've had two opponents like that as non-conference — before you get into conference. So we've got to find a way to go on the road Sunday and get a win. I think we'll heal up, and we've got a chance to make a run."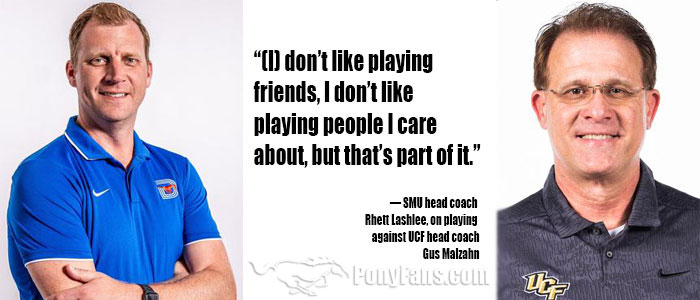 SMU head coach Rhett Lashlee played for a year under current UCF head coach Gus Malzahn, when Malzahn was offensive coordinator at Arkansas (photo by ucfknights.com).

Previous Story
Next Story

| | |
| --- | --- |
| | Ponies open AAC play Saturday at UCF |

| | |
| --- | --- |
| | Freshman forward scores 3 on first 3 shots |