Hail to the Redskin
Aldrick Robinson eager to kick off NFL career after getting drafted by Washington
Posted on 04/30/2011 by PonyFans.com

A couple of weeks before the just-concluded NFL Draft, Washington Redskins head coach Mike Shanahan called SMU head coach June Jones and discussed wide receivers Shanahan was considering drafting, including SMU's Aldrick Robinson. "I think that conversation to June solidified (Robinson's) position to the Redskins, what his role would be, how he could help that team," SMU wide receivers coach Jeff Reinebold said. "It's so critical, when you're a young player, to have someone like that who believes in you. Mike Shanahan coached against June — they're colleagues, if you will — so when June tells him this guy can play inside or play outside, he can make vertical plays downfield, he can play special teams … that meant a lot. (Shanahan and Jones) competed against each other, and they have tremendous respect for each other. That phone call was critical."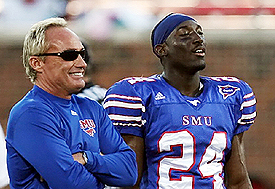 Aldrick Robinson is the second player that SMU wide receivers coach Jeff Reinebold has sent to the NFL in the last two years (photo by Travis Johnston).
That phone call between Shanahan and Jones led to another call — this one from SMU wide receivers coach Keenan McCardell to Robinson."He asked me, 'Do you want to be a Washington Redskin?'" Robinson said. "I had been waiting (for a call from an NFL team), and when it came, I just told him how excited I was. For an organization like the Redskins to think enough of me to draft me … it's an honor."Reinebold said he thinks the Redskins are a perfect fit for Robinson."I think it's encouraging for him to go to that system," Reinebold said, "because Mike Shanahan, in the past, has had some small wide receivers. He's a coach who is going to take advantage of the things Al brings to the table. He doesn't have to go in and be a first or second receiver right away. If you go back to the time when (Shanahan) was coaching in Denver, he had guys like Al — smaller guys who were very fast and made plays. Coach Shanahan has always taken advantage of guys like that, and it's good for Al to go to Washington, because they're sort of going through a changing of the guard, getting younger and more athletic."The Redskins are a perfect spot for Al. You look at that organization, with all that history, all that tradition, that incredible facility they have up there … and you know (owner Daniel) Snyder is not afraid to spend money, because he obviously is committed to winning. Al is going to an organization that is going to give him every opportunity to be successful."The Redskins' top two receivers at the start of the 2010 season were former second-round pick Devin Thomas and veteran Santana Moss. Thomas was cut after four games last season, and Moss, who will turn 32 years old in June, is a free agent. Robinson said he was encouraged by the fact that there might be some openings for new receivers in Washington, but acknowledged that he has been guaranteed nothing."I'm not the only receiver they drafted," Robinson said of the Redskins, who also chose Leonard Hankerson of Miami in the third round and Niles Paul of Nebraska in the fifth. "I'm going to have to compete, just like always. They're looking for someone to step up."I can do a lot of things, and I'll do whatever they want me to do. I'll return punts, I'll return kickoffs, I'll play gunner … if they ask me to do it, I'll do it.""They wanted a bigger guy, and Hankerson fits that bill," Reinebold said. "But I think they also wanted some explosive guys, guys who can make plays downfield, and I think Al, if you line him up in the slot against a nickel back, he can make those plays."Robinson admitted he was a little surprised that it was the Redskins who ended up choosing him."I believed other teams were more interested," he said. "I got a call from Miami (Saturday) before (the third day of the) draft even started. They said they liked me, but they ended up with Edmond Gates (of Abilene Christian). And I was texting a scout from the Bears throughout the day — he was telling me to be patient, but I thought that's where I might end up."Instead, Robinson finds himself gearing up to play for a position coach who should be open to the idea of giving a late-round draft pick a legitimate chance; McCardell was drafted by the Redskins in 1991 … in the 12th round."There's another lesson there for Al," Reinebold said. "Keenan McCardell was a player's player. The draft is only seven rounds long now — he wouldn't have even been drafted now. (McCardell) was a hard worker, a very conscientious guy, an attention-to-detail guy. That's what Al's going to have to do — demonstrate work habits, attention to detail … things he has worked so hard at with us.
Robinson will play for Washington wide receivers coach Keenan McCardell, himself a late-round draft choice of the Redskins 20 years ago (photo by Washington Redskins PR).
"Some of the questions I got leading up to the draft were things like, "how well does he learn?" People didn't realize that's one of his strengths — he is extremely intelligent. The first year we were here, we'd go into meetings, and he'd never pick up a pen. But then we would go out on the field and he would never make a mistake. He's able to absorb and process information a lot faster than most people. June has worked a lot with him on how to be a pro, and that includes working at it and also showing that you're working at it."Reinebold said that Robinson's willingness to study and work at his craft is not unprecedented."Last year, a scout told me that Emmanuel (Sanders) was the most advanced wide receiver he scouted, and this year, I had the same thing said to me about Al," Reinebold said. "One reason June has had so many players in the league is that he teaches the difference between knowledge and understanding, and the fact that you have to have both. Al has both. I'm biased, of course, but when look at some of the guys who were drafted ahead of him, he is so much more advanced as a receiver, the way he runs his routes, the way he uses his hands, the way he sets up defenders. He has gone from being just a fast kid to being a pretty polished receiver."Whenever the NFL owners and players reach a new collective bargaining agreement, lifting the lockout and allowing the league to resume normal business, Robinson will have one benefit most rookies won't: a familiar face waiting for him with his new team. Former SMU teammate Shawnbrey McNeal is a member of the Redskins' practice squad."He called me to welcome me to the family," Robinson said. "We didn't talk about the coaches or the offense or anything — it was just a 'congratulations' call."Robinson also finds himself in the same division as another former teammate, Bryan McCann, who plays cornerback for the Redskins' most hated rival, the Dallas Cowboys. Robinson said he has not yet given much thought to the idea of going head-to-head with McCann, and said that confrontation between two of the Mustangs' fastest players in decades can wait until the lockout is lifted, even allowing that he would work out with McCann if the opportunity presented itself."It would be an intriguing battle," Robinson said. "We used to go at it in practice, but now, if we go at it, it's going to count. I'm going to be in Dallas until the lockout is lifted, so I'll still train with him — he's still my friend. "But when it comes to Sunday's, I'm going to have to give him the business."

Previous Story
Next Story

| | |
| --- | --- |
| | Mojica takes aim at placekicking job |

| | |
| --- | --- |
| | Davis taking necessary steps to build on breakout season |