Back under the knife
Zach Line undergoes second operation since end of his 2011 season
Posted on 02/20/2012 by PonyFans.com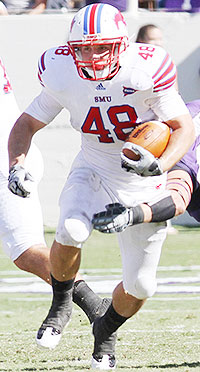 SMU running back Zach Line has led Conference USA in rushing in each of the last two seasons (photo by Travis Johnston).
SMU running back Zach Line underwent surgery last Thursday on his left shoulder. The procedure was the second in recent months for Line, who also went under the knife to repair a torn tendon in his toe."I separated (the shoulder) against Northwestern State," Line said. "I tore the AC (acromioclavicular) joint (at the top of the shoulder) in there. It was supposed to start feeling better, but it didn't. So I started getting a small cortisone shot to get me through games, and wore that Kevlar padding in my shoulder pads."After the season, it started feeling better, but as I was working out, it didn't feel that much better, and we decided I should get it fixed right. They went in and took out something — I forget what it's called, but they said it's kind of like the meniscus in your knee — and they cleaned out some scar tissue and bone spurs, and tightened up the AC joint. They only needed to make about a two-inch incision, and I should feel a lot better.Line said he has no intention of giving up the protection the Kevlar padding offered."I'm still going to wear the Kevlar," he said. "This was just to make everything stop hurting. I'm going to wear it in both shoulders."For the time being, Line has his left arm in a protective sling, and he is not doing any strength work on his left arm or shoulder."When I'm at home, I can take (the sling) off, as long as I'm not hanging the arm or anything," Line said. "I can rest it on the couch — things like that. But when I go anywhere, I wear it, just to make sure I don't make any sudden moves. Right now, I'm not allowed to do anything with it."Line said his rehabilitation for his toe injury is coming along well, enough so that "the trainers have to tell me to take it easy with the running," he said. But between the toe injury — for which the recovery time normally is around six months — and now his shoulder, he expects to sit out SMU's spring workouts for the third consecutive season.Line missed last year's spring workouts while recovering from a back injury. The year before, he sat out while recovering from a pair of knee surgeries. Sitting out didn't seem to hold him back either year; in each ensuing season, he led Conference USA in rushing, but he stopped short of predicting another conference rushing title."I would never say something like that, because you never know what's going to happen over the course of the season," he said, "but I don't see why not."I should be cleared from both (injuries) at about the same time, in the start of April, or mid-April. But I won't be able to do spring ball, because (SMU's medical staff wants) to be really careful, especially with the foot."While missing spring workouts doesn't seem to hamper Line's preparation, he said that the team's young running backs will benefit from his status as a talented-but-stationary observer."It's good for the younger guys to get their reps," Line said. "I do a lot of summer training, and when I do, it's pretty intense. So this is like a total-body shut-down that I seem to be doing once a year. I shut it down, let everything heal and then tear it down again in the fall."
Line said he is looking forward to getting his injuries behind him and being 100 percent ready for his senior season (photo by Travis Johnston).
In years past, Line has returned home to Michigan for part of the summer to visit his family and train for each upcoming season. Whether he will return home this summer remains up in the air. He said he wants to land an internship toward his sports management major, and if that keeps him in Dallas for the summer, he'll do his training under the Texas sun.Before then, however, Line said he'll help his young teammates throughout spring practices … but has no designs on stealing running backs coach Wes Suan's job."Hopefully they'll put me on the payroll," Line said. "No, I don't want Coach Suan's job. He's a great coach, and I'll just be his clean-up guy. He's always having fun out there, so I guess he can make fun of me."But I think the younger guys like having me out there to learn from. When I practice, I kind of practice for myself. With me out there, but not getting any reps, I can see some things you can't really coach. Hopefully I can help them while these things get better."Line acknowledged that he could have waited on his shoulder surgery, but said there was no reason to do so."I wanted to get it done and have all summer to get my body right," he said. "Next season is my last season at SMU, and I'm going to be 100 percent."

Previous Story
Next Story

| | |
| --- | --- |
| | Jones hails 2012 class for size, speed |

| | |
| --- | --- |
| | Defensive end expects to be ready for spring workouts |