Eager to stake his claim
Richardson ready to prove coaches, teammates right with their praise
Posted on 05/29/2012 by PonyFans.com

Cornerbacks are, by necessity, supremely confident players. They have to be. Like a pitcher in baseball who has to be able to forget a mistake that gets deposited over the wall in center field and get the next batter out, a cornerback has to believe he can shut down the receiver in front of him at all times. If his man beats him to catch a pass, the cornerback has to know he's going to make the play the next time the ball comes his way.SMU cornerback J.R. Richardson fits that mold. When the sophomore-to-be emerged from the locker room after one of the Mustangs' spring workouts, he and fellow cornerback Kenneth Acker exchanged some friendly jawing. Acker informed his younger teammate that if he (Acker) played wide receiver, he would catch plenty of passes on Richardson. On the contrary, Richardson countered, Acker would get shut out without a single reception.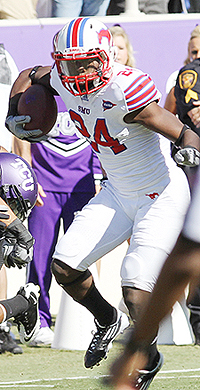 J.R. Richardson was a special teams standout as a true freshman, averaging 21.3 yards on 26 kickoff returns (photo by Travis Johnston).
The truth in such a scenario likely will never be known, as the SMU coaches are pleased enough with Acker's performance in the secondary that the chance of him moving to offense has to be miniscule. But the verbal exchange between the two underscores the confidence of Richardson, despite the fact that he had to swallow a healthy dose of reality in his first year on the Hilltop. As a senior in high school, Richardson fully expected to walk on to the field at SMU and stake his claim to a significant role in the Ponies' secondary."My mindset had to change a little," Richardson said. "I came in with the intention of playing my freshman year, playing right away. But we had Acker and Richard (Crawford). They were the starters, and they should have been."Richardson stood out on special teams, averaging 21.3 yards on 26 kickoff returns, but he understandably didn't like being a backup, so he talked with veterans like Crawford, Acker and Chris Castro, getting their opinions on what he did well, and in what areas he needed to improve.He still talks to his teammates — or maybe it's
at
his teammates — but his confidence in his own ability. Receivers who line up across from him enter what he refers to as "Richardson Island." He admits the name is "a little too generic," but the meaning is clear: receivers are outsiders who have no right to the ball when it's thrown in that direction."That's the way I draw the line," Richardson said. "I talk smack, but on the field, I talk smack with my play. I'm not that chirpy on the field."That a freshman backup has a high opinion of his ability is not uncommon in any sport. But in Richardson's case, it doesn't appear to be a case of a youngster with an over-inflated opinion of his own skills. SMU coaches and teammates have said Richardson has the potential to be "special" — perhaps even better than the two SMU alumni now playing in the NFL: Bryan McCann and Sterling Moore. They're quick to point out that he's not there yet, but the talent is unquestionable.Some of it was evident in his work on special teams. The 5-foot-9-inch Richardson, who said he is now up to 184 pounds, is among the fastest pure sprinters on the SMU team, with the ability to run with just about any receiver. He has very good balance, vision and body control, and can adjust to the ball when it's in the air, and he is far more physical than many assume when engaging with receivers at the line of scrimmage."My outside jamming ability is pretty aggressive," Richardson said. "I've been like that since I was little."Richardson makes no secret of the fact that he didn't like waiting his turn, but said he learned while watching his older teammates, and thinks he will be better in the long run for it."Acker got his shot last year, and now, hopefully, I'll get my shot," Richardson said. "We don't really play the same game — I'm more of a bump-and-run guy. If we end up starting next year, that gives the (opposing) quarterback two different kinds of players to think about."For the time being, Richardson relies more on his speed than anything else in coverage, but is intent on becoming more physical as he matures, both physically and as a player."I have been working on throwing my body into (a receiver) and using my technique to be in better position and make better tackles," Richardson said. "I didn't use that technique enough in high school, but at this level, you have to. One thing I know is how to get in the right position. If you're going to make the tackle, you have to be in the right position."Making plays with such aggression requires the aforementioned level of confidence Richardson and other cornerbacks need, a characteristic he sees in ample supply in the NFL player he admires most: Denver cornerback Champ Bailey."He's big (Bailey is listed at 6 feet and 192 pounds), but he's my idol," Richardson said. "I just like the way he plays. He has almost Deion (Sanders)-like 'swag.' He can ball, he knows it, and when you watch him, you know it, too."How good Richardson becomes remains to be seen, as his career on the SMU defense really is getting started now. But he spent the spring workouts working across from Acker with the first-team defense, and if his performance in April is any indication, the tools are there for him to make a significant positive impact on the SMU defense.

Previous Story
Next Story

| | |
| --- | --- |
| | Former SMU wideout confident he'll exceed measurables in NFL |

| | |
| --- | --- |
| | New men's basketball coach shares initial impressions of 2012-13 Ponies |