Free to start fresh again
Legal hurdles behind him, Brandon Henderson returns to SMU football team
Posted on 06/20/2012 by PonyFans.com

Summer is a time of anticipation in college football. Fans eagerly await the upcoming season's games, coaches focus on workouts in which they will be able to evaluate players in an effort to create lineups and a depth chart and players look forward to playing games that might vault their teams to championships.But the start of the football season is not all idyllic for the participants. Before the fans fill in the seats and bands start playing, the players and coaches have to go through summer conditioning and preseason workouts. Around the country, such workouts are carried out in oppressive heat. In Texas, relief from the heat is non-existent.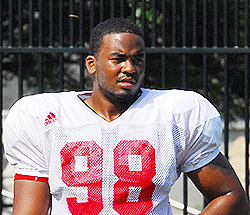 After being arrested, linebacker Brandon Henderson thought his football career — and perhaps his status as a free man — was "pretty much done for." (photo by PonyFans.com).
But at least one player is looking forward to getting back to work with his teammates, stretching his limits in the weight room and pushing himself through sprints in the unending heat. In fact, Brandon Henderson might be looking forward to the upcoming season as much as — or perhaps more than — any player in the country.Henderson was part of SMU's 2009 signing class, a group that included a quartet of athletic linebackers with promising futures. He, Ja'Gared Davis, Byron Brown and Taylor Reed all got on the field as true freshmen, playfully telling linebackers coach Joe Haering, "we're your future."Shortly after the start of his sophomore season in 2010, however, Henderson received a call from SMU director of football operations Randy Ross that started a series of events that made football the last of Henderson's priorities. "The Monday after we played TCU that year, I was coming over (to the Loyd All-Sports Center) to lift, and I got a call from Coach Ross as I was getting out of my truck," Henderson said. "He said I needed to go to the campus police station. I was thinking I hadn't gotten in any trouble, so I didn't know what it was about."When I got there, they had two Dallas police officers there waiting on me. They asked me if I knew anything about a situation in Abilene. I thought, 'a year and a half later, and this is surfacing now.' I thought it was all over, but obviously it wasn't."While a senior at Cooper High School in Abilene, Henderson had had a relationship with a girl he said he had known "my whole life, since I was six or seven years old. I had known her a long time." Henderson was 18 years old at the time, but the girl was 15 — under the age of consent in Texas. When her father found out, Henderson was charged with statutory rape. The fact that she gave three statements to police saying that everything that had occurred had been consensual, that Henderson had not forced her to do anything and that they had remained "on good terms" was irrelevant, because according to the law, she was not old enough to make that decision.Henderson was arrested in the SMU police station and transported to the Lew Sterrett Justice Center in downtown Dallas, where he remained for four days before his family bonded him out."I would never wish that upon anybody, unless they did something extremely bad to deserve that," Henderson said of his stay in jail. "I was in the 'general population' with about 15 other guys. The nights were long, and I'd wake up early. I wanted to go home."You kind of get to know the other guys in there. It's not like you're going in and being social — it's not that kind of deal — but when you're in there for that long with that many people, you end up talking to some of them. Most of the guys I was in there with were pretty friendly, but it still isn't anywhere you want to be. I'd wake up every morning at 6:00 and get breakfast, but I didn't eat for two days. You sit there confined like that and you just think all day."With nothing but time at his disposal, had plenty of time to ponder what lay ahead for him."I'm thinking, 'I'm pretty much done for,'" Henderson said. "I'm thinking there's no going back to anything. I'm thinking my name is ruined where I came from. All at once, it was like, 'I can't believe this is happening.' It was unreal that everything was taken away so quick.Once he was released, Henderson had more time to think, as the case took a year and a half to go to trial."I tried not to think about it, to go on with my life," he said. "But when you have that long, you can't
not
think about it. It was a very long time, longer than expected. They gave a date for a pre-trial (hearing), but they always re-set it."My lawyer said that in the best-case scenario, the case would be dismissed. In the worst case, I was looking at two to 20 (years)."Henderson said that since his initial conversation with the police at the campus station, he was as forthright as he could be, telling them everything he knew. In addition to the statements from the girl, saying that Henderson had not forced her to do anything, authorities had no physical evidence, no DNA. There was a chance, he was told, that his willingness to cooperate with the investigation and answer everything asked of him might end up putting him in jail.When the trial began, the girl didn't show up, having been incarcerated for her role in another crime. Her lawyer, Henderson said, "had nothing bad to say about me — it was almost like he was on my side. He was actually saying good stuff about me." Likewise, her grandmother testified on Henderson's behalf, standing up for his character.After the 18-month wait for the case to get into the courtroom, it only lasted 45 minutes. Considering his admission of what had occurred between himself and the girl, the outcome was good as Henderson could have hoped. He received four years of deferred adjudication (in which a defendant enters a plea of "guilty" or "no contest," but once the defendant meets certain criteria — the terms of probation — the charges are dismissed altogether). In addition, Henderson did not have to register as a sex offender.
MOVING FORWARD
Free to resume some semblance of a normal life, Henderson had to figure out what he would do next. He became a store manager at a tire and auto repair company. His girlfriend since high school, Taylor, stayed with him through the legal process, and their relationship has evolved and strengthened to the point that they are engaged to be married. "We have been together since high school, and she stuck with me the whole time," Henderson said. "I got myself in to trouble, and she had every right to leave me, but she didn't. She has completely changed my life around. It's a blessing to have someone who was willing to go through something like that. She could have said she was leaving, and she didn't. She's an amazing person.Henderson initially didn't think he would return to SMU or get back on a football field."My heart was still here at SMU," he said. "I love (head) Coach (June) Jones and the coaching staff, and I have really good relationships with a lot of people, but I was ready to hang it up. I figured it was just time to move on. I had that mindset for a while. The case was over in January 2012, but my mom actually wanted me to get back to football. The job where I was working was a really good job, and I was ready to start a new chapter of my life. Taylor and I were going to get engaged, and we were planning to move to Frisco. The whole thing was a big reality check."But then I'd go home and see my nephew play football. He was eight years old, and was doing really well, and I'd go watch him play, and he'd say, 'Uncle, when are you going to get back on the football field?' Until then, I hadn't even really considered playing again. I thought it was selfish to look for the chance to go back, but when he said that, I realized I missed football. I started to think I wanted to play again. I didn't think I'd have a chance to play at SMU again, but if not here, maybe I could play somewhere else. If I had the chance, this was always where I wanted to play."During his time away from the Hilltop, Henderson maintained his friendship with several teammates, including Reed."Taylor Reed had called me — we kept a really close friendship through everything," Henderson said. "What was so funny about it was that he called me one day and said, 'why don't you come back and play football?' I said, 'I don't know — I've got a good job. I don't know if I want to.' But then he called me again a week later. I started thinking about it, and when I saw my nephew, he asked again. 'Uncle, when are you going to play again?'"It's crazy, but just to get T-Reed off my back, I said, 'you know what? Ask (SMU defensive coordinator) Coach (Tom) Mason and Coach Jones if they want me back.' The next day, Coach Mason called and said, 'we want you back in here. We want you to come back and play.' Listening to that voicemail was unreal. I wanted to be where I love to be, which was playing football for SMU. To get another chance, to be able to get an SMU degree … I couldn't believe I was getting another chance to make that a reality."Mason said that Henderson's return makes the SMU defense better, this year and in the future."My judgement of Brandon is that he's a really good kid," Mason said. "I don't know the law and how all that works, but when he went through the legal system and it worked out the way it did, there was no question we wanted him back."I like his maturity, and he's definitely a team-first guy. We'll start working him inside, behind Cameron Rogers, but he's really a multi-position guy who also could play outside 'backer or defensive end for us, because he's a (heck) of a pass rusher. Plus, he makes our depth better, so it gives us the option of redshirting either Kevin Pope or Randall Joyner — they both played as true freshmen — so we could get another year of those guys and have more experienced, talented players for a longer time. We lose five linebackers (Reed, Davis, Rogers, Cody Worthen and Robert Parker) after this year, so his return really will help allow us to manage our roster and our depth over the next few years."After the initial call from Mason, Henderson got another call, this time from Jones."Coach Jones called and said he wanted to meet with me," Henderson said. "We had to get all of the necessary paperwork in to Coach Ross in the beginning of February. I got a call from the Dean of Student Life, who said I had to come meet with her, and I was so nervous. I didn't know if they were going to accept me back in. When she read me that letter, saying all of my restrictions were lifted and that I was free to resume classes immediately … I can't describe what that felt like. When she said that, it was a dream. It felt better than getting accepted at SMU the first time around."Henderson said the last two years have changed him, which is understandable. "I kind of have a different mindset now," he said. "When I first got here, I wasn't playing that much, and honestly, I didn't care that much. I mean, I loved playing football, but I was here to get my SMU degree. I still am — that's the most important thing — but I look at things differently now."When I came here out of high school, I wanted to get to the next level, to the NFL. When I didn't play much right away, I sort of lost that dream. But when the dean said I could come back, I started working out harder than I ever have. I didn't want (coaches and teammates) to think I hadn't been doing anything. I didn't want to come in weak. I know I still want to play football — I don't want to sit on the sideline. I know I have to earn the chance to get back on the field, but I'm going to do everything I can to do that and give myself a chance to get to the next level."Henderson, who now carries a chiseled 235 pounds on his 6-foot-2-inch frame, said he will be among those backing up starting BUCK (inside) linebacker Cameron Rogers, who will be a senior in the fall.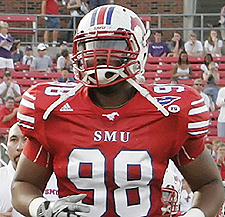 Henderson, who will wear jersey No. 52 in 2012, will start out at inside linebacker but also could play outside linebacker and defensive end (photo by Travis Johnston).
For that chance alone, Henderson is extremely grateful. He stayed in contact with some teammates while he was away from the team and SMU. He traded a few text messages with coaches, like when he offered his congratulations after the Mustangs' 2011 win at TCU. He cheered for his team, but usually from in front of his television, feeling that watching the games in person might be too tough to take.When he's not in classes (he has resumed his pursuit of a degree in applied physiology), Henderson now spends much of his time in the SMU weight room, working out with his former and future teammates. The two most important women in his life — his mother and his fiancée — remain his two biggest supporters."My mom … I truly believe my mom never believed I was done with football," he said. "She would always say she missed me playing. She said, 'you were really good.' She nagged me to get back to school, whether it was here or someplace else, and I'm glad she did. She has always believed in me and knew I could do more."Taylor was kind of like my mom. She wanted me to get back in school. She missed me playing football, so she's extremely excited that I'm coming back. She's a true football fan anyway, so for me to be out there playing again … she's extremely excited."Henderson knows that before he runs on to a field again, before he records another tackle, there is work to be done. Most of the Mustangs will spend the summer grinding through long workouts in the weight room and churning through sprints in the blistering summer heat. "I'm not excited at all," he said, laughing, when asked if he's looking forward to summer conditioning workouts and the two-a-day workouts that await in August. "But coming back in, I have a whole different mindset. If that's what it takes to get me back on the field, gets me back where I need to be, I'm ready. So in that sense … yeah — I'm excited."I haven't been watching film yet, because the coaches have been out of the office, recruiting all the time. I'm studying the playbook, though, and honestly, I remember most of it, the majority of it. I'm going over it to get the cobwebs out, and once we start working in practice, it will all come back.""Brandon is a smart kid and a smart football player," Mason said. "Coming back means he's going to play football again, but it also means he's going to get his college degree. That's really what coaching is about."Henderson makes no secret of the fact that he wants to play, and play a lot. He wants to start at SMU, and he wants a chance to play professionally. Whether those things happen remain to be seen, of course, but now he is pursuing his goals with a new perspective because of the events that have shaped his life over the last year and a half. And while his journey away from SMU and through the legal system has altered his approach to football and to school, Henderson said it also has helped strengthen his relationship with his fiancée."It has definitely been a big reality check," he said. "Coming out of high school, you feel like you have the world in your hands. Girls are always going to be there, and I slipped up and made a mistake — a mistake that I'll never forget for the rest of my life. You do something like that, and come that close to going to prison, and you realize how quickly something can be taken away from you. It has made me more humble, more cautious. Because I'm on probation, there are limitations to what I can and can not do, and I'm never going to put myself in a situation that gets close to that line I can't cross. "It has also made our relationship stronger. I respect Taylor as a woman a lot more, because she could have easily packed her bags up and (left), but she didn't. She took some criticism for sticking with me, but she's still there today. It has shown me what I have in her, how lucky I am to have her."His return to the field in the fall will mark a new beginning for Henderson, who will resume playing in a jersey number. He said he didn't want to wear his original number, 98, in the first place. (He wanted 99, but defensive end Marquis Frazier already had it.) Saying he wants to "perfect his position," he admires three NFL linebackers … and realizes San Francisco's Patrick Willis, Baltimore's Ray Lewis and Green Bay's Clay Matthews all wear the same number. As he tries to follow them to the NFL, Henderson will take the field this fall wearing their number: 52."When I played before, I guess you could say I was a pretty hard hitter," Henderson said. "Coming back, I look at those guys and realize those guys are the kind of player I want to drive myself to be. That's why I work out so hard. I can bench (press) 385 now, and I'll do over 400 by the time the season starts. When I started working out again, I got good comments from the strength coaches. Some guys on the team went out of their way to say it looked like I'm working hard."I can't control what happens on the field. What I can control is working to get ready and practicing so well that I'll be ready when I get my chance, because you never know when a chance will be your last. When my chance comes, I'm going to be ready."

Previous Story
Next Story

| | |
| --- | --- |
| | New men's basketball coach shares initial impressions of 2012-13 Ponies |

| | |
| --- | --- |
| | Healthy again, Gottschalk ready to go after starting tackle position |