First line of defense
Ponies insist smaller stature doesn't mean reduced effectiveness
Posted on 04/18/2013 by PonyFans.com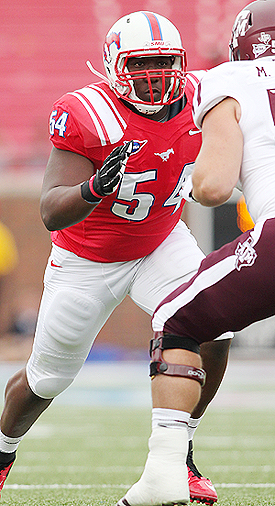 Darrian Wright said the 2013 defensive line could be deeper than its 2012 counterpart, and could stay fresh by rotating more players in and out of the lineup (photo by SMU athletics).
When assessing what the SMU defensive line will have in 2013, it's easy to succumb to the temptation of discussing what the line won't have next season. Margus Hunt … Kevin Grenier … Torlan Pittman … Spike Davis … they're all gone. The graduation of those four also means the departure from last year's team of 126 tackles, 22 tackles-for-loss, nine sacks and countless offensive linemen tied up so the Mustang linebackers could run free to the ball.Davis' ability to play defensive end or in the interior of the defensive line caused defensive coordinator Tom Mason to identify all four as starting-caliber players on his three-man defensive line. The quartet that just finished its tenure on the Hilltop was notable in several ways: size, strength, talent, experience and production. By those criteria, the 2013 replacements don't quite measure up … yet Mason says next season's defense could be as good as the last year's unit, and some of his players agree."I think he's right," defensive end Zach Wood said. "Every single one of us has been working his ass off. We know we're not quite as big as those guys, but it's all about effort and technique. We'll put out as much effort as anyone, and our technique is pretty good, too.""As a team, we work together to fill gaps," nose tackle Darrian Wright said. "It's not about size — it's about heart … and we've got that."The Mustangs' defense, like many that operate out of a 3-4 base alignment, is designed to have the linemen — especially the nose tackle — tie up offensive linemen so the linebackers can run free to make plays. Like his predecessor, Torlan Pittman, Wright said he relishes that role."I like it," he said. "I don't think it's something you can learn. It's part of my DNA, I guess. I've been playing this position since high school, so it's what I do. I do my job so others can do their jobs."I really like it. If you put me in the open field, maybe I'll miss a tackle. But put me in there, and if I take on two guys and one of my teammates gets a sack or makes the tackle … it shows the power I have and we (the defense) get off the field.""Darrian just does things right," Wood said. "He's stronger than you think, he has great technique and he works his butt off. He'll do whatever it takes to help the team win. It takes a certain kind of person to do that job in there, and he does it really well."The most visible difference in this year's defensive line will be just that — visible, as the unit will not be as physically imposing as last year's. Wright is close to the same size as Pittman, but at right defensive end, Wood is four inches shorter and about 15-20 pounds lighter than Hunt. At the other end, candidates Beau Barnes and Andy McCleneghen are about the same height as Grenier, but 15 or 20 pounds lighter. To compensate, and considering the fact that many of the offensive linemen they'll face each week are north of the 300-pound mark, Wood said the coaches might opt to rotate more players in and out of the lineup."We've got the effort and the technique and the heart," Wood said, "but when there's a big size difference like that, we could get gassed quicker (than last year's larger line) against big guys. So maybe we'll bring more guys in, to help stay fresh. Then it turns around on the offense: their guys might be bigger, but now we're too quick and have fresh legs."Coaches like to say that no starting roles have been determined, but it appears very likely that Wood and Wright will be in the starting lineup when the Mustangs kick off the 2013 season against Texas Tech. What remains to be seen is who takes over the other defensive end spot: McCleneghen or Barnes.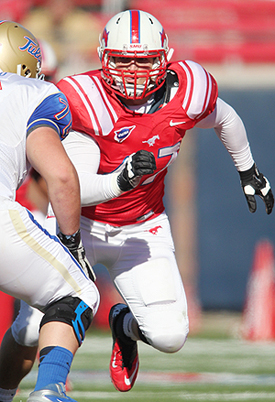 Defensive end Zach Wood recently set a new SMU record in the power clean when he lifted 352 pounds (photo by SMU athletics).
"I don't know," Wright said. "They can both play. Beau played more last year, but since he's been out this spring, Andy has stepped in and done a really good job. He's just as big as Beau (close: Barnes is listed at 6-5 and 240 pounds, while McCleneghen is listed at 6-6 and 255; although estimates this week had Barnes at more like 255 or 260, and McCleneghen is slightly heavier), and he goes hard all the time. I don't know who's going to start, but both will probably play. I'm comfortable with either one in there."Mason said this week that the nose tackle position — perceived by some to be a weakness after the graduation of Pittman and Davis — might end up being a strength for the Mustangs. If nothing else, the team has better depth in the middle than in recent years. In addition to Wright, who said he now weighs about 285 pounds and hopes to be 290 when preseason workouts begin in August (Mason said he expects Wright to get to 300 pounds), the Mustangs' defensive coordinator said he has been pleased with the quality he has seen in the middle of the line throughout spring."Darrian's going to be a 300-pound nose tackle, and he's a smart guy who has played in there before — he knows what he's doing," Mason said. "(Redshirt freshman backup) Nick Reed is as good an athlete as any of them, and he's just learning. (Freshman) Brian Cramer (who greyshirted the fall semester) is a lot bigger — I wasn't sure who he was when he came back. He has been working so hard and eating right — he looks great. And everyone wants to write off Gareth Riley-Ayers because he's not as tall as the others (Riley-Ayers is listed at 5-11, 285), but all he does in practice is make plays."Mason said that the reserves who will compete for playing time — a list that includes players like Elie Nabushosi, Cameron Smith, Spencer Conley and Jarrett Spencer — and the incoming freshmen make the position far stronger than many realize."Everyone thinks we'll be tiny up front because Margus Hunt is gone," Mason said, "but we won't be that small. If you line up Torlan Pittman, Darrian Wright and Nick Reed, 'Pitt' is the smallest of the three, by far. Then you look at the guys who are coming in next fall — Zelt Minor, Spencer Hollie, Mason Gentry, Justin Lawler … a couple of those guys will redshirt, but a couple of them might play as freshmen, and they're good-sized guys. Physically, they're there. If they can learn the defense, a couple of them could help us right away."

Previous Story
Next Story

| | |
| --- | --- |
| | Frazier signs, increases class to four |

| | |
| --- | --- |
| | Ponies host Texas Tech in 2013 opener |