PonyFans.com PRACTICE REPORT: Saturday, Aug. 17, 2013
Holman shines ... young OTs show promise ... much deeper secondary ... Hover increases distance
Posted on 08/16/2013 by PonyFans.com

•
OT Thomas Ashcraft
's movements were a little awkward on the line. In said afterward that he is not injured, but admitted to having "tweaked" his leg a little. He said he could play now, if needed, and insisted he'll be fine for the Mustangs' Aug. 30 season opener against Texas Tech.• Two of the younger tackles on the team,
Chauncey Briggs
and
Kris Weeks
, look like they are going to be really good players. They are very fluid when setting up the outsides of the pocket, they are strong and they keep their balance and position well. Between Briggs, Weeks,
C Taylor Lasecki
and
G Sam Rice
, the foundation is in place for a really strong offensive line for the next couple of seasons.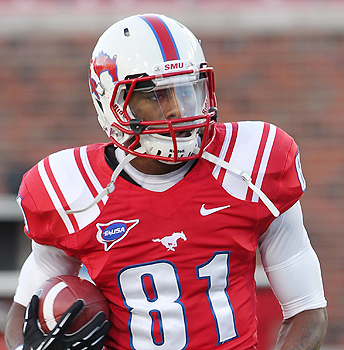 Head coach June Jones and WRs coach Jason Phillips both have said senior WR Keenan Holman has been among the most improved players in preseason camp (photo by SMU athletics).
• Backup
QB Neal Burcham
looked really good. For an inexperienced (at the college level) quarterback, he makes quick decisions and moves through progressions across the entire field. He throws a very catchable ball for his receivers and shows a lot of talent for the future.• With
RB Traylon Shead
out,
K.C. Nlemchi
saw a lot of time today and looked really good. Teammates have praised his improved intensity and focus, and his hard work on and off the field seems to be paying off.• During last year's fall camp, there were times when the best WRs on a given day were walk-ons. This year, the talent at wide receiver is much, much better. With a year under
WRs coach Jason Phillips
, an influx of really good freshmen and competition for starting positions has amped up the performance of the group a notch or two.• The biggest improvement at this point seems to be
WR Keenan Holman
, who is quicker and stronger, catches everything thrown his way and runs really sharp routes. Holman looks like a completely different player than last year.
Head coach June Jones
singled out Holman earlier this week among a handful of players who have had an exceptional preseason camp. Not only is he bigger and stronger, he seems better at doing a receiver's primary job: catching the ball. At one point Saturday, he ran a deep route down the right sideline. The DB shadowing him on the play reached out and grabbed his jersey before the ball arrived, twisting him away from the play (no officials means no pass interference flag), but Holman was able to rip himself free, twist around and find the ball to still make the reception.• Another huge area of improvement is at corner. A year after a season in which the secondary was decimated by injuries, the secondary position drills are now very crowded, with about a dozen players at the position. Much has been made of the height of some of the new defensive backs, but the sheer quantity of athletic players is impressive. Consider a roster that includes safeties
Jay Scott
,
Hayden Greenbauer
,
Shakiel Randolph
,
A.J. Justice
,
Darrion Richardson
,
Myles Crosby
,
Troy Castle
and
Adam Waheed
; and cornerbacks
Kenneth Acker
,
Chris Parks
,
J.R. Richardson
,
Horace Richardson
,
Ajee Montes
,
Jesse Montgomery
,
Trey Washington
,
J'Marcus Rhodes
,
Ty Law
,
Rodney Hubert
and
Blake Poston
… this is the deepest secondary in years. The quantity and quality of healthy athletes should allow
defensive coordinator Tom Mason
and
secondary coach Derrick Odum
to do more schematically than they have been able to do in recent years.• As the size and depth have improved, the practices have gotten more physical, especially for the first- and second-team defenses against the scout offense.• An example of the physical nature of the defense's practices: At one point, after a defender shepherded a receiver out of bounds,
defensive coordinator Tom Mason
yelled, "don't pattycake him — wrap him up!"• Everyone hears the axiom that offensive linemen should be redshirted and not play until later in their careers. It often is assumed that the philosophy is based on the desire to allow a player to develop size and strength. Veteran offensive linemen
Thomas Ashcraft
and
Ben Hughes
said, however, that the biggest adjustments for young players are are more mental than physical: learning the scheme and being able to read a play before it happens is the biggest challenge. An offensive line that works as a group can cover up for an individual player who gets beaten individually, but if a player on an inexperienced line blows an assignment, the players around him might not be able to cover for him, and that can wreak havoc on the offense.•
K Chase Hover
's leg seems to be getting stronger. Last week, he lined up after practice to kick a field goal of more than 65 yards, and while the ball drifted a little wide to the right, it looked like he had the distance. He hit one Saturday from 53 that was
just
long enough — hitting the crossbar and bouncing straight up before floating through the uprights. Hover then repeated the kick from the same distance, drilling the ball right through the middle with several yards to spare.• In seven-on-seven drills, the ball found its way into some opportunistic hands. On one play,
WR Jeremy Johnson
lunged to make a reception between two defenders, but in an effort to keep his balance, he reached one hand out toward the ground, and with two defenders tugging at his arm, the ball floated out … right into the waiting hands of
LB Randall Joyner
. Toward the end of practice, Joyner picked up
WR Marcus Holyfield
on a crossing route through the end zone. The pass was thrown behind Joyner, who reached back to try to make a one-handed interception … and in doing so, slapped the ball forward into Holyfield's hands.• One of the better passes during seven-on-seven drills was a pass from
QB Garrett Gilbert
to
TE/WR Jeremiah Gaines
about 15 yards downfield. On the surface, there was nothing spectacular about the pass, but Gilbert's touch was impressive, as he dropped the ball between two defenders to Gaines, who leaped to make the catch at the highest possible point. But the star of the play was
CB Chris Parks
, who stayed with the play, punching the ball free before Gaines came back down to the turf.• Maybe the best catch of the day came on an interception. Quarterbacks sometimes say they "didn't see" a defensive player who was hidden behind other players, and maybe that was the case when
QB Garrett Gilbert
fired a fastball on a 12-yard out route … only to watch
LB Stephon Sanders
make an impressive interception while running straight back (away from the line of scrimmage). Sanders looked almost like a wide receiver the way he made the grab over his shoulder.• If the interception by Sanders was the best catch of the day, the best overall defensive play of the day might have been turned in by
S Darrion Richardson
, who found himself chasing
WR Nate Halverson
on a route across the middle. When Halverson made the catch, Richardson went up and reached over Halverson's head to rip the ball free, snatching it before he fell to the ground.
PonyFans.com member JasonB contributed to this report.

Previous Story
Next Story

| | |
| --- | --- |
| | Deep-freeze 'sauna' designed to accelerate recovery |