Pony NATE-tion: Can Mustangs bounce back against UNT?
Nate says Ponies will seek revenge Saturday against Mean Green
Posted on 09/09/2015 by PonyFans.com

PonyFans.com is proud to welcome back, for his third season as a columnist, Nate, who is 14 years old, in ninth grade, might want to be a sports writer and knows more about football than a lot of people who already make their living covering sports. He will offer his thoughts and will preview each game throughout the season, looking at a key player, matchup or statistic that could prove relevant in each upcoming game … and explain why it will impact the outcome. Feel free to post comments and constructive criticism, ask him questions, and/or give suggestions for upcoming columns! (He can be followed on Twitter at @Pony_NATE_tion.)
___________________________________________________________________________________________________________________________First of all … wow. Yes, the Mustangs lost to Baylor by 35, but that score is so misleading. Baylor may have won rather easily, but these Mustangs surprised me … and it was a really pleasant surprise. Like the ESPN announcers said, SMU seemed fearless in the first half. The Mustangs seemed like they had no idea that they were playing No. 4 team in the land.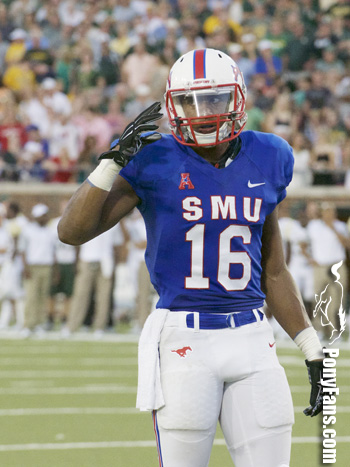 Redshirt freshman receiver Courtland had a dazzling 2015 debut with a pair of touchdowns against Baylor (photo by Pat Kleineberg).
The players were fearless in the first half, as was head coach Chad Morris with his offensive play calling. On the first play after the big 49-yard kickoff return by Braeden West, Morris called a deep streak to wide receiver Courtland Sutton, which was executed beautifully. Quarterback Matt Davis had a long time to throw and when the pocket collapsed, he made a mature step up in the pocket and delivered a perfect ball to hit Sutton in stride for the touchdown. When Baylor scored on its first drive, an inexperienced team would crawl into the fetal position and go away for the night — but not this team. The Mustangs fired right back and tied it up … and they did it again! Baylor scored quickly again, but SMU put together a fast-paced, but methodical drive down the field that lasted 13 plays and resulted in Xavier Jones' first career touchdown. I don't know who was more impressive in his 2015 debut, Davis or Sutton. Most would lean toward Davis, who gained a lot of respect from Mustang Nation as he took beating and even had to leave the game for a bit with what turned out to be a cramp. He came back in and was clearly still hurting. He also led SMU in rushing yards, too, with 115 yards on 24 attempts. Davis showed lots of leadership and threw the ball really well going, 16 for 23 with two touchdown passes. SMU played a great first half, but eventually the laws of physics took over and the bigger, more talented Baylor Bears pulled away for the win. But SMU played a great game and gave us some real signs of improvement and it was a really good start. Now on to the North Texas game. The Mean Green had an unusual Week 1 bye, so we don't really know what, exactly, will show up Saturday at Ford Stadium. North Texas went 4-8, but embarrassed SMU, 43-6. This definitely will be a revenge game for SMU. Because around here at SMU, its almost a set standard that we do not lose to North Texas.If SMU wants to go bowling this year, this is a must-win. If anyone is going to take SMU somewhat seriously, then they need to look down SMU's schedule at the end of the season and see a "W" next to the North Texas game.
Game plan:
North Texas gave up 161 rushing yards per game last season. The Mustangs ran the ball surprisingly well last week, so look for Morris to utilize Prescott Line and now the other potential rushing leader, Xavier Jones. Also, Davis needs to remain healthy if this team is to have a chance at success. Davis is the clear leader and the engine that makes this offense tick. North Texas did a decent job covering the pass, only giving up 207 yards per game in the air last season, but I get the feeling that Morris will throw that stat out the window and take lots of deep shots as he did last Friday. The key will be whether SMU can make stops and get its defense off the field. North Texas was a very below-average offense last year, so this is a good matchup for SMU. Look to see improvement in the secondary, after the defensive backs started their season with the huge test against Baylor.Nate's take: SMU 31 UNT 17

Previous Story
Next Story

| | |
| --- | --- |
| | Mustangs host UNT Saturday at Ford Stadium |

| | |
| --- | --- |
| | Mustangs dominate Portland but settle for scoreless tie |