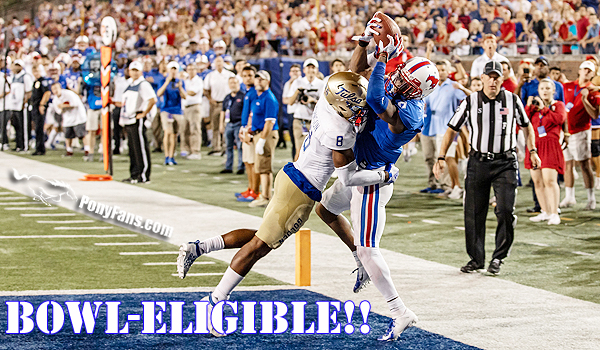 SMU Postgame Notes – October 5, 2019
[24/RV] SMU 43, Tulsa 37 (3OT)
SMU (6-0, 2-0 American), Tulsa (2-3, 0-1 American)
Gerald J. Ford Stadium – Dallas, Texas
NEXT GAME
Temple – Saturday, October 19 – Time TBD – Gerald J. Ford Stadium – Dallas, Texas
TV: TBD
Radio: TBD | TuneIn app | SMU Mobile App
TEAM NOTES
Captains: James Proche (#3, WR, Sr.), Shane Buechele (#7, QB, Jr.), Rodney Clemons (#23, S, Sr.)
James Proche caught 25 yard TD pass from Shane Buechele in the third overtime for the walk-off win
• Video:
http://www.espn.com/video/clip?id=27777034
SMU is 6-0 for the first time since 1982 (SMU is 11-4 in last 15 games). Best since starting 1982 10-0 start in 11-0-1 season.
SMU comeback of 21 points ties for 2nd largest in program history.
• SMU trailed 30-9 at the end of the third quarter. Scored TDs on its last three possessions of regulation to tie the game 30-30.
• This is the third overtime game for SMU in the past two seasons.
• Three overtimes ties for the most in program history (third time playing 3OTs)
Deficit Opponent (Date) Final Score
25 (25-0) at Baylor (11/22/75) 34-31
21 (21-0) at Baylor (10/14/78) 28-21
21 (28-7) Temple (10/26/13) 59-49
21 (30-9) Tulsa (10/5/2019) 43-37
SMU had 440 yards of total offense, 307 after halftime.
6-7 on fourth-down conversions (4-4 in the fourth quarter, 2-2 on fourth down on the last scoring drive of regulation and 1-1 in the first OT)
The Mustangs had 3 takeaways [3 interceptions], and have at least one takeaway in 17 straight games (35 total) with multiple takeaways in 11 of those games (entered the game T-3rd in NCAA FBS for longest active streak)
• Interceptions – Ar'mani Johnson (2) (returned first one for a 64-yard TD), Chevin Calloway
o First Mustang interception return for a TD since Jordan Wyatt (36 yds) vs UCF 11/4/17
http://www.espn.com/video/clip?id=27775560
SMU and Ohio State are the only teams that are 6-0 with all the wins over FBS teams.
James Proche had a TD reception for the fifth straight game. That ties for third at SMU and ties his career best.
• 11th career 100-yard game, 2nd this season
• 6th career game with 10 or more receptions, 2nd this season
SMU CONSECUTIVE GAMES W/ A REC TD
1 Aldrick Robinson, 2010 8
2 Emmanuel Sanders, 2006 6
3 Aldrick Robinson, 2008 5
Courtland Sutton, 2016-17 5
James Proche, 2018 5
James Proche, 2019 5+
SMU had a sack and 6 TFLs. Have 26 sacks this season (had 25 in 2018)
• Sack – Turner Coxe
Xavier Jones had two rushing TDs, has at least one rushing TD in every game this season (12 rushing TDs this season). Has multiple rushing TDs in four games this season.
• Tying game in 4th quarter
http://www.espn.com/video/clip?id=27776735
• TD in 1st overtime
http://www.espn.com/video/clip?id=27776901
SMU Radio Network Highlights
https://soundcloud.com/user-274538678/s ... sa-1052019
SMU INDIVIDUAL RECORDS
Ke'Mon Freeman
• 11-14 rushing with 1 TD
o Has 3 rushing TDs this season and 24 for his career (T-7th at SMU)
SMU CAREER RUSHING TDs
1 Eric Dickerson, 1979-82 47
Zach Line, 2009-12 47
3 Reggie Dupard, 1982-85 41
4 Xavier Jones 34
5 Doak Walker, 1945, 47-49 31
6 Ramon Flanigan, 1992-97 27
7 Alvin Maxson, 1971-73 24
Kyle Rote, 1948-50 24
Ke'Mon Freeman 24
Xavier Jones (#5, RB, Sr.)
• 26-121 rushing with 2 TDs
o 11th career game with multiple TDs, (9th time with multiple rushing TDs)
o 12 rushing TDs this season, has at least one in ever game this season
o Now has 34 career rushing TDs, 4th at SMU
o 10th 100-yard rushing game of his career, 4th this season
o Now has 2806 career rushing yards, 9th at SMU
o Now has 216 career points scored, 8th at SMU
SMU CAREER RUSHING TDs
1 Eric Dickerson, 1979-82 47
Zach Line, 2009-12 47
3 Reggie Dupard, 1982-85 41
4 Xavier Jones 34
5 Doak Walker, 1945, 47-49 31
SMU CAREER RUSHING YARDS
1 Eric Dickerson, 1979-82 4,450
2 Zach Line, 2009-12 4,185
3 Reggie Dupard, 1982-85 3,772
4 Craig James, 1979-82 3,743
5 Jeff Atkins, 1983-86 3,260
6 Wayne Morris, 1972-75 3,044
7 Keylon Kincade, 2000-03 3,038
8 Donte Womack, 1994-97 2,790
9 Xavier Jones, 2015- 2,806
10 Alvin Maxson, 1971-73 2,734
SMU CAREER POINTS
1 Doak Walker, 1945, 47-49 288
Eric Dickerson, 1979-82 288
3 Zach Line, 2009-12 282
4 Eddie Garcia, 1978-81 262
5 Reggie Dupard, 1982-85 258
6 Chase Hover, 2011-13 250
7 Thomas Morstead, 2005-08 217
8 Xavier Jones, 2015-19 216
9 Redman Hume, 1926-28 211
10 Emmanuel Sanders, 2006-09 210
James Proche (#3, Sr., WR) – Maxwell, Biletnikoff, Paul Hornung & Earl Campbell Tyler Rose Award Watch Lists
• Was 11-153 receiving with 2 TDs
o 31 career receiving TDs, T-2nd at SMU
o 7th career multi-TD game
o 11th career 100-yard game, 2nd this season
o 6th career game with 10 or more receptions, 2nd this season
o Now has 3253 career receiving yards, 3rd at SMU
o Now has 235 career receptions, T-3rd at SMU
o 5th straight game with a receiving TD, T-3rd for longest streak at SMU (also ties his career best from 2018)
o Now has 4173 career all-purpose yards, 9th at SMU
o 18th career game with 100+ all-purpose yards
SMU CAREER RECEIVING TDs
1 Emmanuel Sanders, 2006-09 34
2 Courtland Sutton, 2014-17 31
James Proche, 2016 31
4 Aldrick Robinson, 2007-10 30
5 Emanuel Tolbert, 1976-79 25
SMU CAREER ALL-PURPOSE YARDS Total
1 Arthur Whittington, 1974-77 4899
2 Zach Line, 2009-12 4784
3 Eric Dickerson, 1979-82 4640
4 Emmanuel Sanders, 2006-09 4596
5 Reggie Dupard, 1982-85 4456
6 Braeden West, 2015-18 4425
7 Craig James, 1979-82 4421
8 Jerry LeVias, 1966-68 4226
9 James Proche, 2016- 4173
10 Doak Walker, 1945, 47-49 4084
SMU CAREER RECEIVING YARDS
1 Emmanuel Sanders, 2006-09 3791
2 Aldrick Robinson, 2007-10 3314
3 James Proche, 2016- 3253
4 Courtland Sutton, 2014-17 3220
5 Cole Beasley, 2008-11 2959
CAREER RECEPTIONS
1 Emmanuel Sanders, 2006-09 285
2 Cole Beasley, 2008-11 255
3 Jason Wolf, 1989-92 235
James Proche, 2016- 235
5 Darius Johnson, 2009-12 232
6 Jeremy Johnson, 2010-13 196
7 Courtland Sutton, 2014-17 195
SMU CAREER RECEIVING TDs
1 Emmanuel Sanders, 2006-09 34
2 Courtland Sutton, 2014-17 31
James Proche, 2016- 31
4 Aldrick Robinson, 2007-10 30
5 Emanuel Tolbert, 1976-79 25
SMU CONSECUTIVE GAMES W/ A REC TD
1 Aldrick Robinson, 2010 8
2 Emmanuel Sanders, 2006 6
3 Aldrick Robinson, 2008 5
Courtland Sutton, 2016-17 5
James Proche, 2018 5
James Proche, 2019 5+
ADDITIONAL INDIVIDUAL NOTES
Shane Buechele (#7, QB, Jr.) – Earl Campbell Tyler Rose Award Watch List
• 23-40 for 280 yards with 2 passing TDs (6-0 at SMU)
o 5th straight game with multiple passing TDs (12 passing TDs on the season)
Chevin Calloway (#11, DB, So.) - Had 2 tackles and had his first career interception
Rodney Clemons (#23, S, Sr.)
• Had a blocked PAT (2nd career block – other was a FG at Tulsa in 2018)
o First Mustang with a blocked kick since Ken McLaurin at Connecticut 11/10/18
• Also had 4 tackles and a pass breakup
Turner Coxe (#97, DE, So.) – Had 3 tackles, including a sack (2nd of the season) plus a pass breakup
Ar'mani Johnson (#5, DB, So.)
• Had his first two career interceptions
o INT 1 (return 64 yards for TD - First SMU interception return for TD since Jordan Wyatt [36 yds] vs UCF 11/4/17)
o INT 2 (in the end zone for a touchback)
• Also had 3 tackles and 2 pass breakups
Richard McBryde (#50, LB, Sr.) – Shared the team-high with 9 tackles, 3rd straight game leading the team
Patrick Nelson (#2, LB, Sr.) – Shared team high with 9 tackles, including a TFL
Rashee Rice (#11, WR, Fr.) – Season-highs of 4 catches and 78 receiving yards
Kevin Robledo (#89, K, Sr.) – Was 1-1 FGs (32) and 4-5 on PATs