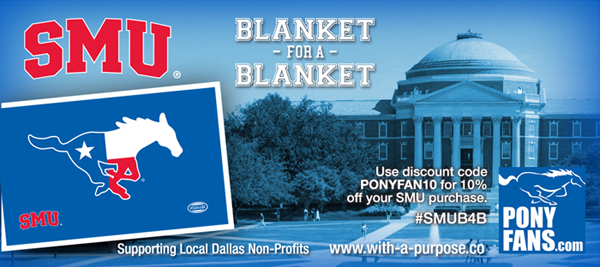 It's hot now, but football season gets cool … and SMU fans can stay cool, get warm and help the Dallas community with these one-of-a-kind SMU blankets.
Created by With A Purpose, which is run by a pair of former SMU swimmers, these high-quality, oversized fleece blankets are great to have in the stadium as the weather cools, in your dorm room or on your couch at home. For every blanket purchased, With A Purpose will donate another blanket to the homeless or a veterans' center in Dallas.
Check out
http://www.with-a-purpose.co/
to order your SMU blanket, and check out the designs for other schools when you need a perfect gift — one that will be appreciated by the recipient and by the Dallas community. Enter promo code PONYFANS10 when you checkout for a 10% discount.