Learning from the best
Former SMU player-turned-college assistant coach Derrius Bell earns NFL coaching fellowship
Posted on 07/19/2017 by PonyFans.com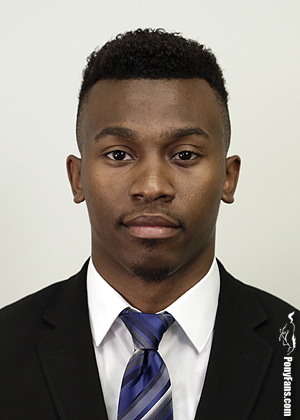 Former SMU cornerback Derrius Bell is gearing up for his second season as UTEP cornerbacks coach (photo by UTEP athletics).
Derrius Bell played in nine games as a freshman cornerback in 2007, calling on his quickness, wiry strength and fearlessness to crack the rotation of older players. In 2008, he emerged as a key cog in the Mustangs' secondary, collecting 53 tackles and his first career interception, and breaking up nine more passes. When his junior year started, the SMU coaches' expectations for Bell were high.But Bell's 2009 season ended almost as quickly as it began, in part because of the fearless aggression that allowed him to take on heavier opponents. He was knocked out of the Mustangs' game against UAB, and sat out their next game against Washington State. When he returned in the crosstown rivalry game against TCU, Bell was knocked out again when he flung himself into TCU running back/wide receiver Ryan Christian. The collision ended Christian's evening, as well. It ended Bell's playing career. He ended up helping the SMU coaching staff, working closely with then-SMU defensive coordinator Tom Mason and then-secondary coach Derrick Odum. He worked as a graduate assistant at SMU, and last year landed his first full-time job, joining Mason in El Paso as the cornerbacks coach for the UTEP Miners. This summer, Bell was one of just three assistant coaches in the country to receive a Bill Walsh NFL Minority Coaching Fellowship with the Tampa Bay Buccaneers, in addition to a stint working with the coaching staff of the Pittsburgh Steelers. Bell visited with PonyFans.com to discuss the Fellowship, how it came about and what might await in his coaching future.
PonyFans.com
:
You got into coaching after your playing career was cut short by injuries, but did you know even before you stopped playing that you wanted to get into coaching one day?
Derrius Bell
: I definitely knew that I wanted to coach. My momma had an AAU basketball team, and even when I was in school I'd go back and help her out with the team. That time I spent helping her out, that started the real interest in coaching. All in all, I definitely thought that if playing didn't make it, coaching was what I wanted to do. I'm football through and through. June Jones came to see me after I got hurt, and said "once you graduate, I'll hire you as a (graduate assistant).
PonyFans.com
:
You followed (former SMU defensive coordinator) Tom Mason out to UTEP, where your brother, Dustin, played. What appealed to you most about working at UTEP?
Bell
: It was a really unique opportunity because of my brother playing out there. In my time in (Conference USA), we played UTEP twice, but I never played them because I was hurt. More than anything, it was Coach Mason. He's a great coach, and he thought highly enough of me to bring me in there. To have a chance to coach and to coach under someone like Coach Mason, it was a quick decision.It almost didn't happen. I had gotten a job to work with (former SMU linebackers coach) Eric Daniels at Oklahoma Panhandle State (in Goodwell, Okla., about two hours north of Amarillo, Texas). I was supposed to move to Oklahoma on a Sunday, and (Mason) called me Thursday, saying he wanted me to coach his cornerbacks at UTEP, so I had to tell the Oklahoma Panhandle head coach (Russell Gaskamp) that I wasn't coming. I like El Paso. It's much slower than Dallas and it's a different culture, but the food is good and the people are really nice.
PonyFans.com
:
This spring, you earned a Bill Walsh NFL Minority Coaching Fellowship with the Tampa Bay Buccaneers. How did that come about?
Bell
: It's an opportnutity for minorities to get into coaching in the NFL. You know how the numbers are — the number of coaches compared to the number of players — and they wanted to see more minorities in the league. (Before getting the offer from Oklahoma Pandle State), I had sent my résumé to every team I could, but I just didn't get any bites. But now I'm at UTEP, and my head coach (Sean Kugler) played (offensive line) for a year at UTEP under Coach (Dirk) Koetter, who's now the head coach of the Tampa Bay Buccaneers. He coached in the NFL — he was the offensive line coach at Pittsburgh when the Steelers drafted Kelvin Beachum. Beach gave me a call when he heard I was going to El Paso, saying congratulations and telling me a lot of good things about Coach Kugler, and he was right.Coach Kugler called Coach Koetter and said "I've got a guy, and asked if (Koetter) would give me a chance, and he did. It was just a mini-camp, but I learned so much. I was there for four days. I had been around Coach Mason for nine years, so I know how he does things, but to be around other coaches, hear different terminology … I got to know the coaches, sit in their defensive meetings, I got to know Mike Smith — the old Atlanta Falcons head coach is now the defensive coordinator in Tampa. Those coaches were great, the way they made me welcome. I learned so much from them.The week before that, I did a staff development visit with the Steelers — me, Coach Mason and our defensive line coach (Andrew Browning). I got to meet Coach (Mike) Tomlin, who said he just liked me so much he was going to bring me back for an internship in the second week in July. You know he was a secondary coach — he started as the secondary coach in Tampa Bay. We hit it off pretty good, and maybe that had something to do with it.One of the best parts was seeing how NFL coaches relate to players, as opposed to college coaches and college players. College coaches have more power to control players and make sure they do the right things — in the NFL, it's more about the relationships with players that you have to build to get them to play for you.Again, there was a lot of communication with other coaches, getting to know each other. We went to two-hour practices, and in the meetings, they talk about their players the same way we do with ours. Maybe the biggest difference is that time is managed more in the NFL — they're more efficient with their timing.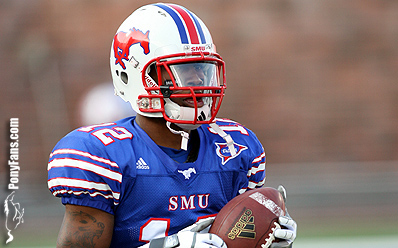 Doers Bell was a key part of the SMU secondary before his playing career was ended early in 2009 (photo by Travis Johnston).
PonyFans.com
:
So do these programs mean you eventually want to coach in the NFL? Or did you do this simply to become the best college coach you could?
Bell
: A bit of both. I would like to get that opportuinity — that's the highest level of football, and I'd be put against the best coaches in the world. As a competitor, I would want that. That being said, I came back (to El Paso) with more knowledge. I talked a lot with "Mase" about it, and we have more to talk about after vacation. I learned some concepts we can steal — or borrow, I guess — and use on the back end (of the UTEP defense). It definitely made me better as a coach, and you know how Mase" is — it puts more on my plate, but he's in favor of anything that makes the secondary better, and that's what I'm trying to do.
PonyFans.com
: You're getting ready for your second season coaching at UTEP, but you still are just 28 years old, an age when a lot of players are still playing, still in their prime. When you were in Tampa Bay and Pittsburgh, did you find yourself looking at the players and wondering "what if I hadn't gotten hurt?"
Bell
: Sure. At the college level, I feel completely like a coach. When I was at pro camp for a few days, then seeing how guys move, their hips, their feet … I'm older than a few of the guys, but I would be right in the middle as far as the age range if I were still playing. So definitely, there are times when I think I could still do this.
PonyFans.com
:
What kind of reception did you get from the NFL players?
Bell
: The head coach got up in front of the team and introduced us. There were three of us — one from the Minnesota staff, one from Princeton and me — and he talked a little about our backgrounds, so the guys would see us as coaches. A few came up for answers, which was an adjustment for me. Different coaching staffs teach different things, and I was not going to give an answer I didn't know. But I talked to guys more about footwork, hand placement … things like that. It was more about me sitting back and learning.The first guy I talked to was Jameis Winston. When he spoke to me, you could tell he was in good command of the whole program. He was in there no later than 5:30 in the morning, like a head coach. He welcomed us, and he knew why we were there. I also talked to (safety) J.J. Wilcox. I grew up a big Dallas Cowboys fan, so him being a former Cowboy, I made sure to talk with him. We talked about Cole Beasley.They taught things that weren't football, which was interesting. They brought in a few speakers, and talked about things like security, financial safety. They have a lot of seminars — some for rookies, some for the whole team — because players have time to get in trouble in the summer months, between mini-camps and training camp. They talked about giving back to the community, about not having to be the toughest man in the room all the time.
PonyFans.com
:
How do you expect to be different as a coach this fall? How good will UTEP's defense be?
Bell
: Getting out of spring ball, we were moving at a much faster pace than last year. I've got two junior cornerbacks coming back, a sophomore who was all-conference as a freshman last year, a pretty good transfer and an all-conference safety, so from the back end, we should be much improved, and we put a lot of effort in recruiting the secondary, so I'm excited to see how good we can be.
PonyFans.com
:
Is Mason grooming you to one day grow into a bigger role, like eventually becoming a coordinator?
Bell
: Not yet, but yes. I definitely want to be a head coach at the college level, so the natural order of things would be to become a coordinator at some point.I talk to him about that sometimes. But it's more about producing at the spot where you are now, talking at conventions and letting people see what you know. This is a really hard business to get a job — you could be on top of the world, and the next week you don't even have a job. I talk to Coach Odum, too. He's now the defensive coordinator at San Jose State. We were always tight, and we talk, but it's more about how his children are doing, him being in his first year as coordinator. I like to hear how he's doing, and I try to take things from what he's experiencing, just like I take things all the time from Coach Mason. I learn from them all the time, just like I learned from the NFL coaches.

Previous Story
Next Story

| | |
| --- | --- |
| | Forward becomes third Mustang from 2016-17 roster to head to NBA |

| | |
| --- | --- |
| | Peavey, Gillins hope to push, challenge Hicks |