Position preview: Quarterbacks
Peavey, Gillins hope to push, challenge Hicks
Posted on 07/30/2017 by PonyFans.com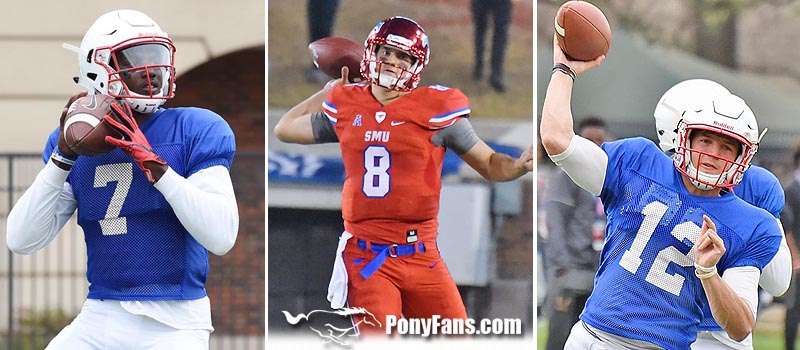 (photo by PonyFans.com).
It has been said that quarterback is the single most important position in team sports. Whether that's true can be argued at length, but what is beyond debate is the fact that the position is vital to the success of any offense. The quarterback calls the plays and protections, makes sure his teammates are lined up correctly, reads the defense and adjusts the play based on what he sees, and handles the ball on every offensive snap. A team with inadequate play at the position has little chance to generate much offense. So what will SMU do at the position in 2017?Head coach Chad Morris and offensive coordinator Joe Craddock have the benefit of welcoming back last year's starter: Ben Hicks, who took over when senior Matt Davis went down in the first game and started the remaining 11 games. Piloting an offense that averaged 27.7 points and 427.2 yards per game, Hicks completed 234 of 422 passes for 2,930 yards (244.2 per game), 15 interceptions and 19 touchdowns.The Mustangs added another quarterback in the fall when Rafe Peavey transferred from Arkansas, although he arrived after preseason camp and missed much of the installation of the offense, so while he was around Craddock and the other quarterbacks, his learning process was slowed by the fact that he spent the fall mimicking opposing quarterbacks on the scout team. Another transfer, D.J. Gillins, arrived in January, having started his career at Wisconsin and then transferring in 2016 to Pearl River (Miss.) Community College, where he suffered a knee injury that limited his activity during the Mustangs' spring workouts.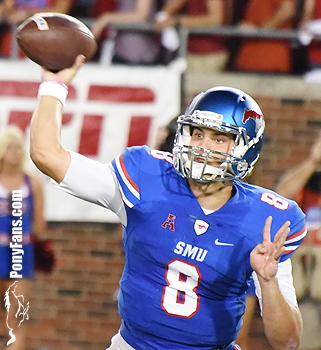 Ben Hicks started the 2016 season as a backup, but an injury to Matt Davis in the season opener made Hicks the SMU starter for the rest of the season (photo by Patrick Kleineberg).
The group gives Morris and Craddock more options than they have had in their first two years running the SMU offense, and while both coaches said his season running the show gives Hicks a leg up on the starting job after spring workouts, the pecking order for the fall is not yet determined."We've got a great battle going on right now with Rafe (Peavey) and Ben Hicks," Morris said. "They've both gotten better, and D.J. Gillins is another we'll be excited to see how he responds in fall camp. So I'm excited about these guys. We've got three good ones."Also on the roster is true freshman Austin Upshaw, although the coaches hope the three upperclassmen — Gillins and Peavey will be juniors, while Hicks is entering his sophomore season — play so well that they have the luxury of redshirting Upshaw.
The incumbent
Hicks, listed at 6-1 and 217 pounds, got kicked in the deep end in last year's opener, hustling off the bench after Davis got hurt. The following week, Baylor's defense sought to rattle the redshirt freshman making his first career start in his hometown of Waco, limiting Hicks to 17 completions on 44 attempts for 229 yards, with one touchdown and three interceptions. But he got visibly more comfortable as the season went along, ending his initial campaign with a completion percentage of 55.5.With a strong, young quarterback who now has some experience running the system, not to mention a stable of talented receivers led by Courtland Sutton, it would be easy to assume that Hicks and the Mustangs should take to the air as often as possible. The tools definitely are there to do so: Hicks' improvement over the course of the 2016 season coincided with Sutton's emergence as a bona fide star and the arrival of James Proché as a dangerous No. 2 wideout, and now the Ponies get to add LSU transfer Trey Quinn, about whom coaches raved in the spring, to a rotation that includes the likes of Shelby Walker, Kevin Thomas, Myron Gaiiliard, Alex Honey and 2016 redshirts Brandon Benson and Joshua Shelmire, as well as a slew of able tight ends that includes former Arizona State transfer Raymond Epps. But the Mustangs' offense last year was more effective when Hicks threw less. In SMU's five victories (numbers that are skewed slightly by his abbreviated appearance against North Texas), he threw the ball an average of 26.6 times, completing 17.2 — a completion percentage of 64.7. He also threw more than twice as many touchdowns (9) as interceptions (4). In the team's seven losses, he completed more passes per game (22.9), but also averaged more attempts (41.3), leading to a completion rate nearly 10 percent lower (55.4). He also had more interceptions (11) than touchdowns (10) in those games.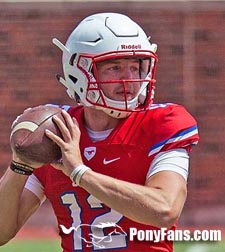 Rafe Peavey transferred in 2016 from Arkansas, and spent much of the 2016 season mimicking opposing quarterbacks while running the SMU scout team offense (photo by Max Franklin).
Those numbers can be interpreted in two ways, and both have some truth: even with Xavier Jones shelved with injuries last year, the Mustangs had a pair of talented, productive running backs in Braeden West and Ke'Mon Freeman, and when the running game is going well, it can wear down a defense and force opponents to bring more players toward the line of scrimmage, thereby giving more room downfield for receivers to get open. In addition, falling behind forces a team to play catch-up, and the desire to pick up points, or at least big chunks of yards, dictates that the ball will be in the air more often. But it also means that defenses will adjust accordingly, so like any quarterback, Hicks is more effective when playing with the lead and when the SMU running game is operating effectively.That's not to suggest that the coaches want to throw less. SMU has an elite receiver in Sutton and numerous other capable targets, and if the old adage that passers often make the biggest improvement between their first and second years in an offense, there's no reason to believe Hicks won't do just that. With Jones back and healthy, the running game should have even more talent and depth, so it's up to the coaches to find the right run/pass balance, which should allow Hicks to pass more effectively, if not more often.
Other candidates
Despite the reasons for optimism, Hicks has to fend off challenges from Peavey and Gillins, at least, in order to retain his starting job."We're not going to name a starter, anything like that," Craddock said after the spring game. "Ben was what you expected of Ben, being in the system, now going on his third year. He had a really good spring, and now the challenge with Ben is to not get complacent and to keep working."The first to challenge Hicks likely will be Peavey, who impersonated the opponent's quarterback each week as a member of the scout team following his transfer from Arkansas. Despite the fact that he was learning someone else's offense each week, Peavey was exposed to the Mustangs' offense, shadowing Hicks on SMU sideline and sitting in meetings with Craddock and the rest of the 2016 quarterbacks. That foundation helped Peavey show significant progress over the course of the team's spring workouts, and according to Craddock, should help push Hicks.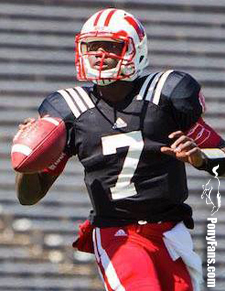 D.J. Gallons started his college career at Wisconsin, where he played receiver and on special teams in addition to quarterback (photo by Wisconsin athletics).
"That helps with competition, and Ben saw Rafe progress throughout spring, and how far he came from last fall, and Rafe did a heck of a job toward the end of spring of just understanding that we're a fast-paced tempo offense — we don't huddle up and run the ball a lot like his previous school (Arkansas)," Craddock said. "We're trying to play as fast as we possibly can, we're trying to sling it around the yard, hand the ball off, carry out our fakes … and at first, that was difficult for Rafe, but man, he came on so much through the last couple of weeks of the spring, and really impressed a lot of guys. His leadership ability is second to none; some guys refer to him as 'Rafe Tebow' — you know, he's just such a good dude, a good guy."The wild card in the quarterback derby might be Gillins, the tallest of the passers at 6-3 (and 203 pounds) and athletic enough to have earned some time at receiver and on special teams at Wisconsin. He then started the 2016 opener at Pearl City CC, only to suffer a season-ending knee injury. During spring workouts at SMU, he was an active participant in meetings and film study, but limited on the field."It was tough on D.J.," Craddock said. "All my guys are competitors. D.J.'s a competitor — he wants to be out there. He got a lot of reps when there was no d-line out there — we tried to get him as much as we possibly could, and he took his role awesome. He did an awesome job in the spring, knowing he wouldn't able to get a lot of reps on the field. He was behind (another quarterback) every single day in practice, and I think that speaks volumes about him as a leader, about him as just a football player and a guy who … 'I can't do it right now, but I'm going to go out there and get every single rep, mentally, that I possibly can. I just can't wait to get him out there and see what he can do."Regardless of who ended up leading the Mustangs' offense, Craddock said the presence of numerous legitimate candidates should push all of them to better performances."… From an overall group standpoint, I can't be more proud of my guys — I can't brag on them enough," Craddock said. "It will be interesting to see who competes for the job and who will end up winning it. We tell them all the time … everything counts. Going to class counts, not missing tutors counts, and obviously playing on the field — all that counts. It will be a good competition throughout summer and then throughout fall camp."

Previous Story
Next Story

| | |
| --- | --- |
| | Former SMU player-turned-college assistant coach Derrius Bell earns NFL coaching fellowship |

| | |
| --- | --- |
| | Coach reiterates Ben Hicks leads in battle to start at quarterback |