Pony NATE-tion: Can Mustangs continue improved rushing attack against Huskies?
SMU, Connecticut kick off at 3 p.m. Saturday at Ford Stadium
Posted on 09/28/2017 by PonyFans.com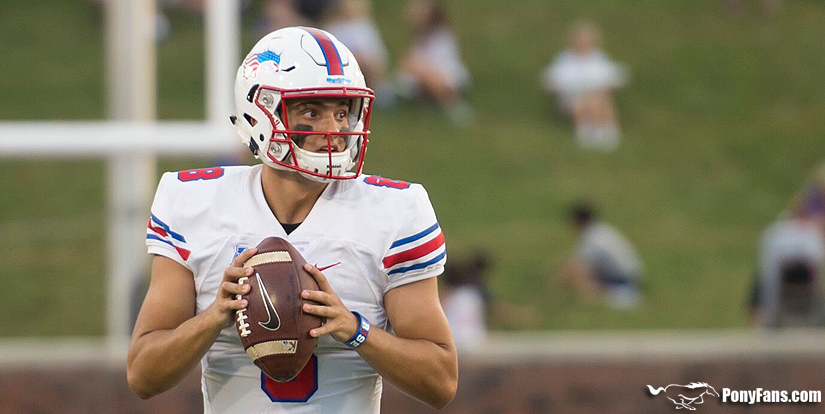 Nate says that while consistency always can be improved, Ben Hicks is much improved this season in part because of improved ball protection (photo by Patrick Kleineberg).
PonyFans.com is proud to have 17-year-old Nate as a guest columnist. In this installment, Nate breaks down the Mustangs' American Athletic Conference opener Saturday afternoon against Connecticut.
Feel free to post comments and constructive criticism, ask him questions, and/or give suggestions for upcoming columns! (He can be followed on Twitter at @Pony_NATE_tion.)___________________________________________________________________________________________________________________________vs. UConnThe Mustangs moved to 3-1 after putting on an offensive clinic last Saturday against Arkansas State to the tune of 580 total yards, with 314 of those yards coming on the ground. SMU dominated the Red Wolves up front, averaging 5.8 yards per carry. The three-pronged backfield of Xavier Jones, Ke'Mon Freeman and Braeden West continued to show its potency. Jones appears to be taking the role as the No. 1 back, as he led the team in carries with 19 and showing lots of explosiveness. Jones looks to be back to his old self. Freeman showed how bruising a runner he can be, finding the end zone twice. West ran well between the tackles picking up 63 yards on 13 carries, but also continued to prove his worth in the passing game with 27 yards through the air. What makes this trio of backs great is each one's versatility and how each brings something completely different to the table. Jones is very quick and runs hard between the tackles, Freeman is the bigger and more physical back, while West is great when he is out in space, either catching passes or running it outside. Ben Hicks continued to be a bit inconsistent, although he has vastly improved on a huge skill: taking care of the football. Hicks had a tendency to give the ball away a bit last year, and that problem seems to be fading quickly. Hicks has turned into a pretty good game manager, but he needs to become more efficient, as he had another poor game in terms of completion percentage, only completing 50 percent of his passes last game. But most SMU fans will accept 266 yards, three total touchdowns and no turnovers from the young signal caller. Hicks found James Proché for both of his scores, as Proché finally began to heat up, with 131 receiving yards.The defense got carved up early, but made plays to put the game away, led by none other than Jordan Wyatt, who had a huge interception that led to a lethal touchdown to put the game away. Other defensive standouts were Mikail Onu, the young safety who racked up 10 tackles, as well as Dimarya Mixon who got to the quarterback once for a big sack. Now, the Mustangs turn their attention to the Connecticut Huskies, kicking off AAC play. The Ponies will try to build on a strong 3-1 start going into a competitive conference like the AAC. In a year in which the Mustangs avoid USF on the conference schedule, SMU has a real shot at making serious noise in the conference, but much improvement is needed first. The Huskies come to Dallas with a 1-2 record, with losses to Virginia and East Carolina, and their lone win coming in a nail-biter to FCS Holy Cross. The Huskies are expected by many to be in the lower tier of the conference yet again and SMU has several advantages that can be exploited. Connecticut is led by quarterback Bryant Shirreffs who has thrown efficiently, for a completion rate of 65 percent and six touchdowns. Shirreffs is also a mobile quarterback, and SMU must contain him. He is supplied with three main weapons on the outside: Arkeel Newsome, Mason Donaldson and Hergy Mayala. Those three alone have combined for 546 yards and six touchdowns. UConn's bread and butter is through the air, but they pose a threat in the ground game, led by Nate Hopkins. Hopkins has found the end zone four times and averages 5.3 yards per carry. The Huskies don't run anything special on offense, but can be explosive in through the air, gaining yards in chunks. If the Mustang pass rush continues to produce and force Shirreffs into mistakes, the secondary will continue to capitalize. Defensively, the Huskies are not very good at all. They have been getting gashed through the air, and teams have not needed to run the ball all too much. The UConn secondary has surrendered more than 400 yards per game in the air, and the SMU receivers should go to town on the poor back end of the Husky defense. If Hicks continues to take care of the ball, SMU should coast to a fairly easy conference-opening win. The high-powered SMU offense will continue to tear up all opposing defenses as it has done all season long. The Huskies won't have nearly enough to slow down the Mustangs, and the SMU defense will stonewall Shirreffs as the game wears on. I like the Mustangs to improve to 4-1 in a blowout.Nate's Take: SMU 48, Connecticut 17

Previous Story
Next Story

| | |
| --- | --- |
| | Mustangs, Huskies kick off at 3 p.m. Saturday |

| | |
| --- | --- |
| | Are the Mustangs as improved as their record suggests? |