Q&A with Dallas Morning News beat writer Adam Grosbard
Are the Mustangs as improved as their record suggests?
Posted on 09/29/2017 by PonyFans.com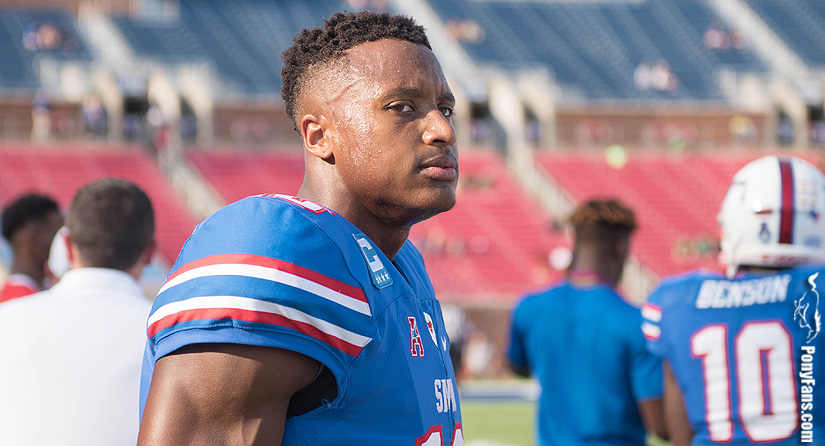 Adam Grosbard says one indication of SMU improvement in 2017 is the fact they can win even when opponents tailor their defensive schemes to try to contain or eliminate wide receiver Courtland Sutton from the offense (photo by Patrick Kleineberg).
PonyFans.com is proud to announce a new partnership with the
Dallas Morning News
. Throughout the season, we — the webmasters and readers of PonyFans.com — will pose questions weekly for Adam Grosbard, the SMU beat writer for the
DMN
, and he will do the same to us, and then we will publish the results in each outlet.All PonyFans are invited to submit questions to be asked to Adam, either on the message board or through a private message on this site to Webmaster or PonyPride. We will select a few each week and submit them to Adam, so be sure to check back each week to see if yours is selected.Make sure to follow Adam on Twitter @AdamGrosbard!___________________________________________________________________________________________________________________________
PonyFans.com
:
At least on paper, SMU is off to its best start (3-1) in years. Is the team improved as much as its record suggests?
Adam Grosbard
: I think the Arkansas State game proved that SMU's improvement is real. If the fact that the Mustangs were down by six after three quarters against TCU didn't do it for you, a thorough beating of a team that won its conference last season and has been to six straight bowl games is proof of SMU's progress. They've learned to win regardless of if Courtland Sutton is going or not, which is a big difference from a year ago.
PonyFans.com
:
Ben Hicks now has a little more than a year under his belt as the team's starting quarterback. What is the biggest difference you see in him now, compared to when he took over the position when Matt Davis got hurt last year?
Grosbard
: I think a lot of it comes down to the fact that he isn't running for his life anymore. He was sacked 23 times last season. That makes it nearly impossible to find any kind of rhythm. He did the traditional quarterback talk while crediting the offensive line for this difference, but that's only part of the answer. He's making quicker decisions and his shift to more five-step drops has helped give him some extra time, too.
PonyFans.com
:
Who or what has surprised you the most — good or bad — through the Mustangs' first four games?
Grosbard
: Trey Quinn has probably been the most positive surprise. He was expected to be a difference maker but no one had him pegged as SMU's leading receiver four weeks into the season. I think the tight end position has been a bit of a disappointment. You can't say the offense is firing on all cylinders until we see any semblance of production out of that group. Raymond Epps has been a non-factor in the passing game, even if the staff is happy with his run blocking.
PonyFans.com
:
Chad Morris keeps talking about the improved depth on this year's team. Where do you see it most?
Adam Grosbard
: Receiver and defensive line. This staff could not say enough positive things about receivers Alex Honey, Judah Bell and Tyler Page but not one of them has seen the field much because of how much talent the team has at receiver. SMU is 13th in the country in sacks and defensive tackle Demerick Gary, thought to be a breakout candidate this season, doesn't have one. That can be attributed to him moving from end to tackle, but he only made the move because of how much depth there is at end.___________________________________________________________________________________________________________________________Got a question about the Mustangs that you would like presented to Adam? Post it on the PonyFans.com football message board, or send a Private Message to either PonyPride or Webmaster, and then check back each week to see if yours was selected!

Previous Story
Next Story

| | |
| --- | --- |
| | SMU, Connecticut kick off at 3 p.m. Saturday at Ford Stadium |

| | |
| --- | --- |
| | Thorpe, Harrington score in dominant win |