PonyFans.com Q&A with Matt Davis
Former SMU quarterback not yet ready to give up on playing
Posted on 10/30/2017 by PonyFans.com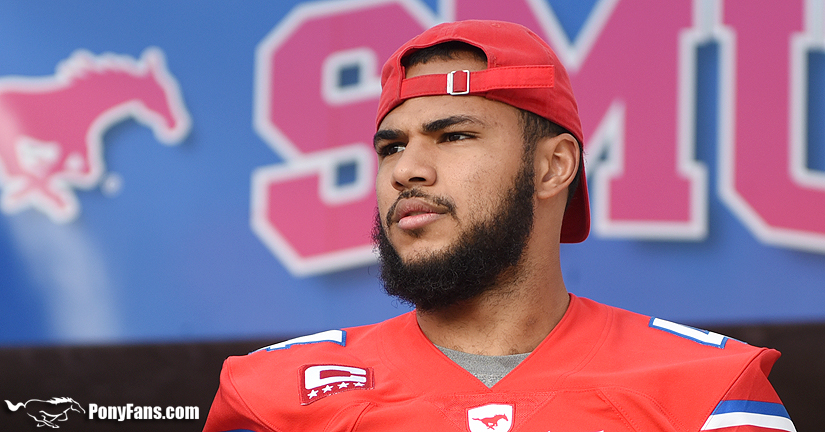 Former SMU quarterback Matt Davis has not given up hope that his playing days could continue (photo by Patrick Kleineberg).
The 2016 season ended far too quickly for then-SMU quarterback Matt Davis, who was lost for the year when he suffered a knee injury in the Mustangs' season opener. He spent the season as a pseudo-coach, helping his replacement, Ben Hicks, navigate the waters of college football in his first season under center. Davis also ground through intense rehab on his knee, and showed enough to earn a tryout with the Los Angeles Rams.
Davis was on the sideline in Houston when the Mustangs played the Cougars. He visited with PonyFans.com to discuss what lays lies ahead for him — on and off the field.___________________________________________________________________________________________________________________________
PonyFans.com
:
You started the summer by trying out with the Los Angeles Rams. Catch us up — what are you doing now?.
Matt Davis
: Just training. Training, staying ready and trying to see where God leads me next. I've got some opportunities — I know my agent is talking to some teams, so I'm just taking it one day at a time.
PonyFans.com
:
After the tryout with the Rams, did you get any other tryouts?
Davis
: After that, teams started closing up their rosters. It's really hard — you kind of learn the business of the NFL — timelines, when things happen, roster limits, roster space, position needs … things like that. It's just different, and I'm really just waiting for my opportunity.
PonyFans.com
:
You were an undrafted free agent and in camp with the Rams. What has your agent told you about your chances of getting a call?
Davis
: There's still a good chance. It's one of those things — it's a day-at-a-time job. Every day you've got to stay ready, so I'm just staying prepared. My agent is keeping me up to date with everything, because teams always need players. He thinks there's still a good chance.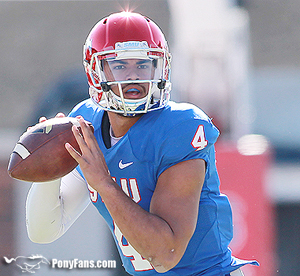 Davis missed just about all of his final season at SMU because of a knee injury suffered in the 2016 season opener (photo by Patrick Kleineberg).
PonyFans.com
:
What else are you doing to stay busy when you're not training?
Davis
: I train a lot, whether it's mentally or physically. But outside of that, I've been in the process of starting my own non-profit organization. For about a year and a half. I've been doing some meetings — I've got my board meeting over Thanksgiving, I'm going to file for my 501(c)(3) in January, so I'm really excited. It's a Christian modelship program, so it's like a mentorship program to try and help build young men. We don't call it mentorship — we call it "modelship" because I feel like if you tell them to do what you're not doing, yourself, you probably shouldn't be talking about it. So we're trying to be models for young men, to create young men. I know there's a shortage of male role models where I come from, so I'm really trying to base that off of my neighborhood, around my high school, and then hopefully one day, God willing, expand it and hopefully make it something bigger. But like I said, filing for my 501(c)(3) in January and having my first camp hopefully in the summer of 2018, and I'm excited about it.
PonyFans.com
:
What's it like for you to be here (at Houston) today, now that you're an alum and can't grab a helmet and run out there? What's that like for you?
Davis
: It's a bittersweet moment. This is my first game back — my first college game that I have been on the sideline, apart from last year when I was hurt. I knew I missed the guys, but I didn't realize how much I miss them until I came out here. There are so many emotions I was feeling when I walked into that locker room and saw my teammates. They all had on their game face, and then they light up and jump up and ran up to me, giving me a hug. I was just trying to tell them, "hey … calm down — you've got a game." But I just miss these guys, I miss the coaches. Being on the sideline, I still feel like I'm playing. Every time the (Houston) punt team goes out there, I'm like "is it me (going in)?" Every play, I'm checking to see what the play is — I know all the plays — so I'm really trying to play the same role I did outside of playing. I know I'm kind of a big brother to a lot of these guys, I'm still a leader to a lot of these guys, so … talking to them, keeping their minds in the right spot, encouraging them and letting them know what I see, but really just loving on them, being there for them. It's a lot of different emotions, but it's a blessing to still be here. There's nothing like college football — I miss it.
PonyFans.com
:
Watching you during the warm-ups as you encourage all these guys, and then watching you on the sidelines as you call all the plays in your head … have you ever thought about going into coaching?
Davis
: I definitely have thought about it, but I just don't know. I love football — don't get me wrong — but I feel like I love people, too. I love lives more than I love football, so I'd rather coach people in life, try to help young men, specifically, in areas and places that I messed up in my life, and try and be a role model for them. That's why I'm so excited, because my non-profit is hands-on with kids. Like I said, I know football and I miss football, but I miss the locker room, more than anything. I miss the locker room, Bible study, hanging out. When I get done playing ball — hopefully, God willing, that's a few years down the road — I'll be able to just do that, help people. But I have thought about coaching before. If I did, I'd probably do high school. Maybe college — I don't know. But I love ball. It does something to my spirit every time.

Previous Story
Next Story

| | |
| --- | --- |
| | Mustangs improve to 6-2, now bowl-eligible |

| | |
| --- | --- |
| | Which assistant coach has stood out developing talent? |